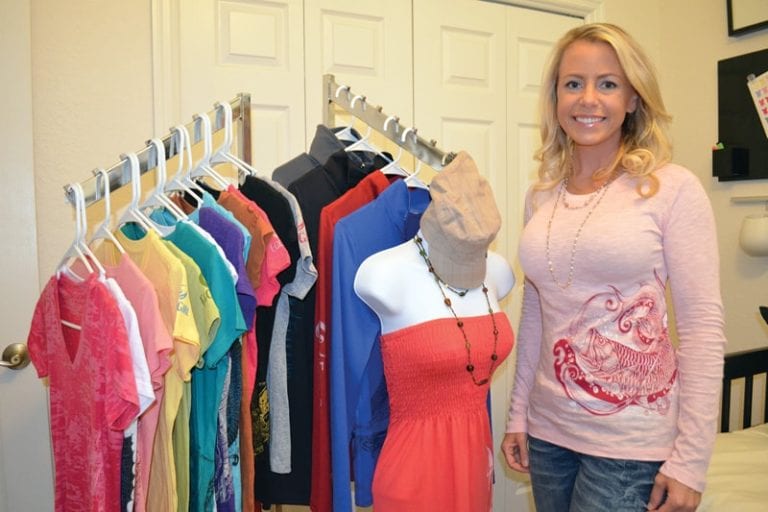 By Amber Jurgensen | Staff Writer
Ericca Hope Garrison sits in her studio clicking through photos on her website. Her desk is a mixture between modern and rustic, with a sturdy glass tabletop supported by utilitarian hardwood legs. The walls are covered in posters and art created by Garrison.
The Durant High alum has just launched her first clothing line, Ego Girl Outfitters. Watch out, Guy Harvey. The line is for women and depicts different types of fish on clothing articles much like Harvey's famous T-shirts. But Garrison has put whimsical and feminine touches on her fish designs.
"It's supposed to be a lifestyle," Garrison says. "It's about feeling comfortable about yourself while doing what you love to do."
Garrison first got the idea for Ego Girl Outfitters while at a scuba-diving tournament with friends two years ago. She couldn't find any gear that fit her. An avid angler, Garrison was tired of wearing the boys' T-shirts on the boat. So, she began toying with fish designs.
Today, the line is available locally at Sister's & Company and Parksdale Farm Market, as well as Garrison's website, EgoGirl.com.
Garrison makes starting a line look easy. But she has had her struggles. Just five years ago, the single mother had an associate's degree in commercial art and design but couldn't afford to buy a house. Garrison went on to get her bachelor's degree in business management, a master's degree in graphic design and is studying further to get a master's degree in fine arts from the Savannah College of Art and Design.
"I wanted to be an inspiration to her," Garrison says about her daughter, Launa. "I wanted to show her that you don't have to settle, that you can follow your dreams.
"It's about empowerment," Garrison says. "When clothes fit right and they're fashionable, girls feel good."
BASICS
Ego Girl Outfitters
WEBSITE: EgoGirl.com
EMAIL: Hope@EgoGirl.com
PLANT CITY RETAILERS: Parkesdale Farm Market, 3702 W. Baker St.; Sister's & Company, 104 E. Reynolds St.