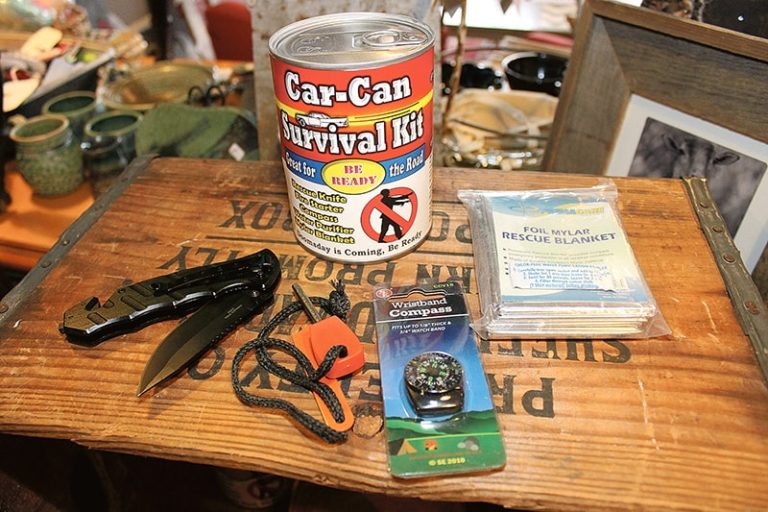 Picture this: You've just been in a car accident and are stranded in the woods. Your seatbelt is stuck, and you might be confined to your car for a while.
That's the kind of situation James Blocker, and his Custom Canned Anything co-workers, can help anyone avoid with their canned survival kits.
"We can put anything in a can — as long as it fits," Blocker says.
So, in this particular situation, how about a pocket knife, tucked in a can in the glove box?
Blocker got the idea from his brother-in-law, Plant City native John Hoover, who had spent some time stationed in Afghanistan — where, he said, "Everything comes in a can." ABlocker says people also were asking him if he knew where to get any survival kits. So, between the two siblings, the idea formed.
The survival kit comes with everything anyone could need to make it through a few days in the wilderness: a fire starter, a knife, a mylar sleeping blanket, water purification tablets and a compass.
"The idea came up this past August, but we got it going in October and slowly started doing it," Blocker says.
Since then, they've expanded. You can sometimes find Blocker and his wife, Karen Hoover, selling the cans at events around town — such as the recent Crafting for a Cure event, where Custom Canned Anything also sold special cans full of promotional items for breast cancer awareness.
They also rolled out a website recently and are attempting to expand into local retail and feed stores. According to Blocker, the feed stores around town would be ideal for something of this nature.
"I was at a feed store in Antioch, talking to some lady up there," Blocker says. "She told me, 'I wish my sister-in-law had one of those cans in her car.'"
The woman in question was driving through North Carolina, when she hit a deer, causing her car to veer off the road and land in a creek bed. The accident left her with a broken leg, and she had no way to get out of her seatbelt.
"It was almost two days before somebody found her," Blocker says.
Custom Canned Anything has a few different packaging options for these canned kits. There's the basic survival kit design, a "Go-Can" that's made for the car, and "Zombie Survival Kit" packaging with eight tips for surviving the zombie apocalypse. The latter was inspired by the hit 2009 movie, "Zombieland."
Unique can designs and contents also are available for fundraisers and special events.
"Everybody picks them up," Blocker says. "They enjoy them. They can't believe that everything is in the can."
Contact Justin Kline at jkline@plantcityobserver.com.
BASICS
Custom Canned Anything
PRICE POINT: $20
PHONE: James Blocker, (813) 416-5766.
WEBSITE: customcanned.weebly.com