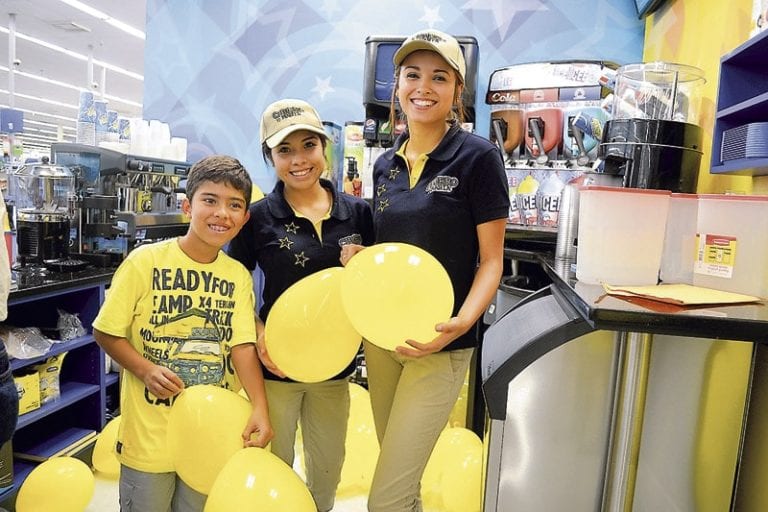 CHURROMANIA still had one hour until its grand opening, but already, Plant City customers had gathered around waiting for a chance to sample some of the restaurant's sweet treats.
The Venezuela-based chain opened its first Plant City location last month, inside Walmart Supercenter, 2602 James L. Redman Parkway. The new location is the third to open in a Florida Walmart. Along with churros, the business offers sodas, Icees, coffee and even churro dogs.
CHURROMANIA owners Ariel Acosta-Rubio and his brother, Ivan Acosta-Rubio, say Plant City is the perfect town for one of their stores. Originally from Venezuela, the brothers are familiar with Tampa Bay. They attended Tampa University and also lived in Odessa. More recently, they spent time in Lakeland studying for their pilot licenses. Traveling back and forth allowed them to explore Plant City.
"You really have to spend time here to know Plant City," Ivan says. "The people are really nice and sweet. And that is our business — sweets.
"We love our business," he says. "We love this area, and the people are so nice."
The Plant City store has employed six local employees so far. An area manager from Venezuela will manage the Plant City store, along with planned Brandon and Tampa locations, which are scheduled to open this month.
In 1997, Ariel Acosta-Rubio, Maria Alejandra Bravo and Miguel Bravo decided to open a churro and coffee store in a high traffic mall retail space in Puerto La Cruz, Venezuela. Initially, other concepts for this space including a beauty parlor, a travel agency and a hamburger restaurant. But, churros seemed the best option as it was easier to manage and operate than any of the other ideas considered.
On year later, the company began offering franchise opportunities. CHURROMANIA opened its first U.S. location in 2001, at the Dolphin Mall, in Miami. Currently, the company operates 125 stores in the United States, Venezuela, Colombia, Panama, Puerto Rico and Peru. Twenty-three are in Florida.
Last year, the company entered into an agreement with Walmart to allow 50 new storefronts inside the retailer.
Contact Amber Jurgensen at ajurgensen@plantcityobserver.com.
HISTORY OF THE CHURRO
The history of the churro is unclear.
One hypothesis is that churros were developed by Spanish shepherds. Nomads from the mountains of Spain invented the simple cake-like food staple because it could be easily cooked in a pan over an open fire.
"It tastes better than a donut and doesn't have a hole in the middle," says CHURROMANIA co-owner Ivan Acosta-Rubio.
Churros originally were about the size of a breadstick and were served plain or rolled in cinnamon sugar. Eventually, the churro made its way to Central and South America. They continued to be altered by different cultures. Some eat churros rolled in sugar. Others have stuffed the churro with fillings, such as chocolate or fruit.
Another theory is that the churro was brought to Europe by the Portuguese. Through trade with China, they learned the culinary technique of modifying dough for Youtiao, deep-fried breadstick popular in Asian countries.
CHURROMANIA
ADDRESS: 2602 James L. Redman Parkway, Plant City
PHONE: (813) 752-1188
WEBSITE: churromania.com