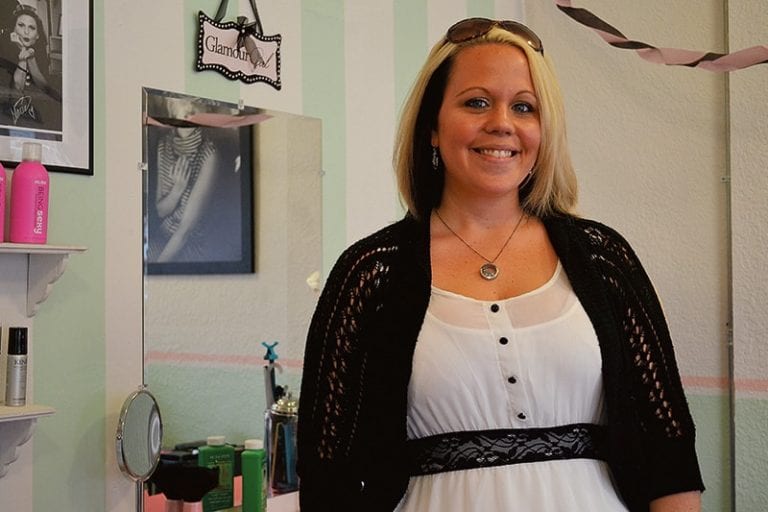 If the pink polka-dotted windows of Historic Downtown Plant City's newest salon doesn't tip you off to its vintage vibe, then the inside will.
Bombshell Beauty Lounge's intimate front room has a whimsical flair. One wall is striped a mod mint green. The hairstylists' tables are bright pink. A sultry black-and-white photograph of Marilyn Monroe watches over the salon.
"We want people to feel comfortable and talk about whatever they want," owner Vanessa Normand says. "We've all had that salon experience where everyone is just so uptight."
Normand had been toying with the idea of opening a salon for about a year. She always had harbored an interest in cosmetology, especially makeup. Normand received training from Manhattan Hairstyling Academy.
The entrepreneurial spirit runs in her family. They used to operate an antique store downtown. She grew up finding hidden treasures and bringing back to life old discards.
One day at lunch with her sister, Victoria Major, the two chatted about finally opening the salon. Normand didn't take her seriously. But, by the end of the day, Normand had signed a lease and put down a deposit on the store space off of North Collins Street.
With the antique experience from her childhood, Normand decided to infuse vintage style into her salon. Normand and Major scoured garage sales, thrift stores and websites to find the perfect antique furniture and décor for the salon. Several of the chairs are old salon chairs from 1926, which the reupholstered. They even found a 1950s hairdryer with mercury still lining it. Normand turned it into a funky lamp.
Bombshell offers cuts and color, massages, waxing and natural nails, and also offers a wedding package. Bombshell does have one special service that coincides with the vintage theme — a pinup girl package in which a client can get her hair and makeup done in a vintage style. Major, a professional photographer, then will take photographs of the client during a special photo shoot. The salon has a plethora of vintage dresses from which to choose for the shoot.
"A lot of the pinup style isn't the (thinnest) girls," Normand says. "Sometimes, it shows the imperfections, and that's beautiful."
Normand likes to style victory rolls the best, because of their height and classic reputation. A lot of the girls have never modeled before.
"It's fun to see their transformation," Normand says.
Bombshell also is putting together a pinup girl calendar of local women to benefit The Spring of Tampa Bay. Normand has done fashion shows with The Spring and is involved in a lot of charity work.
All three stylists — Stacie Majesky, Jamie-Lynne Deurr and Crystal Koren — love the vintage feel of the new salon.
"I like the atmosphere," Deurr says. "It's laid back."
Contact Amber Jurgensen at ajurgensen@plantcityobserver.com.
BASICS
ADDRESS: 205 N. Collins St.
PHONE: (813) 704-3939. Call or text for appointment.
WEBSITE: BombshellBL.com
EMAIL: bombshellbeautypc@gmail.com