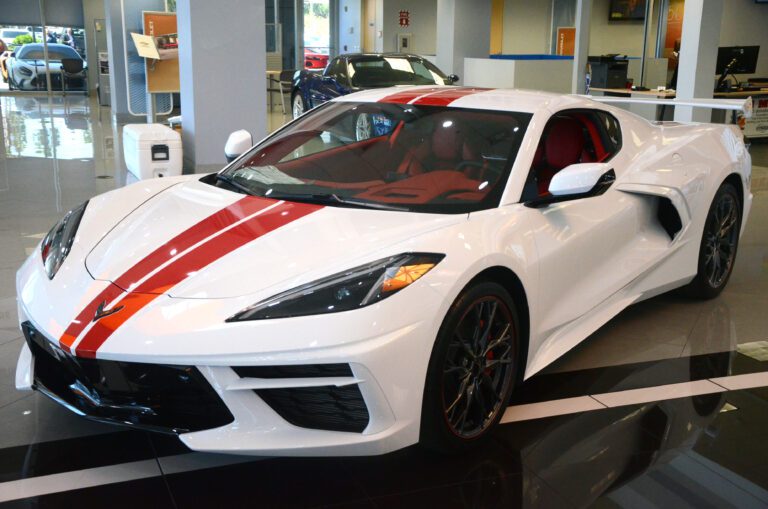 Two Plant City residents watched a dream come true as they were handed the keys to their new car following the Stingray Chevrolet Corvette Auction
2023 marked the 14th annual Stingray Chevrolet Corvette Raffle, a raffle in which tickets are sold at $5 each in the weeks leading up to — and throughout — the Florida Strawberry Festival before the winning ticket is selected on the final day of the festival.
Since 2010, each year's new Corvette has been donated by Steve and Susan Hurley, owners of Stingray Chevrolet in Plant City, with 100 percent of the proceeds donated directly to Unity in the Community — a Plant City-based non-profit. all-volunteer organization that raises money each year to provide student scholarships and assistance to over 30 charitable organizations in and around Plant City. The raffle is the largest of Unity in the Community's three major annual fundraisers, in addition to the Henry Falcon Memorial Golf Tournament and their yearly Clay Shoot. After the massive steel hopper was filled to the brim with thousands of hopeful entries, the winning ticket was pulled on March 12. As chair of Unity in the Community along with the owner of Stingray Chevrolet, Hurley stood before dozens of onlookers in a crowded Stingray Chevrolet showroom on Tuesday and began the day by thanking all of the raffle's partners for continuing to make the fundraiser such a roaring success, from media partners to Florida Strawberry Festival staff to city commissioners and Mayor Nate Kilton, all in attendance, among others. To follow, raffle winner and Plant City resident Mike May, along with his wife Linda, were presented with the keys to their new ride.
"It's so exciting. When we found out, we didn't believe it," Linda May said.
This year's car, a 2023 Corvette Stingray Coupe 3LT valued at $82,280, boasts a 490 horsepower 6.2L V-8 engine, an eight-speed dual-clutch transmission, rear-park assist, HD rear vision camera and a lightweight-removable roof panel. Additional bells and whistles include an eight-inch touchscreen, Bluetooth technology, voice recognition, a 10-speaker Bose Premium audio system, wireless charging technology, a theft deterrent system, high wing spoiler and forged aluminum wheels. In a nod to the Florida strawberry, the vehicle's beautiful leather interior sports Adrenaline Red Napa, with the car's exterior painted Arctic White with dual red racing stripes.
"Getting that call was surreal," Mike May said. "I couldn't believe it… well, I still can't hardly believe that it's real,"
And after the keys were handed over, it was time for another presentation as Unity in the Community's attending board members were presented with yet another record-breaking check.
With steady growth, the fundraiser has crossed the $300,000 mark with ease in recent years. In 2020, the fundraiser raised $337,000. In 2021, despite the COVID-19 pandemic impacting the Strawberry Festival itself, the fundraiser raised $334,000. In 2022, it once again hit a record high by raising $360,000, but never has the fundraiser ever reached the heights that it did in 2023 as the final total reached $363,000. Over the past 14 years, $2.95 million in total has been donated from the proceeds of the raffle.
"It's always a great day in Plant City, but especially when you can celebrate something like this," Kilton said. "Obviously it's fantastic for the winner of this vehicle but more importantly, to me, is what it means to this community. Steve, I can't thank you and Susan and the Stingray family enough for your contributions to Plant City. You exemplify what it means to be a great corporate partner to us here in town and it's the same culture that we've been cultivating here that makes our job that much easier, having great partners like Stingray, great partners like the Florida Strawberry Festival, United Food Bank of Plant City, Unity in the Community. When you think about how far-reaching this is in our community, it really can't be overstated… And you look at the people that are on the board of directors for Unity of the Community, they don't just serve on that one board, but they serve on multiple boards within our community. It just really touches everybody here so we can't thank you enough and it really is just exciting to me to continue and see so many great partners in this community that come together to really continue to make Plant City a great place to live, work and play.