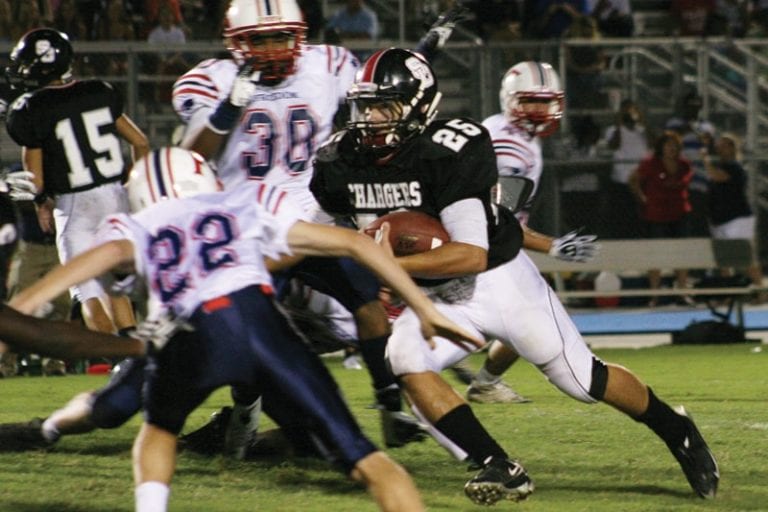 As with all Hillsborough County schools, Strawberry Crest and Plant City will open the 2012 season on a special night, kicking off Saturday because of the Republican National Convention.
New Strawberry Crest head coach John Kelly and his Chargers team are coming off a special night in their preseason game last week against Freedom. The Chargers were up 22-0 in the first half before closing out a 29-0 win in Dover.
Sure, it was just a preseason game, but for a team coming off 1-9 season (excluding the forfeit win against Armwood), it was a step in the right direction.
"We definitely made great strides over the summer, and that's what I've been telling the kids — that I wanted to see progression and improvement," Kelly said. "We started off good with our preseason game, but when it comes down to it, it's a preseason game, and right now, everyone is still 0-0, and I just want to continue to see improvement each and every week."
The Chargers dominated on all three phases last Friday, capitalizing on mistakes by the Patriots.
The SCHS defense compiled five sacks on the night and didn't allow Freedom to pass the 50-yard-line until the fourth quarter, long strides from the 40 plus points allowed in one half against Durant in the Chargers' spring game.
The Plant City defense also had a strong showing in its preseason game against Hillsborough. The Raiders also tallied five sacks as a team, including two from defensive end John Broome.
Plant City limited Hillsborough, an annual powerhouse, to just eight points in the first half but came up short 15-7 at game's end, with the Raiders only touchdown coming on a 2-yard run by Landon Galloway in the second half after long kickoff return by Tavares Chase. The PCHS offense had several opportunities to score but kept coming up short, including an interception throw by Rayquan Johnson in the endzone on the Raiders' final drive. Johnson replaced Nick Rodriguez, who started the game at quarterback for Plant City.
The key for Plant City head coach Wayne Ward entering the preseason game was to avoid injuries. Unfortunately, several players were banged up against Hillsborough and had to be helped off the field.
The most serious injury the Raiders are facing is junior running back/defensive back Jyquis Thomas. Thomas is recovering from a collapse lung, and according to Ward, he is doing better and has returned home from the hospital.
Kelly knows it will take a complete team effort to come out on top against Plant City, which routed the Chargers 69-6 last season. But he said a good showing or a win would be a great thing for his program moving forward. Plant City was one of the schools that split to form Strawberry Crest back in 2009.
"It's kind of a natural rivalry for us … so it's going to be an exciting game for us and our kids will be up for it," Kelly said.
Contact Matt Mauney at mmauney@plantcityobserver.com.
OTHER AREA ACTION
Durant at Freedom
Last week: Jamarlon Hamilton picked up right where he left off last year, scoring four touchdowns for Durant in the Cougars' 34-17 preseason win over Bloomingdale. The senior running back rushed for over 70 yards and had a 48-yard touchdown run in the fourth quarter. Quarterback Trey VanDeGrift, a transfer from Strawberry Crest, had a solid game in his debut as the Cougars starter.
Last meeting: Durant rolled to a 36-0 win in last season's opener against Freedom.