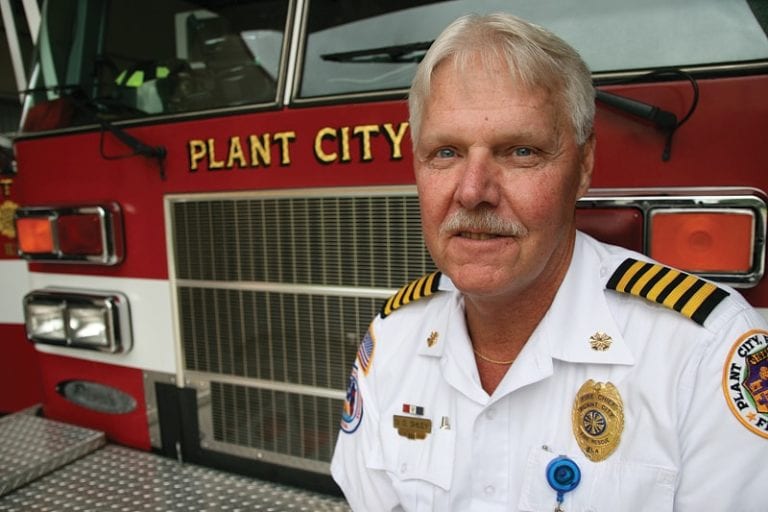 By Michael Eng | Managing Editor
Technically, this isn't George Shiley's first retirement.
Before he became Plant City's fire chief 13 years ago, Shiley retired on a Friday as chief of his hometown fire department in Johnstown, Pa., where he had served for 24 years.
He immediately climbed into his car, stopping in Raleigh, N.C., on Saturday to visit with his children. On Sunday, he drove to his new home and, on Monday, began work in Plant City.
"I was retired for a weekend," Shiley said, laughing. "And I spent that weekend on the road."
Last week, Shiley, 62, retired for the second time after 13 years of service in Plant City. Although he insists it will stick this time, Shiley spent the first few days in much the same fashion — in a car with his wife, Joan, and driving north to Raleigh to be with his children, Geoff and Nicole, and three grandchildren.
"I'm looking forward to it — I really am," he said.
After 37 years in fire rescue, Shiley said he began considering retirement after suffering a heart attack about one year ago. The notion became more attractive after a recent vacation to France.
Earlier this year, the Shileys put their home on the market. Within a week, they had an offer.
"It was just meant to be," Shiley said.
Ch-ch-ch changes
During his time in Plant City, Shiley piloted the fire department's transition to a complete fire-rescue operation. Two years after beginning his work here, Shiley added basic life-support service to the department. Then, in 2005, he gave members of his staff an opportunity to return to school to become paramedics.
And two years later, Plant City's department, then renamed Plant City Fire Rescue, launched its first advanced life support unit.
Today, of the department's 36 firefighters, 26 are also trained paramedics. And Shiley estimates as many as 90% of his department's calls are for life-support needs.
"In fire service, one of the biggest problems is tradition — sometimes, people aren't open-minded to change," he said. "But, you can become stagnant.
"There was a golden opportunity to improve things," Shiley said. "We've improved our value to the citizens."
Lifetime of service
Born and raised in Johnstown, Shiley was working in the city's parks and recreation department when he took a test for civil-service work. At the time, there were no jobs available in the police force, so Shiley took a position at the fire department. After 15 years, he was promoted to chief.
"Johnstown was a distressed city, and we faced lots of challenges," he said.
As chief, Shiley worked toward building better a relationship between the fire department and the labor union — a skill he also utilized in Plant City.
"The goal was to make life as simple as we could," he said.
As Plant City Fire Rescue continues to grow, Shiley said budgetary concerns and costs will remain as challenges.
"The fire service is in the process of putting itself out of business," he said. "The technology is so expensive, but we can't do without it."
The department added a $600,000 quint fire truck in 2010 as well as a $134,000 ambulance last year — both of which need to last at least 15 years, Shiley said.
"You have to be a realist," he said. "It's not just putting the wet stuff on the red stuff anymore."
Hanging it up
And as much as Shiley loves his career of choice, he is quite satisfied to step into retirement.
"I worry all the time," he said. "That's a big part I'm not going to miss at all."
Shiley said it was particularly hard June 18 — the fifth anniversary of the Sofa Super Star fire that killed nine firefighters in South Carolina.
"That happens too often anymore," he said. "I experienced one firefighter fatality in my career, and I don't want to go through that again."
In addition to spending time with his children and grandchildren, Shiley said he's looking forward to traveling with his wife and also enjoying several hobbies, including golf and hockey.
"I've really enjoyed the 13 years I've been here," Shiley said. "The commissioners and city manager have been so receptive to our suggestions, and they respect people who do their job, and they want you to do your job."
City Manager Greg Horwedel said Shiley will be missed.
"I wish I could have him for 13 more years," he said.
Contact Michael Eng at meng@plantcityobserver.com.
PLANT CITY APPOINTS INTERIM CHIEF
Following Fire Chief George Shiley's retirement, City Manager Greg Horwedel appointed Division Chief of Training/Prevention David Burnett as interim fire chief.
Burnett, who has spent the past five years with Plant City Fire Rescue, started his career as a junior firefighter in the Boy Scouts Explorer Post program at the Midway Fire District in Gulf Breeze. He later served as the district's chief from 1996 to 2003, before taking the helm at Chiefland Fire Rescue.
"We love it here," Burnett said of Plant City. "We built our new house about three years ago. My plan is to reach retirement here."