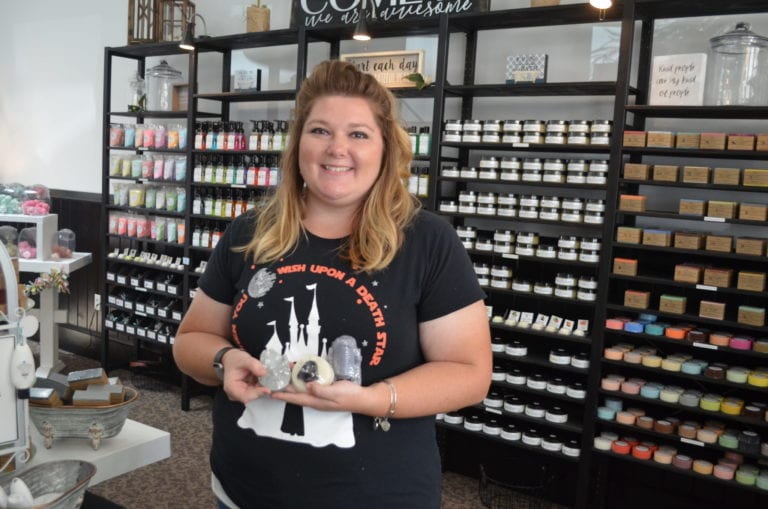 If you're planning to dive into your holiday shopping this weekend, look no further than downtown Plant City for a plethora of deals and some festive games.
Rather than hitting the mall early Friday morning to fight the crowds or setting your alarm for midnight to scour the internet in search of Cyber Monday deals, Plant City businesses are inviting shoppers to try a more relaxed and far more fun experience.
Small Business Saturday is celebrated nationwide on Nov. 30. To spice up the event and bring shoppers downtown, 25 businesses are offering one-of-a-kind deals on the big day and will also participate in a massive guessing game that comes with epic prizes.
Each participating store will have a jar on display. Inside will be numerous items. At Brick City Bricks, it will be filled with LEGO pieces. At Krazy Kup, there will be a jar full of coffee beans. Beside the jar is a box, a paper and a pen. The goal is that while you shop around, you will take a moment to eye a jar and make a guess on how many items are held within.
It's as much a game of skill as it is a game of chance. At the end of the day, each business will comb through its responses and select the guess that was either spot on or closest to the right number. Many of the businesses are offering a prize for their individual first-place guesser. From there, the winners are sent to a large pot where one will be selected as the Grand Prize winner.
The winner will be announced on the Plant City Main Street social media as well as on some of the businesses's accounts. The lucky winner will walk away with a basket filled with approximately $1,000 worth of goodies donated by the 25 participating businesses. Each business gave either merchandise or gift cards, and in some instances the businesses gave both.
"The more stores you go to, the better your odds are," Greg Williams, owner of Brick City Bricks, said. "Each store is also having specials. You can check out the websites and social medias of some of those individual stores to see what the specials are or you can just walk in and find out for yourself. A few our businesses have even agreed to stay open later to make sure everyone has the opportunity to find the perfect gift. The businesses downtown are partnering with Main Street to make this a massive day of fun for everyone."
Small Business Saturday was created 10 years ago in hopes it would encourage shoppers to give their dollar to a local business rather than throw it at a massive corporation where the majority of the money ends up lining the pockets of the higher ups rather than trickling down toward its many employees.
According to Plant City Main Street, "for every $100 spent at locally-owned small businesses, $68 returns to the community through taxes, payroll, and other expenditures. At bigger national chains, only $43 stays in the community."
Plant City is evolving and Williams said the hope is this event gets people downtown all day long. You can eat breakfast at Brick House Cafe and then walk to Tub Treats or The State Theater or Tennessee Jane and shop for a few hours before popping over to Mr. Sebas or Krazy Kup or The Kandy Shoppe for a quick snack. Then hit a few more stores and pick up one-of-a-kind gifts that you simply can't purchase online or in major stores. For lunch, you can head to The Corner Store or The Whistle Stop and then you can spend a few more hours at Aromatic Harmony or Blue Thumb or Inspire Quilting & Sewing. As the sun sets it's the perfect opportunity to head to Norma's or Linda's Crab Shack for dinner and then you can go home with a trunk filled with packages knowing you'll have items under the tree that will bring joy to the entire family while also helping our local business owners provide happy holidays for their own loved ones.
"This idea really is all about promoting businesses and promoting downtown," Williams said. "The busier downtown is the better it will be for all of us that have our businesses in this area. We love our downtown, we love our community, that's why all of us are here. So you know the hope is that if people get down here and see all of the things we have going on they'll realize 'Hey, downtown is really a cool place to hang out and spend the day' and then they'll find places they'll want to come back to time and time again."
Participating businesses: 
Brick City Bricks
Tub Treats
Krazy Kup
Aromatic Harmony
Blue Thumb
All A Bloom
Linda's Crab Shack
I Hate My Trainer
Norma's
Mr. Sebas
Carlson Gracie
The Whistle Stop
Tennessee Jane
The Corner Store
Aim Lighting
Valerie's Attic
Rocking Horse
The Mercantile
Generation Fun
The State Theater
Dark Horse Music
Roots Tap Room
Depot Antiques
The Kandy Shoppe
Inspire Quilting & Sewing