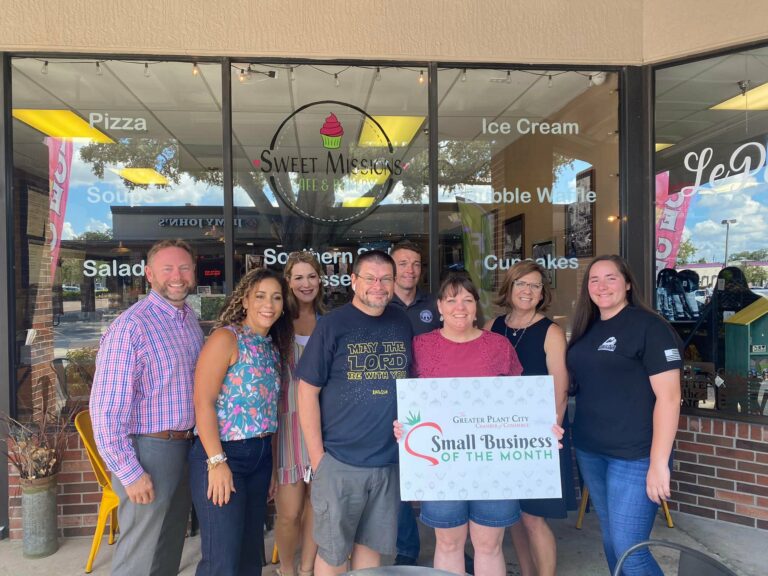 Bakery-cafe has made its mark in town offering delicious treats
In its few months of operation, Sweet Missions Café and Bakery has appealed to Plant City locals with its sugar-filled delicacies, which is why it has been named September's Small Business of the Month by the Greater Plant City Chamber of Commerce.
Located off James L. Redman Parkway, the establishment opened its doors to the public in April under the helm of its owners Skipper Rodgers and his wife Tricia.
"Sweet Missions began as a concept about 10 years ago when we were living up in Orange Park, Florida," Skipper said. "I was serving full time on staff as a pastor up in Jacksonville…"
He made plans to go on a trip to do missionary work and his son wanted to come along. While Skipper's trip was already paid for, his sons was not, and so Tricia suggested holding a fundraiser. They sold her own baked goods and were successful in paying their son's way on the mission trip.
Although the fundraiser had ended, customers kept requesting more of Tricia's sweet treats. That's when the family decided to start a business selling cupcakes, cookies, as well as cakes, and providing their services at different functions such as carnivals.
In an act of charity, they would take a portion of their revenue and offer it as proceeds to either those who needed funds to go on mission trips or directly to mission organizations.
They continued their business when they moved to Leesburg and purchased a food trailer.
"Then all of a sudden, God opened the door for us to be able to do school lunches at a private elementary school and high school," Skipper said.
Now operating under the name Sweet Missions, they served delicacies once a week, then twice and then three times, for four years.
In August of last year, Skipper moved back to his native Plant City with his family so he could care for his mother. At that point, Skipper had retired as a full-time minister and wanted to focus more on expanding the bakery business.
"In the back of our heads was a dream to open up a small café someday," he said.
He and Tricia brought that vision to fruition after purchasing an existing café this past March. The woman who had managed the previous establishment decided to sell it when her health began to decline.
In just a month, Skipper and Tricia opened their first café after making several modifications and incorporations to the building. They added more desserts to their menu as well as other offerings.
"We make almost everything fresh and in-house," Skipper said. "We make our own pizza sauce, pizza dough…calzones."
There's also sandwiches, soups, and salads. The soups range from chicken tortilla, to chicken potato, and Spanish bean – which Skipper said is the most popular of them all.
As far as sweets, there's the bubble waffle, which is a cross between a Belgium waffle and a funnel cake. Inside is filled with ice cream and then toppings. One customer created the I Love Plant City treat, which is a bubble waffle with vanilla ice cream, strawberries, whipped cream, and toppings.
Another popular dessert is the Sling Shot Ice Cream, which has a bubble waffle filled with two types of ice cream, strawberries, bananas, chocolate sauce, whipped cream, cherries, and waffle crumbles.
"When people order that, I come out and get everybody's attention and I go and be silly and embarrass the person who ordered it and play with them a little bit," Skipper said. "It's a lot of fun. We call it the granddaddy of all ice cream desserts."
Patrons can voluntarily donate funds that go toward missionary work in regions of the world such as Haiti and countries where Ukrainian refugee children now reside, sending toys, stickers, and coloring books.
"We still support missionaries," Skipper said. "So far, we've been able to give over $2,000 to missions organizations and we're very proud of that."
Skipper and Tricia have offered spiritual guidance to customers who have been going through difficulties as well, which has made the establishment a place of solace.
"We've never been the one that believes you should hit them over the head with the Bible," he said. "We believe that through our love and kindness, we want to live like Christ and let others see his goodness in us and the way we treat others. Our motto is to 'Encourage and to Inspire and to Serve.'"
The business owners even have an area of the café where patrons can purchase Bibles and pick up free religious booklets.
While he's keeping busy with his establishment, Skipper also works as a handyman part time and will occasionally fill in for a minister at a Sunday church service.
He is also currently writing a book about children's ministry.
Skipper said that there's a chance that they may open another café, but the family's time and attention will be on continuing to build the current one.
"Our focus right now is trying to get our café here up and running and well established and maintaining high quality of food and a high quality of service for our customers," Skipper said.