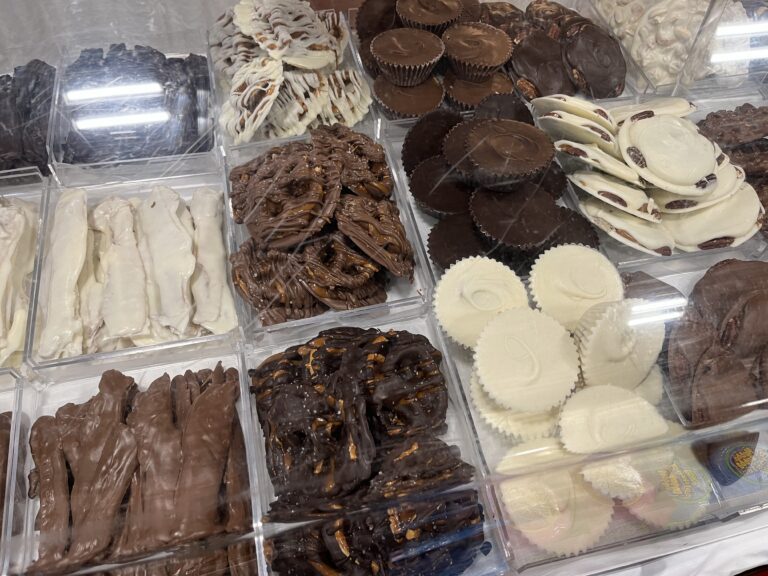 Visitors at the festival have a wide variety of products to buy
When walking on the fairgrounds of the Florida Strawberry Festival, there's the foods and their strong aromas, rides, games, large crowds, and all the glamour that comes along with the yearly event.
However, inside the large buildings on the premises, there are shopping malls with what seems like an endless variety of vendors lined up, each offering something unique and different from the next.
One such building is the Stadium Exhibit Hall located behind the GT Grandstands and the Wish Farms Soundstage.
Businesses for barbeque grill accessories, candies, arcade games, flowerpots, chairs, clothes, jewelry, handbags, and much more can be found indoors.
It draws in sizable crowds with patrons whose stroll down the aisles are interrupted every so often when a vendor has items that catch their eye.
What's more, many vendors aren't from Plant City…or Florida for that matter. Just like many of the patrons who enjoy the festival, there are those business owners who come from other regions of the country.
Some not only set up shop just for the festival alone, but they use it as an opportunity to leave the cold weather behind and be snowbirds for several days out of the year.
Dog treats
One of those vendors is Nicole Duval from Kansas City, Missouri.
"We come down in the winter because in the northern part it's hard to make a living with the weather," she said.
Inside the Stadium Exhibit Hall, Duval and her husband set up their establishment called Yappy Hour: All Natural Dog Treats.
The name explains it all.
When approaching the small shop, patrons are initially enticed by what they believe are homemade cookies for people, Duval explained.
The dog cookies on display come in a variety of colors and are shaped as well as designed as dog bones, bacon strips, hot dogs, flamingos, scrambled eggs, baseballs, footballs, burgers, basketballs, donuts, and of course strawberries.
Some are made of peanut butter without sugar and have yogurt as frosting.
"It takes us about six weeks to get all this done," she said. "I bake, my husband decorates and then we get in the truck, we pull a trailer with our two dogs and head south."
Duval also mentioned that she looks forward to coming to the festival to see the other small, independent businesses with handmade products.
And she is impressed by how orderly the Strawberry Festival is kept and that it makes doing business easier.
Hair accessories
Lisa Bandy has been selling her EZ Bun hair bands for over 25 years.
For two decades she had been trying to get a spot at the festival, but because the number of vendors had reached full capacity, it was difficult, she explained.
For four years now, she has been able to reserve a spot and set up her products.
From afar, the hair bands look like socks neatly laid out.
They're firm but flexible and Bandy usually spends each day giving demonstrations with her hair to show how it works.
"They stop and they're shocked like, 'do that again,' they say."
The hair bands come in a long and short size, and customers have a wide range of styles and colors to choose from.
The most popular ones are those made of denim, and those that match the customers' hair color, Bandy explained.
"I have a ton of repeat customers," she said. "They come back looking for me for more colors."
She also noted that her patrons, plus the friendly atmosphere of the festival, makes it worth traveling to each year from her home in Nashville, Tennessee.
Candy shop
Joe Dias knows that the variety of candy showcased at his shop not only makes kids stop in their tracks, but adults too.
He operates the Lady Ann Candies' Candyland Market which is based in Rhode Island.
It's "more candy in one spot than you've probably ever seen in your life," Dias said.
And it does have a large assortment of sweets for customers to choose from.
Pretzel rods dipped in chocolate, Reese's Pieces, M&Ms, peanut butter, or coconut.
There's Turtles with pecans and caramel, as well as nuts that are clumped together with a combination of honey, sugar, cinnamon, and vanilla extract.
There are also lollipops, pop rocks, and bubble gum.
And the thin, white candy cigarettes are nostalgic and a big seller among adults, Dias said.
What's more, he has another tent set up outside on the fairgrounds.
While he's surrounded by all that candy, Dias said it's the sweet taste of the festival's strawberry shortcake that satisfies him most.
Wooden crafts
"Plant City's Strawberry Festival is a fabulous event," Rick Oxford said. "It's one of the better ones in the country, when it comes to people enjoying themselves."
He sees patrons do just that when they stop by his shop which displays wooden hand-crafted guns that shoot rubber bands.
Patrons get to test their skills when aiming at a row of spinning cards perched up on a bar.
Oxford has been building these wooden toys for 30 years, which appeal to kids all the way to grandparents, he said.
While he and his wife Barbara enjoy visiting the festival each year, it's also a win-win as they get to escape the cold weather in Missouri.
Artwork
John Norris from Dynogen Marketing offers products that don't require any physical activity, but something to be admired on a wall.
His shop has a vast array of texture print drawings that come from Indiana.
Different pictures depict characters from Marvel comics, Star Wars, Disney and much more.
Some of the biggest sellers are drawings of movie or T.V. characters sitting in a barber shop having a conversation while getting their hair cut.
There are also real-life portraits of prominent figures as well.
Patrons spend a considerable amount of time looking through many colorful options, and sometimes they will swing back around later to look at more items, Norris said.
When taking a stroll around vendors' shops, visitors might spot something they'll eventually walk away from the festival with. One thing is for sure, vendors will not all sell the same thing, making each item unique in its own way.