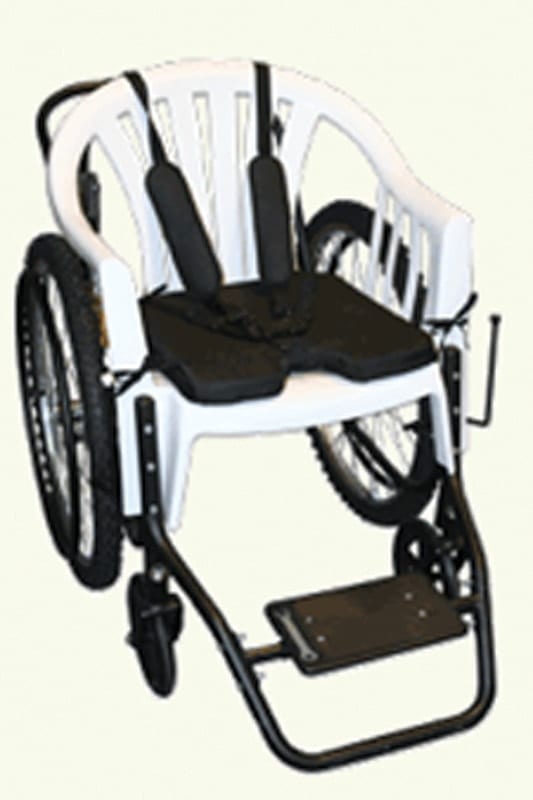 By Amber Jurgensen | Staff Writer
Brenda Langston was immediately captivated by a wheelchair on display at a Kissimmee Vacation Bible School Clinic last spring. It was like nothing the pediatric nurse had ever seen. A concoction of everyday household items, the wheelchair was made of a basic white resin lawn chair that fit comfortably into a steel frame with two mountain bike tires attached to it.
"It was just an interesting thing," Langston said. "It definitely caught my eye. … So I asked about it."
The wheelchair turned out to be part of Free Wheelchair Mission, a Christian-based mission that sends wheelchairs to disabled people in developing countries. The design was created to be low in cost but durable enough for the rural terrains in which many recipients live.
When Langston returned to Plant City, she suggested the mission to Shiloh Baptist Church Senior Pastor Joe Bowles and Nancy Willis, director of Vacation Bible School. They decided to challenge the kids at July's Vacation Bible School to bring in change for wheelchairs.
At the cost of $63.94 per wheelchair, Langston thought the children would raise money for about 20 of the hardy hybrids. Little did she know that the mission would wheel its way into the hearts of the congregation.
On July 8, the first Sunday of  VBS, Bowles told the congregation about the cause and screened a short two-minute video about it. Immediately, members volunteered to donate. Before VBS activities even started, 50 chairs had been funded.
"We were so excited about that," Langston said. "We were so surprised by that response."
Throughout the week, students continued to bring in their lose change for the cause. By the end, enough money was raised for 85 wheelchairs.
"They saw the wheelchair, they saw people who needed it," Langston says. "It was tangible. They knew where their money was going."
Working in the medical field for 27 years, Langston is no stranger to patients suffering from illnesses and disabilities.
"Here in the United States, the injuries or disabilities (patients) have (such as) sclerosis — we fix those," Langston says. "We would immediately start physical therapy or do surgery. When people in developing countries have injuries, there's no way for them to get around."
According to the Free Wheelchair Mission's website, an estimated 100 million people need wheelchairs but cannot afford one. Furthermore, 80% of people with disabilities live in developing countries.
"We all realized what mobility means to us," Langston said. "At some point in our lives, we all become somewhat immobile — whether that's because of old age or breaking a leg or spraining an ankle. It was easy for people to relate to. We realized that mobility is a basic human need."
Free Wheelchair Mission wants to send 20 million wheelchairs to those in need worldwide. Langston hopes to help them with that goal.
"I'm hoping that some other churches or people will see the vision for it and it will catch on," Langston said. "I was touched the congregation of my church saw what I saw."
For more about the Free Wheelchair Mission, visit freewheelchairmission.org.
Contact Amber Jurgensen at ajurgensen@plantcityobserver.com.