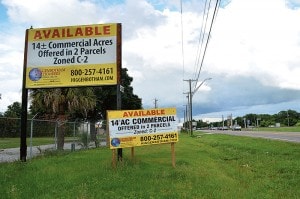 Higgenbotham Auctioneers is located next door to Plant City, in Lakeland. So, it's no surprise that it targets Plant City as a viable market. 
"We do quite a bit of business in Plant City," Auction Manager Earl Williams said. "We've got relationships there in Plant City. That's why we keep quite a listing there."
Both Williams and General Manager John Haney live in Plant City, allowing them to scout out prime real estate. 
Currently, there are seven different parcels Higgenbotham Auctioneers has listed for sale in Plant City. 
"All the properties that we've got right now are fairly unique," Williams said. 
Indeed. Currently, the list includes everything from historic buildings to an income-producing apartment building.
THE PROPERTIES
4260 U.S. 92 E.
The 14 commercial acres located off U.S. 92 East near County Line Road are offered in two different parcels with the option to purchase one or both. The total asking price is $1.2 million.
There are nearby city water and sewer lines that can be extended to the property with current well and septic utilities. 
The property is highly visible, with about 8,500 cars passing through daily on US 9.2. and 18,500 on County Line Road. It also is located within sight of the new Amazon.com large-item distribution center currently under construction. Also located on the corridor is an O'Reilly Auto Parts distribution center, Welldyne, Publix Supermarkets and Save-A-Lot Supermarkets. 
There will be upcoming improvements to the corridor including additional exit lanes from Interstate 4 and a new traffic light at the I-4 eastbound off ramp.
The property has been the home of Florida RV World since 1985. Following the retirement of the owner, the property returned to the market. 
114 N. Pearl St.
A 10-unit apartment complex located at 114 N. Pearl St. and its adjoining property are for sale and offered in three parcels.
Parcel one is the two-story apartment complex built in 1978. It is located on one-half acre and listed for $249,000.
Parcel two is a 1/4-acre development tract located on North Davis Street. It is listed at $29,900. 
Parcel three is a .33 acre lot on the northeast corner of Reynolds and North Davis streets. It is listed at $59,900.
315 S. Collins St.
The 1,870-square-foot commercial building on 315 S. Collins St. has two restrooms, a paved parking area, covered canopy, central HVAC and is handicapped accessible.
The building is within the Plant City Midtown Redevelopment area. It was formerly used as a staffing agency and is ideal for professional office use.
It is listed at $169,900. 
208-212 S. Collins St. 
The 18,786-square-foot historic building is located downtown and available for retail, office or warehouse uses. The two-story space is also within the Midtown area.
It is listed at $449,000. 
WANT TO BUY?
For information on the listed properties, call Higgenbotham Auctioneers, 800-257-4161, or send an email to auction@higgenbotham.com.