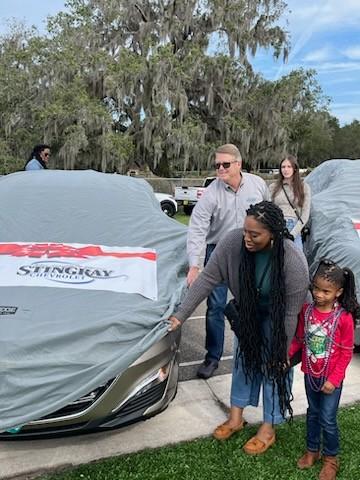 A Plant City single mother's wish comes true when she is awarded a brand new car.
There was plenty of goodwill going around Plant City last weekend when Plant City Black Heritage and Des'Aimes Social Club hosted its annual Santa Sled Festival at the Sadye Gibbs Martin Community Center, providing toys, groceries, clothing and more to local families. One lucky single mother also drove away from The Joy of Giving Event at Sligh Middle Magnet School (hosted by WWE star and philanthropist Titus O'Neil) with a 2023 Chevrolet Malibu thanks to the generosity of Stingray Chevrolet owner Steve Hurley.
Plant City Black Heritage founder and event coordinator Sharon Moody said more than 100 families with more than 300 children attended the Santa's Sled event. Attendees received raffle tickets for a chance to walk away with a big-ticket item like bicycles, hoverboards and electric scooters. "The children were so excited to see the bags filled with toys that they wanted to open them up right then and there," she said. "I really enjoy this time of year, giving back to the community."
While there were many grateful families, probably none were more grateful than Plant City resident and single mother Shytal Eston, who received a gift she wasn't expecting in her wildest dreams. The Lincoln Elementary Magnet School teacher's aide and mother of two (King, 9, and Royal, 6)had been puttering around town in a 1999 Honda Civic with more than 180,000 miles on its odometer.
Faulty wheel bearings that caused a constant wobble when driven meant she only drove the car to and from work. Highways were avoided. If she needed to go somewhere outside of Plant City's city limits, she'd rely on friends to take her. The car radio didn't work. Three of four car doorhandles were inoperable. When the doors locked, one of her children would crawl through the trunk to the backseat and manually unlock the doors. Two weeks ago she was late to work because the key wouldn't fit in the trunk lock and she had to call AAA. The tow truck driver spent 30 minutes running a snake to the only working door. Although thankful to have a car (she used to not own one), she frustratedly told her co-workers that she was ordering new doorhandles as soon as she got her next paycheck.
What Eston didn't know was that she would soon receive a gift that would change her life. Principal Carol Rushing was in on the surprise and invited her to attend a Saturday event with her at Sligh Middle School. Rushing picked Eston and her children up the day of the event (because her car couldn't make the drive to Tampa). "I thought we were there to represent Lincoln," said Eston.
Rushing invited Eston to an area near the stage. An announcer said they waned to recognize four families. Eston's was he second name called and she was told to stand next to Hurley. She was bewildered but obliged. "I got closer and saw a covered object but didn't have my glasses on and was just praying to God I wouldn't faint," she said. "I felt like I was having an outer-body experience."
When the cover was removed she was shocked to see a new car. Her new car. All the doors open. The radio works. There's no wobble. It has Bluetooth technology, lane assist and a key fob. She cried happy tears.
Eston took possession of the vehicle Monday morning after completing the required paperwork at the dealership. Her children, who attend the H.O.S.T. after-school program, couldn't wait for their mom to pick them up in the carline. "My daughter thought Christmas had come early," she said. "She loves the new car smell."
The biggest benefit is she can now take her children to all the places she couldn't in her old car. Her son wants to go to the beach. Her daughter wants to see the mermaids at Weeki Wachee Springs. "We can go places now," she said. "I'm just so appreciative."
Hurley appreciates the opportunity to bring joy to such a deserving person in the Plant City community. "It's great to be blessed with enough success to be able to do this but this wouldn't happen without Sharon's help finding the best candidate," he said. "It's amazing to be able to make that kind of difference, it's really special."