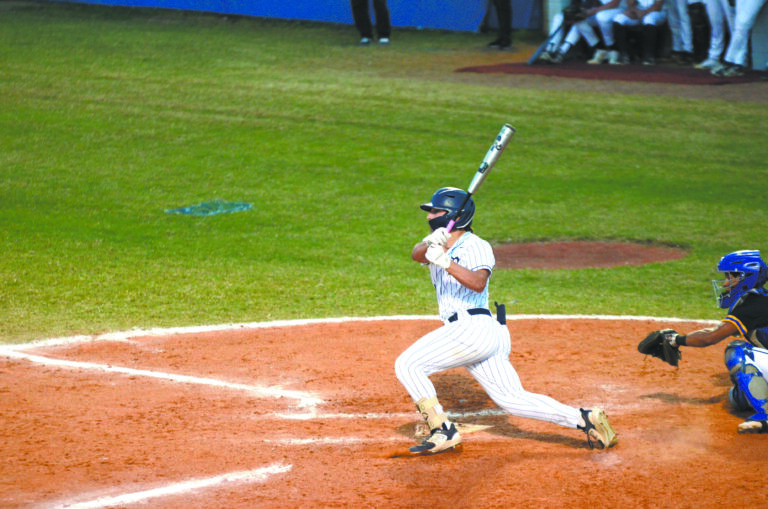 Despite a pair of pool play wins for Strawberry Crest and Durant, neither were able to earn spots in Wednesday's semifinal round.
Durant, Plant City and Strawberry Crest baseball all leapt into spring break with Saladino Tournament play opening this past weekend.
The annual Saladino Tournament has brought teams from all across Hillsborough County to compete against one another since 1981, now with a Gold, Silver and Bronze division that features round-robin style pool play before a semifinal round is played on Wednesday, followed by a championship game for each division on Thursday at the University of Tampa.
As a part of the tournament's Gold Division — the largest division, featuring four separate four-team pools — Durant was placed in Pool B alongside Sickles, Jefferson and Robinson, Strawberry Crest was placed in Pool C alongside Newsome, Bloomingdale and Steinbrenner and Plant City was placed in Pool D alongside Jesuit, Wharton and Gaither.
After falling 2-1 to Newsome on Saturday, Crest bounced back strong with a 5-2 win over Bloomingdale on Monday and blowout 14-4 win over Steinbrenner on Tuesday.
After falling in their first tournament game with a 9-3 loss to Jesuit on Saturday, Plant City returned with a 4-3 victory over Gaither before losing to Wharton in a 15-7 final on Tuesday.
After a 4-0 loss to Sickles on Saturday, just Durant's second loss of the season, the Cougars battled back with an 8-1 win over Robinson on Monday and an exciting 4-3 walkoff win in extras against Jefferson on Tuesday.
With Durant acting as the home team, senior Preston Rogers took the mound for the Cougars. Jefferson got the offense rolling quickly with a double to right center, moving the runner to third on a ground out to second and driving him home on a ground out to short — giving the Dragons a 1-0 lead early — before Rogers ended the inning with his first strikeout of the night. In the bottom of the frame, junior Nick April-Gath led off the inning with a base hit up the middle. A fly out to center marked the first out of the inning, and a fly to shallow left field was somehow tracked down by Jefferson shortstop Cameron Mallo, notching the second out with an unbelievable over-the-shoulder catch before doubling up April-Gath at first as he was hung out to dry between first and second.
Rogers struck out the side in the second and Durant managed to claw their way onto the scoreboard in the bottom half of the inning as senior Jeremy Ortiz opened the frame with a hard ground ball between first and second, reaching safely as he forced the second baseman to make a tough play to his left where he wasn't able to field the ball cleanly. Ortiz advanced to second on a passed ball and moved to third on a ground out to short before knotting the contest at 1-1 on another passed ball.
Rogers worked through the top of the third without issue, notching another strikeout and conceding just one baserunner on a walk before Durant took their first lead of the contest in the bottom half. After a fly out to center, April-Gath reached with a walk and advanced to second on a pickoff throw sent past the first baseman and up the right field line. A strikeout marked the second out of the inning and after moving up to third, April-Gath scored as junior Noah Morales crushed a line drive right at Jefferson's third baseman that popped off of his glove where he was then unable to recover in time to make the play.
Both teams were held without baserunners in the fourth before Jefferson responded in the top of the fifth. After their first hitter reached on an error, they put another runner on with a hit by pitch. Rogers was able to get the first out of the inning on a breaking ball in the dirt, inducing a swing and a miss for another strikeout, but the loose ball allowed Jefferson's runners to advance to second and third. A walk loaded the bases and a base hit to left drove home two runs, giving the Dragons a 3-2 lead, but Rogers worked through the rest of the inning without any more damage done.
The Cougars were unable to draw even through the bottom of the fifth and the sixth and the Cougars brought in sophomore Lonnie Coburn out of the bullpen to take over in relief heading into the top of the seventh, Rogers' night ending with nine strikeouts over six innings while allowing just two hits, two walks and one earned run. Coburn conceded two walks in the seventh but kept the Dragons from pulling any further ahead with a pair of fly balls and a groundout to bring Durant back into the dugout for their last chance to tie the game. After a fly out to right field left the Cougars with just two outs remaining to complete their comeback attempt, senior Gavin Florio punched a single up the middle to put the tying run on base. Florio advanced to second on a passed ball and junior Pete Oderio drew a walk behind him. A passed ball in the next at bat allowed both runners to advance to second and third before senior Aidan Welsh was then intentionally walked to load the bases and set up a force out at any bag. In a perfect situation for the Dragons, junior Devin Suero was forced to roll over a ground ball right back to the pitcher, allowing Jefferson to get the force out at home for the second out. But with one final chance, April-Gath was able to stay disciplined and draw a walk that pushed the game-tying run across. Jefferson was finally able to induce a fly out to end the frame, avoiding a Durant walk-off victory for the moment, but not before the damage had been done. Jefferson immediately put a baserunner on in extras as their first hitter in the top of the eighth roped a hard grounder down the third base line, knocked down by a diving Welsh to keep the runner at first, but he was nonetheless able to move into scoring position quickly on a passed ball. Coburn notched a strikeout for the first out of the inning but a base hit to left appeared to give Jefferson their lead back, only for Florio to gather the bouncing base knock and unleash a perfect throw home to catcher Dylan LaPointe, throwing the potential go-ahead run out at the plate. The Dragons' trail runner advanced to second on Florio's throw, but advanced no further as Coburn shut down the threat.
Durant was held without a runner in the bottom half of the frame and Coburn added two more strikeouts in the top of the ninth as the Cougars once again built a threat of their own in the bottom half. After a fly out to open the inning, Welsh drew a one-out walk before stealing second and third to put the winning run just 90 feet away. In a long at bat, Suero drew a walk himself and advanced to second on a ground out to third — while Welsh was unable to move home. LaPointe was then intentionally walked and it was ultimately Morales — with two outs and the bases loaded in the game's second extra inning — who worked the game's final at bat to a 3-1 count before drawing a walk and pushing home the game-winning run in walkoff fashion.
Despite both Strawberry Crest and Durant making their way through pool play with two wins, neither were able to come out on top of their pool and subsequently advance to the Gold Division's semifinal round on Wednesday. With each team guaranteed four games in the tournament, Plant City traveled to Lennard for a battle against the Longhorns on Wednesday night while Strawberry Crest hosted Durant in a Plant City area matchup, with both consolation games being played at 7 p.m.
While all three teams played on Wednesday night, both games concluded after the Plant City Observer had gone to press. Further coverage will be provided.