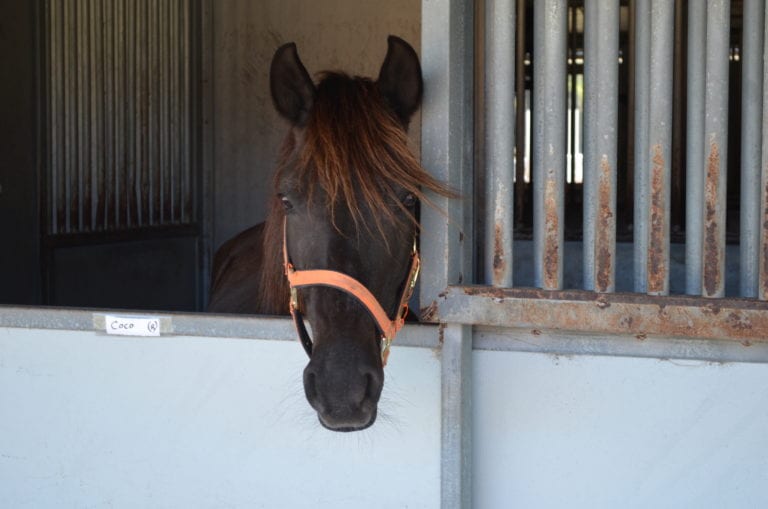 The RVR Horse Rescue has officially relocated to Plant City and is preparing to host its grand opening to the community.
RVR Horse Rescue has been changing the lives of horses across the state for more than a decade, and now it's got a new home.
Originally housed in Riverview, the rescue blossomed for years while growing its network of volunteers and expanding its name throughout the area. Then development came. Nearly all of the property surrounding the rescue was developed into residential communities, which essentially caused RVR to become a basin for runoff. The rescue flooded during the rainy season, leaving the horses and rescues to battle through thick swathes of mud and standing water. 
"The drainage issues were getting progressively worse and it was bad for the volunteers and bad for the horses," Kelly Ford, spokesperson and board member of RVR, said. "Spending any extended period of time in mud and water is detrimental for horses' hooves and can lead to abscesses and even lameness. It was hard for our volunteers to do their daily operations when they were wading though ankle-deep mud. We have a high quality of care and RVR's president and its executive board knew there wasn't a choice. We had to move."
The rescue, which was founded by Shawn Jayroe, began looking for its new home when it stumbled upon the facility on SR 60. Repairs and upgrades immediately began on the facility to make it move-ready and Jayroe even went as far as to build a new 30-stall barn on the property adjacent to the other barns already on the site.
There are big plans ahead and while there are still some minor improvements needed around the location at 1710 West SR 60, the horses officially moved into their new home on Jan. 11 after a year's worth of preparation. The new location also has ample room to grow. 
"This is such a great location," Ford said. "Being in Plant City where so many people have horses, it just seems like a great fit. Some of our volunteers are actually from Plant City and had been driving out to Riverview to work with us, so it was a great transition. Plant City was our neighbor, now it's our home."
The rescue rehabilitates and rehomes injured or ill horses. It specializes in taking in "the worst cases of abuse and neglect" and has years of experience handling injuries. It is also an accredited Thoroughbred Aftercare Alliance organization. Founded in 2004, RVR Horse Rescue received its 501(c)3 non-profit status in 2001. Jayroe started the rescue alone, one horse at a time, and has since grown into a massive powerhouse that is able to impact countless lives year-round.
It's entirely volunteer-run and has created a tight-knit family in its ranks. Some of the horse experts have grown up around the animals. Some have animal-sized holes in their hearts, but never worked with horses before connecting with RVR.
When they arrive at a volunteer orientation, they begin their training and they're soon ready to handle anything thrown their way. There are anywhere from 100 to 200 volunteers that work off and on with RVR, ranging from the core group of 30 or so people there once a week to seasonal volunteers who come when they're in town in the winter and to students who come for projects or volunteer hours.
It takes a strong heart to work in the rescue business. But Ford said there are always more good days than bad. The stories can break your heart, but watching horses come in barely able to stand and then heal and evolve into trusting and thriving individuals makes everything worth it. 
One of their success stories is a horse now called Ruby. When she was found following a call for her to be rehomed, RVR arrived on the scene to a gut-wrenching sight. There was the horse, skin stretched tight over its jutting bones, standing alone. She didn't even have a name.
The owner had several other horses that were being fed but, for some reason, this lone horse had been left to its own fate and had RVR not stepped in, the story would have quickly taken a darker turn. Unbeknownst to the group, Ruby was also blind in one eye from an old, untreated injury.
Ford said she's made leaps and bounds in her progress in nearly three years. While she can still be a little fearful, she's overcome so much and will make a great horse for her future family, whoever that may be.
Sometimes RVR receives a call from a concerned neighbor. Sometimes they get word from law enforcement who had to step in and handle a bad case. When the phone rings, they answer and they've helped countless horses find their forever homes.
While the group is not a sanctuary and shares the ultimate goal of rehabilitating and then rehoming all of its rescues, it will keep a horse for the rest of its life if they never find the perfect fit. They have an adoption process that ensures the future owner is ready to handle their new family member. They must go through a sponsor period for 30 days to spend time with the horse, build a bond and determine if they're a good fit. If everyone is happy at the end of the period, they can take their horse home. 
There are all kinds of horses currently calling RVR home. They took in 15 Paso Fino horses and have rehabilitated them, they have a few thoroughbreds and even a mule hoping to find its family.
Several of the volunteers who work with RVR have fallen in love with rescues over the year and taken them home. A few even board their horses at the rescue as they are there every day working with the other animals. Their boarding fees go right back to the organization.
The group is always looking for help as they are entirely volunteer-run. Ford said they would love to see some of their Plant City neighbors come out and work with them. They're also always looking for donations. They frequently do fundraisers and apply for grants, but every little bit helps. 
If you would like to sign up for the next volunteer orientation, want to stay up to date on the announcement of the upcoming grand opening event or are looking for more information on RVR Horse Rescue visit the organization's Facebook page or head to rvrhorserescue.org.