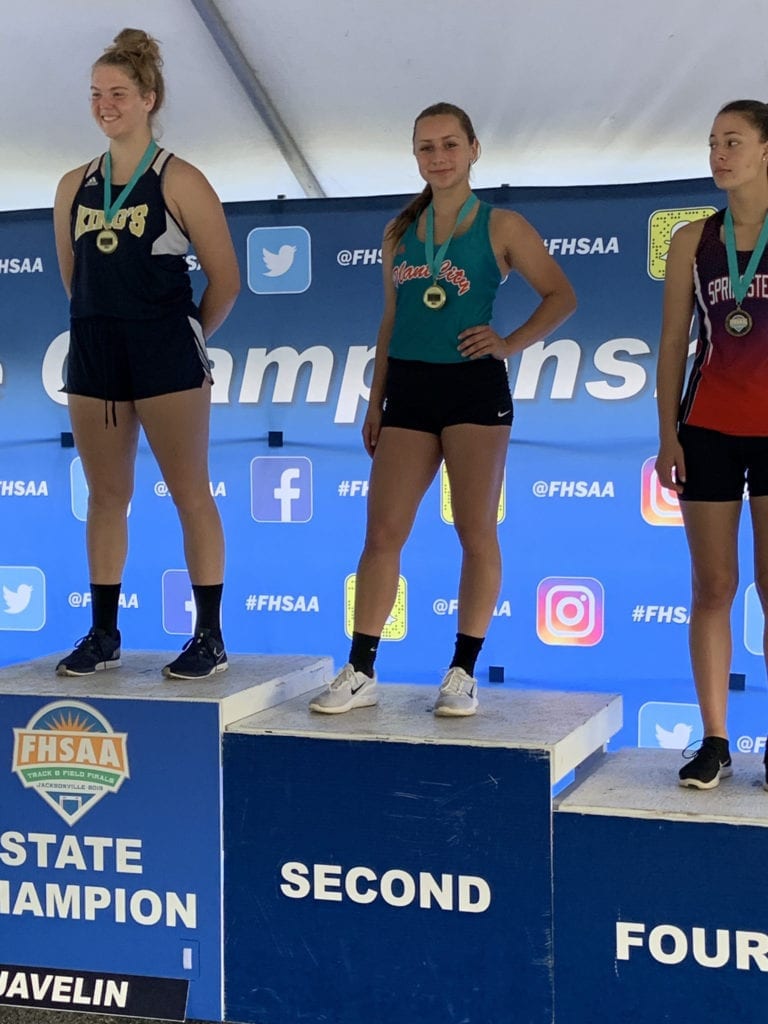 Katherine Ruppert, of Plant City High School, placed second in the state in the first-ever FHSAA girls javelin showcase last weekend.
Katherine Ruppert knows how serendipity works as well as anyone.
One month ago, Ruppert qualified for the first-ever girls javelin showcase at last weekend's FHSAA track and field state championships and felt she was just "a stride away" from where she wanted to be. Her college plans were more tentative than concrete and she was mostly pleasantly surprised her first time throwing javelin — in her first season on the track and field team — was going well.
The one thing that's stayed the same was her placement: Ruppert ended the season where she was back in April, ranked second in the state. In every other aspect, though, she nailed that last stride and then some.
"It was an exhilarating experience. I never thought I would be where I am to this day," Ruppert said. "It came up out of nowhere and I'm at a loss for words. Such a wonderful experience."
Because girls javelin got the showcase treatment this year (it will evolve into a full-fledged event beginning in the 2019-20 school year), Ruppert's day went differently than that of the rest of her PCHS track and field teammates. Rather than start with a preliminary round to qualify for finals, Ruppert and the rest of the competitors were given three warm-up throws before they got one more for the real deal.
"I told myself, 'Kate, this is states, this is it. Put everything you've got into your last throw.'" Ruppert said. "If I hadn't have PR'ed, made a new personal record, I wouldn't have placed second on my last throw. Everything was weighted so heavily on that last throw."
Ruppert's final throw of 35.58 meters in the state showcase netted her a second-place finish on the podium, a medal to show for it and a new school and personal record (breaking her previous PR of 34.5 meters). It was an excellent finish to her high school athletic career, especially for someone who had never picked up a javelin before 2019.
"It was like a dream come true," she said. "I couldn't believe what was happening. After starting just three months ago I didn't think I would be standing where I was at that point, on the second-place podium right up there with the state champion."
Now that Ruppert's high school career is over, she can focus on college — which is also something that's changed in the last month. Back in April, Ruppert figured she would enroll at Hillsborough Community College to knock out her prerequisites and then transfer to a bigger school after two years. Now she's headed to the University of Central Florida in the fall and is walking on to the track and field team as its lone javelin-only athlete. Once she starts scoring points for the team, Ruppert said, she will become eligible for an athletic scholarship.
"It's almost like everything's falling into place," she said. "Serendipity's just helping me along the way."