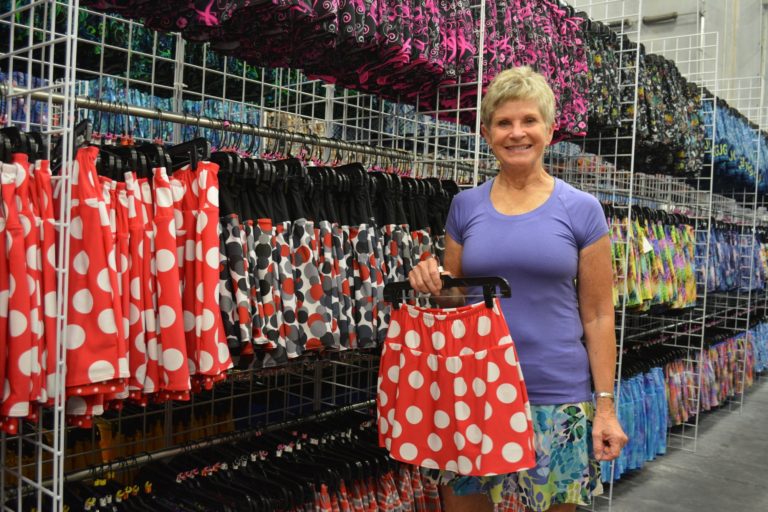 After moving into the County Line Commerce Center in early 2016, athletic wear company SparkleSkirts has already completed its first expansion.
Where did you get that skirt?
Fellow female racers pointed to the sparkly fabric Leah Powell was wearing.
It was 2008, the morning of the inaugural Disney Princess Half Marathon in Orlando. Though Powell and her friends weren't dressed in full princess garb, their matching skirts were turning heads.
Powell smiled.
"I did," she said.
SparkleSkirts was officially born.
Fast-Growing Fashion
SparkleSkirts announced plans to move into 15,000 square feet of the County Line Commerce Center in January 2016. Since then, the company has already outgrown the site at the corner of County Line Road and U.S. Highway 92.
But the company won't be relocating. An additional 8,000 square feet of warehouse space at the center was just leased to the company by Central Florida Development.
"It surprised us how quickly we grew," Leah Powell said. "The people who built this (Central Florida Development) have been phenomenal to work with."
SparkleSkirts houses 26 employees and 12,000 skirts out of its Plant City facility — a vast difference from the challenges Leah Powell faced when first trying to launch the business.
After the reaction to the skirts at the Disney marathon, Leah Powell's friends challenged her to start making the skirts.
Then, the economy crashed. Leah Powell's husband, Tom, lost his job. Shortly
thereafter, the bank took the couple's home.
"I look back on it now and it doesn't seem that bad," Leah Powell said. "But at the time, I felt like a loser. Our good friends rented us their house that was on the market and we stayed there for two years."
As they began to piece their lives back together, the idea to launch SparkleSkirts seemed more within reach. Eventually, the couple decided to take a running leap of faith.
"We just decided, you either do it or you don't," Leah Powell said.
In order for the company to succeed, Leah Powell needed to sell a product that could benefit a runner's every need. A runner since the age of 30, the marathoner knew what she wanted to see in the perfect athletic gear:
Pockets. A place to store her phone, keys and ID.
Shorts that didn't chafe or ride up.
Colorful and unique designs — and a little bit of sparkle.
Ready to Race
The thousands of skirts in the SparkleSkirts warehouse are all made in the United States. With sizes that range from XXS to 3XL, the company has created skirts to properly fit runners of every shape and size.
The designs of the skirts vary based on runners' interests. Some are covered in pictures of cats while others are swirled with sparkles or lined with plaid. Some skirts are pleated or have embellishments. Others have loops to thread in ribbon or Christmas lights.
But they all have the same benefits. The shorts underneath the skirt are guaranteed not to ride up. Each skirt is equipped with three pockets for runners to store their gear, whether they're running a marathon or taking a stroll through the park.
Leah Powell has her regular customers — the company has come across two SparkleSkirts fan clubs on Facebook — but she's hoping to expand her clientele. SparkleSkirts has launched a line of capri pants and men's board shorts. In the future, Leah Powell is planning on adding kilts and cycling shorts.
Currently, SparkleSkirts ships an average of 80 boxes of skirts per day, usually with one to three skirts in a box.
Even with the company's growth spurt, Leah Powell's jobs and her profits stay local. Employees who aren't based out of the Plant City facility work in either St. Petersburg or Miami at the company's sewing facilities. Additionally, the company sells its skirts exclusively online.
Due to the production cost of being made in the United States, skirts usually sell for $65 and up.
"It costs $35 to make one skirt," Leah Powell said. "They're made in America, they support charities and they hold gear. I even try to buy the fabrics in America. It's not just what they are, it's what they do."
Contact Emily Topper at etopper@plantcityobserver.com.