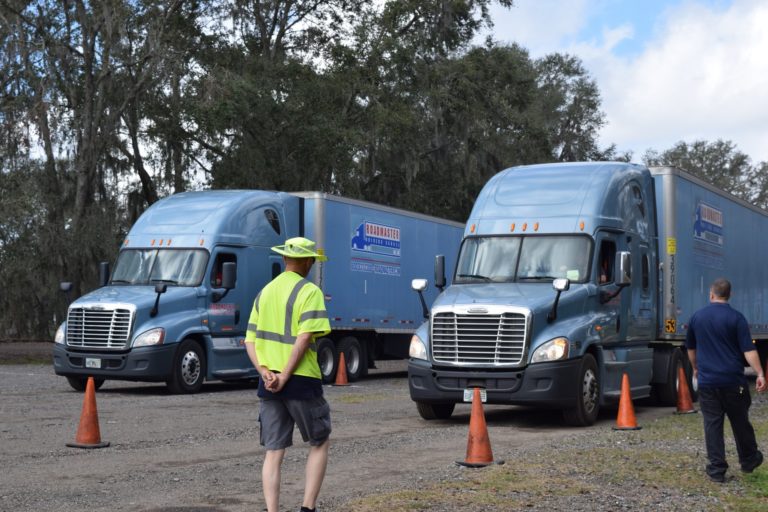 The school is currently renting space for testing in Plant City and training in Dover.
It's a bright and sunny Saturday morning at the Hillsborough County Fairgrounds. The large gravel lot looking over State Road 60 is filled with light blue big rigs and orange cones, a far cry from the luminous ferris wheels, carnival rides and funnel cake stands of the fair that gives the location its name.
Justin Mains backs one of the blue rigs between cones while instructor Clete Liechty watches his movements, how the wheels turn and where he's looking. Another truck passes next to it, slowly moving forward. The 53-foot trailer in tow is much different than the box truck Mains is used to driving for work, but two weeks into learning to operate a big rig, he hope he can soon follow in his father's footsteps.
"It's a family thing for me," Mains said. "My dad drives a truck and so does my uncle."
For a few months, the site is the temporary home to Roadmaster Drivers School, a nationwide chain training truck drivers to get Class A commercial licenses. The school is using the
county fairgrounds for training purposes and a Plant City police Department parking lot for its testing site. Training sessions typically run either three or for weeks.
The school's permanent home is usually the Florida State Fairgrounds in Tampa. However, every January and February it gets displaced because of the annual RV Show in January and State Fair in February. When the school's usual alternate location became unavailable. School Director Aura Hall looked east.
"It's the first time we went up to Plant City," she said. "I never really looked beyond Fred's Market. I was pleasantly surprised with how much space and how folks in Plant City are pleasant to work with."
Hall said she got the recommendation from an old instructor of her's, Vance Shuptrin. Shuptrin lives in Plant City and introduced Hall to City Manager Bill McDaniel. Roadmaster had the training location, but still needed somewhere to test.
McDaniel said he first showed the currently vacant parcels in the Midtown area, but it didn't meet the school's needs. Before they left, he decided to show them another location, the vacant PCPD lot.
"Turns out they loved that and they wanted to rent it," McDaniel said.
Hall said she'd looked in Tampa and had some feelers out in Lakeland, but Plant City was a perfect fit. Not only were people easy to work with, she said, but with the rising commercial industry in the area, students are able to be seen by and connect with potential employers and train and test on the roads they could very well work on soon.
"Tampa has grown so much it's not an easy task to find something big enough to accommodate what we need," Hall said. "It's close enough to the interstate, easy to get in and out of and there's a lot of growth in Plant City. There are good locations for employees to eat. It's just a safe area and you've got to take that into account."
Chis Junkins, a lead instructor at the training site said the site is working well. Students are passing the state-monitored tests and getting the same quality training they'd get down in Tampa, he said.
The school will move back to Tampa once the State Fair ends its run later this months. Hall said she's trying to get through this transition period, but when it comes time to move again, it's likely Plant City could be the school's permanent alternate home.