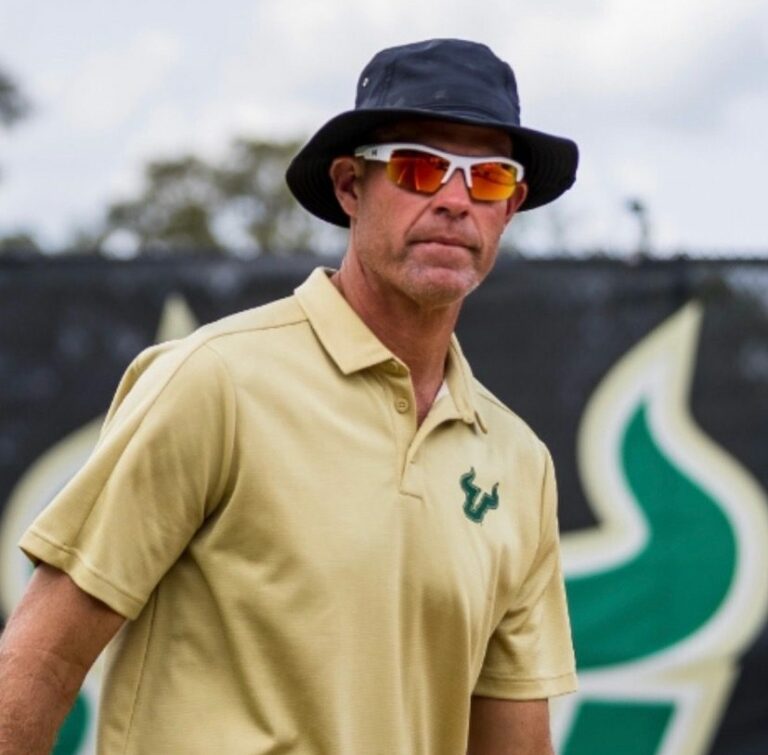 After three years at USF and a lifetime around the game, Rollyson was named Florida Southern's men's tennis head coach last week.
Plant City's Rhett Rollyson was named the newest head coach for Florida Southern's men's tennis team last week, following three years as an assistant coach at the University of South Florida.
"This is a really cool opportunity for me to have a dream job and be the head coach at a prestigious academic and athletic university, and I can stay home every night and still be engaged in the community," Rollyson said. "I was looking at a poll, and if you combine academics and athletics, Florida Southern is one of the top 10 DII programs in the country."
Rollyson played tennis at Plant City High School, being named first team All-Area by the Tampa Tribune. He then walked on at the University of Florida, winning their walk-on tournament before spending four years around the Gators' tennis team.
After leaving UF, he was hired as the national promotions and technical representative for Prince Sports Group, traveling across the country to host tennis clinics and product knowledge seminars for select tennis clubs and retailers while also scouring major junior tournaments to recruit top players for the Prince National Junior Team.
After three years with Prince, Rollyson joined Babolat as a national promotions representative and the first U.S. sales representative, in charge of creating brand awareness for Babolat's United States subsidiary that has now grown into a leader in the U.S. tennis racket market. With Babolat he was also instrumental in starting and coordinating their Pro/Junior Development program that would eventually recruit and sign major superstars such as Rafael Nadal and Andy Roddick.
In 2008, Rollyson became the founder and co-owner of Ace Sports Group, working as a tournament director for multiple United States Tennis Association Pro Circuit events, raising money to benefit tennis and charitable organizations along the way.
In 2019 he joined USF's tennis program as an assistant coach where he was not only a coach, but was an integral part of coordinating practices, recruiting and community engagement. In his time at USF, the Bulls won a conference title in 2019 and runner up in 2021, advancing to the NCAA tournament in all three years.
"I've had the opportunity to work with a lot of the top juniors who have gone on to make Grand Slam finals, become NCAA champions, NCAA all-americans, that's always kind of been my niche," Rollyson said. "I love to work with kids and, if nothing else, maybe help them a little bit on the tennis court but also kind of dive into their life a little bit and try to be a mentor. Help them a little bit on the court but also maybe give them a little bit of advice that might help them in life at the end of the day. That was pretty cool, to be able to have an impact on so many kids' lives, even when you don't realize it."
Independently, Rollyson qualified for the USTA Open Tennis League National Championships five times, was the USTA Intersectional 35's National runner-up in 2004, worked with NCAA champions Ryler DeHeart, Jeff Dadamo and Austin Krajicek and coached Sasha Gozun to a runner-up finish at the Boys Nationals in Kalamazoo, Mich.
Despite his extensive list of accomplishments and experience around the tennis courts, Plant City residents may be more familiar with his work in the community. You may have heard his voice as the public address announcer for Plant City High School football and baseball, but he's also worked with the First Baptist Church of Plant City for over 20 years and currently sits on the Board of Directors for the Florida State Strawberry Festival, the Plant City YMCA, the Plant City HS Raider Champions and South Florida Baptist Hospital. In 2019 he was named YMCA Strong Leader of the Year.
With Florida Southern set just a few miles up the road from Plant City in Lakeland, Rollyson is excited about the opportunity to take a dream job while continuing to live and be involved in the Plant City community.
"It's cool that I can have a job that feels like a dream job but I don't have to give up the community involvement," Rollyson said. "That's great. Getting a coaching job at the University of Florida or the University of Georgia or Alabama would be unbelievable, but to be a head coach at a local school where I can still be involved in the community means volumes to me because I don't have to give up those roles. I may have to lessen the degree a little bit in those roles, but I can still be involved. I can still try to be a PA at the baseball games and the football games when I'm around and I don't have to give up the extra stuff that I really, really love to do in my community."