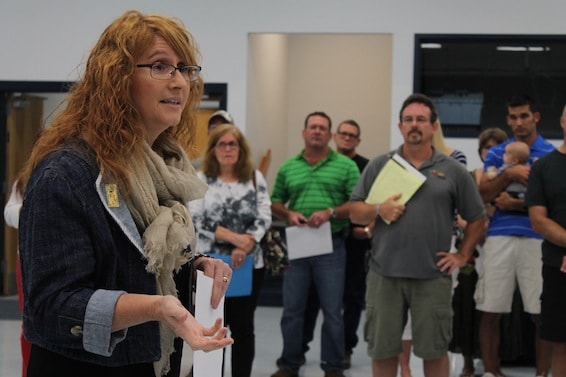 Dozens of citizens who live near local strawberry farms met at Turkey Creek Middle School Sept. 22, to discuss concerns about the fumigant Paladin with staff from the Hillsborough County EPC, Florida Department of Agriculture and Florida Department of Health.
Although local agriculturalists and employees of Arkema, the company that manufactures Paladin, maintain the chemical's unpleasant odor had been controlled this year through the use of thicker tarps, the citizens who spoke at the meeting disagreed.
But, the most common concern among attendees was not the smell, but rather, that the use of Paladin was linked to health problems, they said.
Shortly after Paladin was applied for the first time last year and again this year, many at the meeting said they were treated for respiratory issues they had never suffered from before.
Along with his family, Mac Garner, a Dover resident, listed neighbors and friends who had cited problems with Paladin.
"(Last year), we walked onto our front porch, and it hit us like a wave," he said. "It was like tear gas."
Soon after they smelled the odor, Garner's son began to exhibit respiratory problems that matched the symptoms of exposure described on Paladin's label.
Garner said Arkema representatives suggested he move his family to a hotel until the odor was gone, but he chose to stay in his home. His son moved temporarily to a relative's house. Garner asked the owner of the farm near his home to use a different fumigation agent, but the farm owner said he could not change his method.
"We met with (Arkema representatives)," Garner said. "They assured us it would be different this year. But this year … we still got sick."
Garner and Mary Zentkovich organized the public meeting and got the word out by going door-to-door, asking neighbors whether they had suffered from health problems that could be Paladin-related. Their efforts brought dozens of concerned citizens to the meeting.
Zentkovich said her family has experienced a variety of symptoms, including swollen lymph nodes, vomiting, nosebleeds and headaches. These were treated with IV treatments, antibiotics and other medications. Last year and this year, because of Zentkovich's family's symptoms, Arkema paid for their relocation after Paladin was applied.
"This is not a small issue for me," Zentkovich said. "It is not a safe product. My doctor said, 'You need to go to a pulmonologist, and your daughter needs to go to a pulmonologist, because this chemical, it's showing the effects of being in your body and causing serious issues.'"
Some attendees believed Paladin had caused health problems for their animals, as well — even death. One woman said shortly after Paladin was applied near her home, three of her six cats died. Another woman who raised birds for the pet trade said within two days of Paladin's application, the birds she had kept on her porch had died.
Yvonne Painton hired attorney Frank Charles Miranda to conduct an investigation and file a lawsuit against Arkema.
"I'm being treated as an asthma patient," Painton said. "I was never sick before this. I ran on a treadmill every day. The only way this is going to stop is legal action."
Miranda said he had formed a legal team comprising his firm, a firm in Louisiana and a third in Connecticut. His firm regularly takes cases in which people have been harmed by large corporations in some way.
A team of employees from Hillsborough County's office of the Florida Department of Health spoke with Plant City citizens about their concerns at the meeting.
Michael Wiese, an epidemiologist for the DOH, said it was difficult to determine whether the concerned citizens' health symptoms were directly linked to Paladin. The fumigant is applied in August and September, which coincides with students' return to school — a common cause of communicable respiratory illnesses — as well as the beginning of flu season.
Wiese said the department did not keep a record at the local level of how many people had called with Paladin-related concerns. He said "only a handful of people" had come to him with complaints that they had smelled the chemical and then felt sick.
Wiese said the department was willing and available to hear people's concerns, whether they would like to speak with an epidemiologist, toxicologist or other professional. The office can be reached at (813) 307-8000, or DLCHD29WebsiteDistribution@flhealth.gov.
Contact Catherine Sinclair at csinclair@plantcityobserver.com.