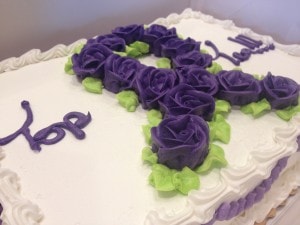 Though the collections are still coming in and the exact ranking won't be known until late August, one thing is for sure: Plant City Relay for Life is back in the top ten out of 350 events in Florida.
The 2014 event ranked 11th. Years before it had climbed to second in the state. 
"We had more teams this year, more sponsors," Joanie Petty, the 2015 event chair said. "There was $10,000 raised just in sponsors."
With over $230,000 counted already, the Plant City event is rivaling bigger and busier cities, such as Naples and Fort Myers.
Allison Martinez has been the event manager of the Plant City event for two years, and after working with other local area-based relays, she has sensed a big difference.
"Plant City is kind of an anomaly," Martinez said. "Despite not being big or having tons of money, there is a community vibe going on."
Last year the event was superhero themed and was able to accumulate between 70 and 80 teams.
The Relay for Life ambassador was 6-year-old Bailey Elementary School student Ava Raab who battled and managed to beat kidney cancer.
"I definitely think her story was inspiring to people," Martinez said.
Next year's event has several changes in store, including new Plant City High School Principal Susan Sullivan. Relay for Life is hosted on the high school's football field, so the principal and the relay committee have to create a strong connection.
"There are some changes, but luckily they're all good," Petty said.
Relay for Life is beginning to gain a new element, Plant City specific commercials that advertise for the event. The hope is to draw in even more people.
Despite the advertising, the relay committee recruits independently. Members pass out flyers and talk to people about starting teams and sponsoring.
"We're regular people, were teachers," Petty said. "This is their event."
The unique hometown support that Plant City receives is baffling to outsiders.
"The only way I can describe it is like, grassroots," Martinez said. "People will give $10 because they think it helps, and it does."
Because of its smaller size compared to other Florida cities, Plant City is very much an example for having the success it's had.
"When we would go to relay events, if we wore one of the pink ribbon Plant City shirts people would stop and look at us," Petty said.
Though the 2015 relay results are continuing to trickle in, the planning for next year is already in the works. The theme is going to be holiday centered.
"It will be fun," Petty said. "The teams can be any holiday, even like Donut Day."
Of course, with last year's success, everyone is expecting improvement.
"Plant City doesn't like to go backwards," Petty said.