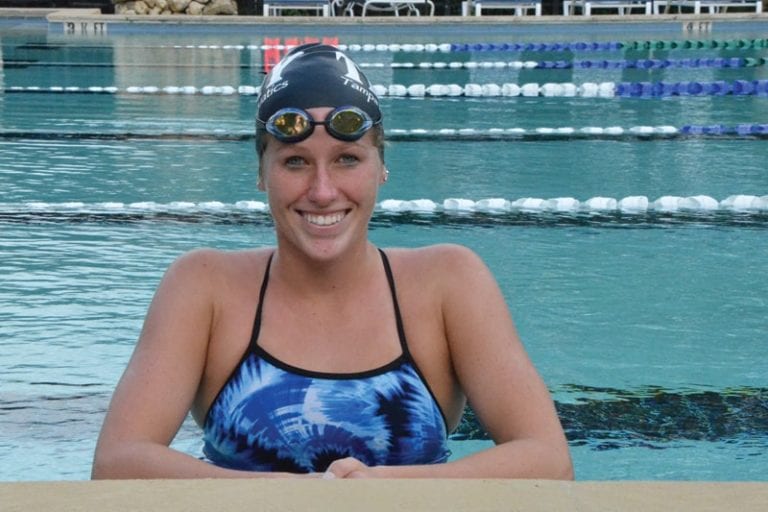 By Matt Mauney | Staff Writer
Two days each week, while most high school students are relishing the last few hours and minutes of sleep before school, Bailey Bowden is up and on her way to Valrico to train.
"I wake up around 4 a.m. to come over here," Bowden said about morning training on Tuesdays and Thursdays, at River Hills Golf and Country Club.
From there, it's back to Plant City, where she is a junior at Plant City High School, and then back to River Hills in the afternoon for a three-hour practice.
"I get home around 7:15 p.m., and then it's pretty much school work," she said.
Bowden also practices Saturdays at River Hills, where she has swum for the T-Bay Brandon Swim Club for the past two years under coach Dave Gesacion. She began swimming competitively at 10 years old and has gravitated to the water ever since, including competing for PCHS since she was a freshman.
Although she practices separately from the Raiders swim program — which holds practices and home meets at Walden Lake — Bowden said she wants her high school team to know that she is putting in the work to get better.
"I try and tell them that I'm doing just as much work while I'm here," she said. "When I'm there, I try to have a good friendship with them and really encourage them to do their best."
Bowden enters her junior season with the PCHS swim team after placing eighth at the Class 3A state meet in the 500 freestyle with a time of 5:02.97. Bowden also has promise in the 200 freestyle.
"I've really just been trying to make sure I'm where I need to be, because to achieve my goals at state, I have to be in a certain place here," she said. "I've just been trying to keep my stroke and my times in a good place."
Swimming competitively at the club level in addition to high school has not only given Bowden more practice, competition and exposure but also has led to friendships, which became most apparent when she reached state as a sophomore at PCHS.
"I had friends there that swim for other high schools, so it was great," she said about attending the state meet as the only representative from PCHS.
Bowden hopes to have the feeling of being a state finalist again as a junior.
She isn't alone when it comes to current Raiders training and competing 30 minutes away in Valrico. Teammate and PCHS senior swimmer Kelsey Fry also practices and competes with the T-Bay team and was a key part in getting Bowden to practice for some time.
"She would drive me here almost every day before I got my license," she said.
Bowden's mom also played a large role in keeping her on track with her hectic schedule.
"Even now, she has to get me up a lot of times just to make sure I don't oversleep," Bowden said.
Now that Bowden drives, it makes it easier for her to go back and forth to school and practice, but it doesn't come without it's interesting stories, including running out of gas on the way to practice Monday.
"One time, there was a turtle in the middle of the road, and I had to get out to save it in my suit," she said of the many stories that have occurred throughout the past few years.
Like most competitive swimmers, Bowden said her sport requires dedication and hard work.
While this is needed in most sports, the amount of work put in the pool with swimming can make all the difference in whether an athlete obtains their goals. This message was shared by Gesacion at practice Monday.
"Bailey's been here for about two years now, and one of the things we stress is daily progress, and that's something she has shown," he said. "Being able to perform every day instead of having one or two good workouts here or there is something I think she has really embraced."
Bowden said she hopes to earn a spot in the top five this year in the 500 and reach the finals in the 200 at state, as well as have a good showing in travel meets with her swim club.
"I think that would be pretty solid for my junior year," she said.
Contact Matt Mauney at mmauney@plantcityobserver.com..Net framework 4.5, .Net framework 4.0, .Net framework 3.5, .Net framework 3.0. .Net framework 2.0, .Net framework 1.1, ">http://ivedasolutions.com/oformit-kreditnuyu-kartu-renessans-bank.php