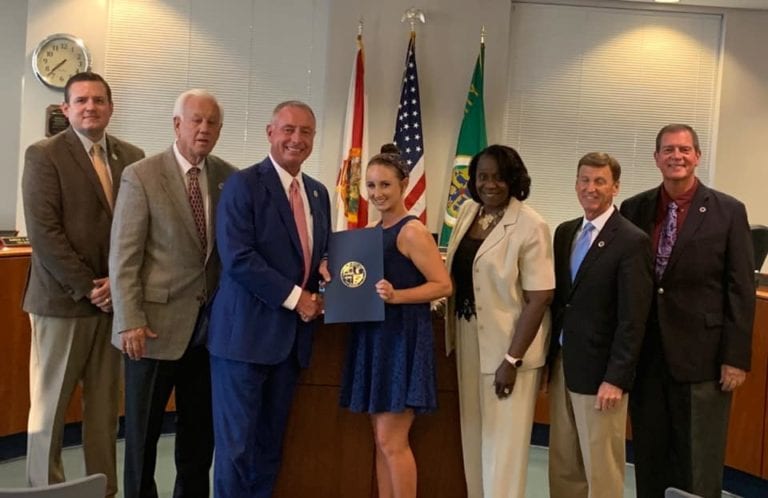 Pate gets proclamation
Maggie Pate was given a proclamation from the City of Plant City during the May 27 commission meeting for her achievements in tennis.
Pate, who just graduated from Durant, went undefeated in regular-season play, won high school district singles titles and qualified for the state championship series in each of her four years at Durant. She will play at the college level at Furman University.
"She's a homegrown product we're very proud of," Mayor Rick Lott said. "She just has been one of the most dominant tennis players that we've ever seen out of Hillsborough County… she's a product of Plant City Tennis Center and her very first coach was Shane Johnson."
Baseball tourneys on deck
Florida USSSA Baseball's Summer Kick-Off tournament will use multiple fields at Plant City Stadium, Randy L. Larson Softball Four-Plex, Mike Sansone Park, Ellis-Methvin Park and the MLK Complex Saturday and Sunday. The tourney runs from 9 a.m. to 5 p.m. both days.
Global Sports Alliance Baseball's Sunshine Classic will primarily be based out of Winter Haven, but next weekend's tournament will also use the three largest ball fields at Mike Sansone Park for its 13U and 14U divisions. The Sunshine Classic runs from 9 a.m. to 5 p.m. June 15 and 16.
Summer tennis offerings
The Plant City Tennis Center will have plenty to offer in the coming summer months.
Sessions of youth tennis lessons for all skill levels will start June 24 and July 19. Tots (age 4-7) meet at 8:15 a.m. Tuesdays and Thursdays while beginners through advanced students (age 8-12) meet at 9 a.m. Mondays and Wednesdays. Tots lessons cost $30 per session and the others cost $60 per session.
On the second Friday of each month, the tennis center will host its Monthly Mixed Mixer at 6 p.m. Pass holders can attend for $5 and non-members for $15.
Registration forms can be found online at plantcitygov.com/parksrec/page/plant-city-tennis-center-activities. For more information call 813-707-7485 or email C. Shane Johnson at sjohnson@plantcitygov.com.