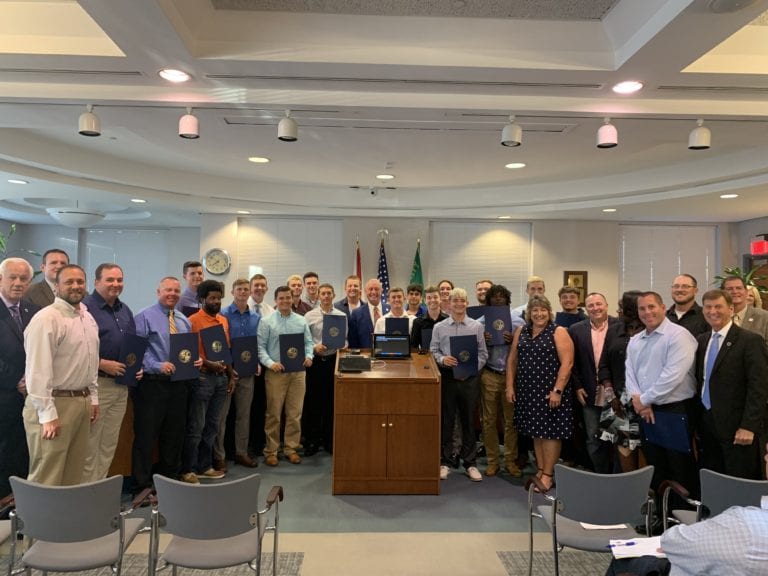 PCHS baseball gets proclamation, dinner
Plant City High School's baseball team got hooked up big time by the City of Plant City on Monday night.
Like the 2017-18 boys soccer team before them, the baseball players were treated to dinner at Outback Steakhouse that night shortly before receiving a proclamation at the city commission meeting for their historic 8A state title win.
Sign up for 10K relay
If you missed out on the Best Friends 10K around Easter, fear not: you and a running buddy can tackle another 10K at Ellis-Methvin Park later this month.
U.S. Road Running is hosting the Summer Fun 10K Relay and Lap Race, which starts at 6:30 a.m. June 22, at a cost of $50 per team ($40 for those who wish to run solo). Each member of the team runs the equivalent of a 5K at the park's walking trail and teammates "tag" each other in after every .52 miles.
To sign up and get more information, visit runsignup.com/Race/FL/PlantCity/BFFJune.
Baseball tourney on deck
Global Sports Alliance Baseball's Sunshine Classic will primarily be based out of Winter Haven, but this weekend's tournament will also use the three largest ball fields at Mike Sansone Park for its 13U and 14U divisions.
The Sunshine Classic runs from 9 a.m. to 5 p.m. June 15 and 16.
Summer tennis offerings
The Plant City Tennis Center will have plenty to offer in the coming summer months.
Sessions of youth tennis lessons for all skill levels will start June 24 and July 19. Tots (age 4-7) meet at 8:15 a.m. Tuesdays and Thursdays while beginners through advanced students (age 8-12) meet at 9 a.m. Mondays and Wednesdays. Tots lessons cost $30 per session and the others cost $60 per session.
On the second Friday of each month, the tennis center will host its Monthly Mixed Mixer at 6 p.m. Pass holders can attend for $5 and non-members for $15.
Registration forms can be found online at plantcitygov.com/parksrec/page/plant-city-tennis-center-activities. For more information call 813-707-7485 or email C. Shane Johnson at sjohnson@plantcitygov.com.