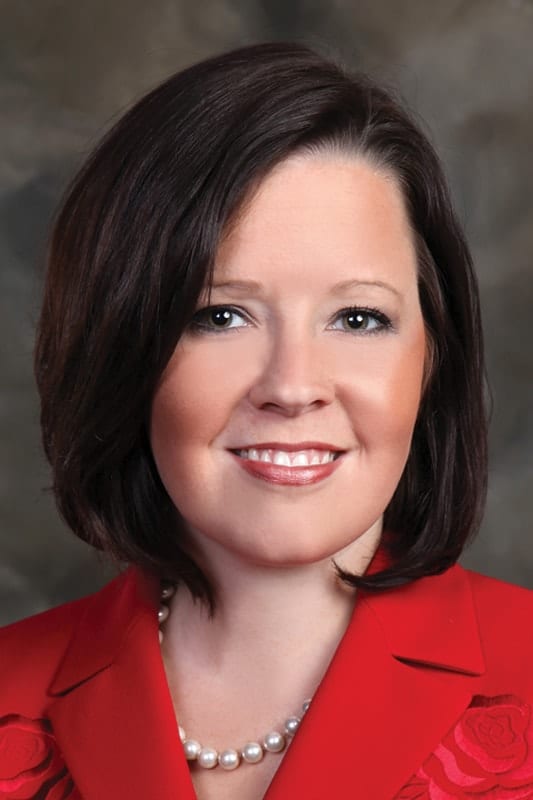 In the Florida Senate primary, Rachel Burgin and Tom Lee will vie for the Republican nomination. The winner of the Aug. 14 primary will face Democrat candidate Elizabeth Belcher.
The seat is being vacated by State Sen. Ronda Storms, who is running for Hillsborough County property appraiser.
RACHEL BURGIN
Age: 30
Family: It's a big one: my grandfather, Fletcher Burgin, first came to Plant City in December 1946. A native of North Carolina, he had been working in New York and was sent to Florida as a produce buyer for the A&P Grocery Company. He took early retirement in the late 1970s and started the family business, which has been located on the Plant City Farmers Market ever since. I am the daughter of Thomas and Ricky Burgin and the third of seven children: Joshua, Gretchen, Caleb, Gabrielle, Natalie (we call her "The Queen") and Letty. Each member of my immediate family lives within District 24.
Hometown: Plant City
Education: Bachelor's degree in biblical studies, Moody Bible Institute
Experience: My first job was at Brigetta's Boutique in downtown Plant City. I have since worked in a law office, served as a legislative aide to a county commissioner, served as a legislative aide to a state representative and interned at the White House under George W. Bush in the Office of Faith Based Initiatives before running for the Florida House in 2008. Since then, I've worked full-time on behalf of my constituents.
Website: www.rachelburgin.com
What would be your top priorities if elected?
No. 1: The Food Stamp Integrity Act. Florida's food-assistance program represents taxpayers' compassion for families in need of a temporary hand up. Legislators have a responsibility to make sure the tax dollars funding this program are not abused.
The Food Stamp Integrity Act restricts what can be purchased using food stamps so tax dollars are reserved for nutritious items that keep families healthy. Taxpayer-funded food stamps shouldn't be spent on Doritos and candy bars but rather on staples such as milk, bread, fruits and vegetables. The Food Stamp Integrity Act ensures families in need are well-fed and not permitted to waste and abuse taxpayers' generosity.
No. 2: The Abortion Accountability Act. Rachel Burgin is a tireless advocate for the unborn and will continue fighting to protect them. But as long abortion is legal in Florida, the health and safety of women receiving an abortion must remain a priority.
The Abortion Accountability Act requires a licensed physician to be present at all abortion procedures. Abortions are too dangerous and unpredictable to be overseen by a medical assistant or office administrator. While we fight to make abortion illegal, we should also require doctors to be present and accountable to help keep women safe.
No. 3: The Empty Houses to Happy Homes Initiative. Florida has been hit hard by the housing bust. More than 218,561 Florida houses are in foreclosure (13,370 in Hillsborough County) alone. These foreclosures are dragging down property values and hurting the local economy.
The Empty Houses to Happy Homes Initiative promotes the sale of foreclosures by exempting property taxes on a foreclosed home sold for two years for the family who purchases it. Reducing the number of foreclosures improves property values for everyone, increases Florida's population and promotes greater investment in the local economy. The initiative is a bold solution to Florida's foreclosure crisis and will be a model for other states hit hard by the housing bust.
What are some of the current challenges in the Florida Senate, and what are your solutions to those problems?  
Simply put, the Florida Senate is just not conservative enough. More than anything else, the Senate needs principle-based leaders who will stand on their conservative convictions rather than looking to the blowing winds of popular opinion.
What are some of the current challenges facing Greater Plant City, and if elected, how would you address those concerns in Tallahassee?  
Plant City is facing bureaucratic obstacles to converting part of the Midtown project into a park. This would seem to be a relatively simple issue, but to date, the issue remains unsolved. If I am elected to the Florida Senate, we will put together the legislative and grassroots teams needed to get this done once and for all.
What makes you a better candidate than your opponent?
Plan and simple — local support. My campaign has literally hundreds of small donors and grassroots volunteers who live right here in District 24. My opponent is relying on deep-pocketed political insiders from Miami, Jacksonville and Tallahassee. So, if you want someone who will represent the needs of this community, then please vote for me. On the other hand, if you want someone who will represent the interests of the political elite across the state, then I would encourage you to vote for him.
TOM LEE
Age: 50
Family: Wife, Laurel; children, Regan and Brandon
Hometown: Brandon
Education: Brandon High School; associate's degree; Hillsborough Community College; bachelor's degree, University of Tampa
Experience: Twenty-eight years in the homebuilding industry. Current vice president and shareholder at Sabal Homes of Florida Inc.; partner in various commercial, residential and office projects; licensed in real estate sales, a member of the advisory board of the Bank of Tampa, Brandon Division. From 1996-2006 served East Hillsborough as a member of the Florida Senate; elected to Senate president in 2004. Vice chair, board of trustees of Tampa Bay History Center; member, board of directors for A Kid's Place (foster care facility in Brandon); honorary member of the Brandon '86 Rotary Club; former president, Greater Brandon Chamber of Commerce.
Website: VoteTomLee.com
What would be your top priorities if elected?
Improving the regional economy, enhancing Florida's education system, encouraging investment in Florida's universities, airports and seaports and promoting fiscal discipline and limited regulation as a key ingredient necessary to attract industry to our region.
What are some of the current challenges in the Florida Senate, and what are your solutions to those problems?
As a small and historically collegial institution, the Senate serves as the upper branch in Florida's bicameral legislature. Some of the Senate's challenges are internal. Battles over future leadership have splintered the Republican caucus. Externally, Florida has experienced the greatest economic downturn since the Great Depression. More now than ever, the Senate needs mature and experienced statesmen, who can help shift the focus away from internal differences and encourage a coordinated effort to stimulate economic activity in our state.
What are some of the current challenges facing Greater Plant City, and if elected, how would you address those concerns in Tallahassee?
Plant City is well positioned for economic growth. Located between Orlando/Lakeland and Tampa, Plant City offers opportunities for business relocation and expansion. As Florida's economy improves, Plant City stands to see significant economic development activity.
For me, the biggest challenge for the community is balancing its economic development goals with the need to preserve the rich history and traditions that define the character of the historical and business district of Plant City. I look forward to working with Mayor Mike Sparkman and the city commission to identify community goals and objectives and to ensure the Legislature is a partner in helping those plans come to fruition.
What makes you a better candidate than your opponent?
It's never been my style to talk about my opponent. I've always felt that candidates should run on their record and let the voters decide.
That said, I believe my résumé reflects a lifetime of conservative leadership and a battle tested ability to solve problems. I saw violent repeat criminals revolving in and out of the criminal justice system, and I passed "Three Strikes and You're Out" to stop that revolving door. I saw government spending money it didn't have and authored a constitutional amendment, passed by Floridians in 2006, to force the Legislature to develop a long-range financial plan. I saw public corruption and influence peddling run out of control and passed a law prohibiting legislators from accepting gifts from lobbyists. I saw a state outgrowing its infrastructure and passed the first major update to Florida's growth management laws in 20 years.
As president of the Senate, I presided over the vote on Terri Shiavo, the Stand Your Ground legislation and, as the rules chairman, I was a key figure in the Bush vs. Gore election challenge.
As a conservative republican leader, I served as an honorary chair and co-chair in several statewide campaigns, including the 2004 Bush/Cheney re-election campaign and have served as a delegate to the Republican National Convention. This is just the highlight reel of conservative accomplishments upon which I have based my candidacy.
Other thoughts/comments? 
My candidacy has been endorsed by the National Rifle Association, The Florida Medical Association, The Florida Professional Firefighters and Police Benevolent Association as well as Mayor Mike Sparkman, Attorney General Pam Bondi, Sheriff David Gee, State Attorney Mark Ober, Commissioner Al Higginbotham, Honorable Dan Raulerson.