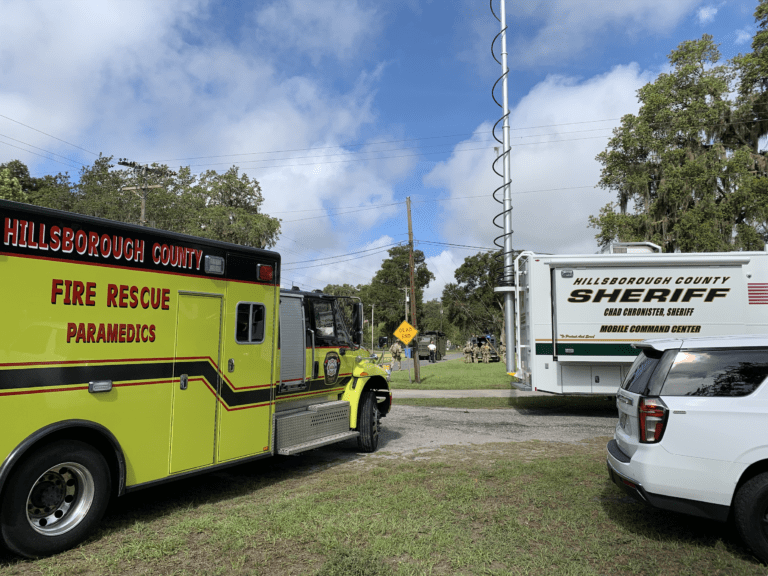 An hours-long stand-off between the Hillsborough County Sheriff's Office (HCSO) and a man barricaded inside his home on Swindell Road in Plant City ended peacefully yesterday afternoon, according to HCSO.
The stand-off began on May 23, at 9:03 p.m., when deputies responded to the home after getting reports of an individual who had shot a firearm outside his home. After making contact with family, deputies learned that a resident from that home had received bad news regarding his health and was emotional and distraught. At one point, he shot at family members before entering his home, refusing to come out. Throughout the night, deputies worked to make contact with him while understanding that he was still armed, but they could not convince the man to leave his house.
The following day, several units were called out, including SWAT, the Crisis Negotiation Team, and the Bomb Disposal Team, in order to use every tool available to de-escalate the situation and find a peaceful resolution. After several hours of talking with the man inside his home, just after noon, deputies were able to reach the man inside his home without incident. He was taken to South Florida Baptist Hospital for medical attention.
"In situations like these, we lean on our well-trained deputies and their knowledge of the tools provided to them to de-escalate a scene and find a peaceful solution," said Sheriff Chad Chronister. "The technology and resources we have are vital in keeping the public and our deputies safe, as well as a person who needs help in a difficult and emotional moment in their lives."
According to HCSO, the incident is still under investigation, and no charges have been filed.