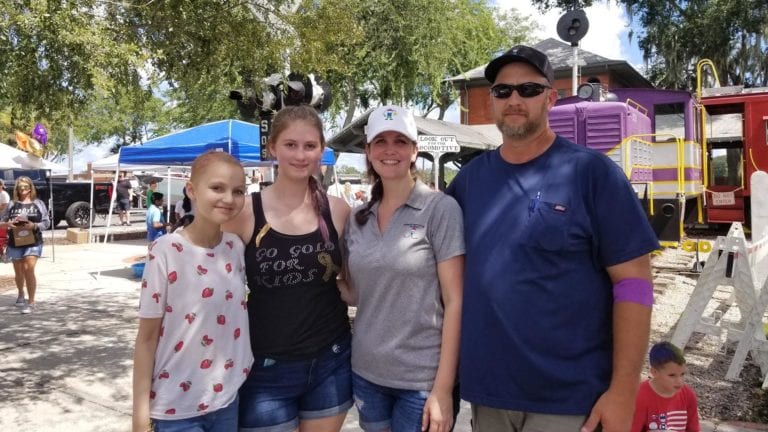 The annual Jensen's Heart of Gold Play for a Cure event is back. The plethora of games, live music and food will be held at the train depot Saturday from 10 a.m. to 2 p.m.
For the past several years, Plant City has come together for a day of relaxation and jovial release. Families take a moment to press pause on the stresses that weave through their lives and enjoy a morning of fun in the sun.
Jensen's Heart of Gold's Play For a Cure event offers children a chance to enjoy their youth with more than a dozen activities at the train depot in downtown Plant City. Everything from the games to the food is free, in hopes of creating a stress-free environment for local families to enjoy. Donation jars are set up around the event and some Jensen's merchandise is available for sale to raise money for the charity, which provides assistance for families of children fighting cancer in central Florida.
"September is Childhood Cancer Awareness Month and we want kids to just have that chance to do what kids do best, which is play," Emily Pierce, the executive vice president of the Florida Chapter of Jensen's Heart of Gold, said. "We want families to come out and have a good time with their loved ones. This is open for everyone to attend and the hope is it will kind of break down those stigmas and barriers that keep people from talking about kids with cancer. It's a tough topic, but here is a chance to just get back to the root of our purpose: to just give families the chance to make memories that all kids should get to make. We're not really focusing on the sad stuff, we're focusing on the happy memories that we can make right here, right now."
This year, Pierce said, they're going to utilize the new sound system the city installed downtown to have live performances from musicians at Dark Horse. Booths will fill the depot and there will be an abundance of games and activities for children of all ages. Plant City Fire Rescue will also be on site with a fire truck and OneBlood will be there to collect life-saving blood donations from anyone interested.
Families often come and stay for hours, enjoying free food and spending time laughing as their children float from booth to booth.
It's a great way to spread awareness of Jensen's as well as to highlight the fact that September is Childhood Cancer Awareness Month. Every year, an estimated 15,780 children up to age 19 are diagnosed with cancer. Approximately one in 285 children in the U.S. are diagnosed with cancer before their 20th birthday.
Jensen's works with local families walking through the diagnosis by offering a helping hand. Pierce said there is no stipulation on how families can use the money they provide. Typically they are given a standard amount per family and since they know their own needs best, they are able to use it however they see fit.
Some have used the funds to help with their expenses, like buying new tires for the vehicle they use multiple times a week to go to treatment, while others use the funds to bring one of their children's dreams to life. Some have thrown large birthday parties for all of their children's friends to come and have a day of fun, which up until then had been impossible because of the cost of treatment. Others use it to help make lasting memories by taking their family on a cruise at the end of treatment.
"All people need to do to help families just like that is, one, come to Play For a Cure and let their kids play. And two is just to donate," Pierce said. "People have bake sales and donate. Some purchase some of our merchandise, like our water bottles and yard signs, and others just go online and donate. It's a simple way to help families right here in our community."
If you go:
Play For a Cure
When: 10 a.m. to 2 p.m. Sept. 21
Where: Union Station Depot,
102 N. Palmer St.
Cost: Free
To donate or for more information: jensensheartofgold.com/play