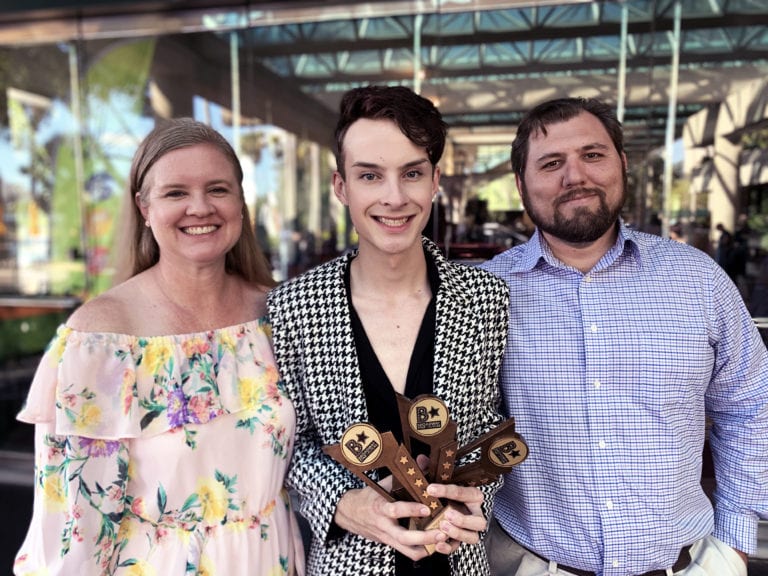 Dalton Vanderford, a recent graduate of Plant City High School, has a bright future ahead. He just won three Broadway Star of the Future awards and is already setting the stage for a flourishing career.
The Straz's Broadway Star of the Future has demonstrated year after year that Tampa Bay-area high schools are creating revolutionary works and building up impeccable talent.
Dalton Vanderford, who just finished his senior year at Plant City High School, proved this strawberry town is now a force to be reckoned with in the arts scene after winning Outstanding Stage Management, Outstanding Technical Design and Outstanding Lead Actor in a Play. He received the most individual nominations and his reign in the spotlight is just getting started.
"I've learned so much from theater," Vanderford said. "It taught us to improvise, to work long hours and not give up when things suddenly change. It's really been amazing to get to be a part of watching the program grow. I just keep thinking back to that judge at state that said we 'Enchanted the audience.' How do you beat that?… When they told me I was the winner at (Broadway Star of the Future) I was shocked. I got the most individual nominations of anyone there. I was just blown away."
This year's competition featured 43 high school productions, 36 of which were musicals. There were 700 participants from the 31 invited schools. PCHS drama teacher Audrey Schmidt also won Outstanding Direction of a Musical during the event. Schmidt played a key role in encouraging Vanderford to expand his reach in theater and under her direction, the program has revolutionized, taking home national grants and countless awards.
When he first got involved, he was helping out with tech and doing the makeup of the cast for the show. By his second semester he was a jack of all trades, lending a hand everywhere there was a need. He sewed, stage managed, helped with tech and essentially built up an impressive skillset he'll be sure to use for years to come.
By the time the school performed Harvey in November 2018 he was even helping build sets. Little Shop of Horrors, which the troupe performed in April 2019, featured a variety of his handiwork as he got more involved in creating the elaborate and expansive set.
While he shines behind the scenes and said he wants to get further involved with directing, Vanderford also has excelled on the stage. He starred in several PCHS productions and is in NYNE Productions upcoming show "Cabaret," which opens June 14 at the Portico.
He was all set to graduate a year early, but decided he wanted to get more involved in theater and his other groups so he chose to postpone receiving his diploma and continue pursuing his passions.
Vanderford was one cog in the wheel of change in his theater department, but learning he held a passion for the art came as a surprise. Growing up, Vanderford was heavily involved in FFA, joining as many teams as he could and spending all of his free time preparing for competition. His work ethic was one to be envied and there was rarely a spare moment when he wasn't practicing or working on a project.
For a while, he continued his education at Durant before eventually transferring to PCHS. His new school came with a new focus. Vanderford has always had a passion for helping small groups and he began pouring everything he had into helping minority causes find a spotlight.
He joined theater, the American Sign Language Club, Gay-Straight Alliance, the Democrats club and countless others. By the end of high school, Vanderford was involved in 13 groups, five of which he was president of, joined three committees, was dual enrolled and a member of three theater troupes. In fact, despite being on the prom court, he spent what is always one of the biggest nights of a senior's life working on lighting cues for a play.
His dedication and hard work is infectious and several of the groups he was a part of have tripled in size during the past few years. As society changed our local youth changed with it. Movements across the nation sprung out of the fervor of high school students and Vanderford was instrumental in making sure Plant City was on the cusp of change.
He and Lexi Knotts, who also was invited to Broadway Star of the Future, organized the March for our Lives rally last year and Vanderford is also active in Relay for Life, SMART Ride, attends equality galas and fundraises for a variety of other causes.
"Plant City taught me to get involved on every level and to try new things," Vanderford said. "I hear plenty of people complain about how there's not a way to get out there, but I've seen first hand if you put in the work and the time and get involved at the ground level you can make things happen."
While getting involved at PCHS, he found his true passion was for ASL and theater. It reshaped his entire future and now he's an incoming freshman at the University of South Florida and planning to double major in both topics.
While so much is still up in the air, Vanderford said the dream is to one day be a theater teacher for the deaf, which he admits is quite a niche job. He'd also love to buy a tiny house and freelance as an interpreter with a theater degree, traveling the country wherever there was work to help make theater accessible for everyone.
"For me, the appeal is it's able to put real world issues into essentially a small theater with crazy, absurd viewpoints to let people know these issues really exist," Vanderford said. "If you're successful you're able to make the audience feel something, feel sadness, feel excitement. It's a way to bring joy to people."
Though he has yet to even attend orientation, he's already dipping his fingers into clubs at USF. By this time next year he'll be reshaping the Bulls and using his optimism for life and passion for obliterating barriers to kickstart lasting change in Tampa Bay.
The best piece of advice he has ever received was simply "carpe diem." And he plans to seize each day as it comes.
"I just hope when all is said and done I've helped in some small way make something bigger," Vanderford said. "I definitely can't sit idly by. If I feel something needs to be said I can't keep it to myself. That's gotten me in trouble a bit, but it always comes from a genuine place. I try to make sure everyone is seen, to let people know their existence matters and they are loved."