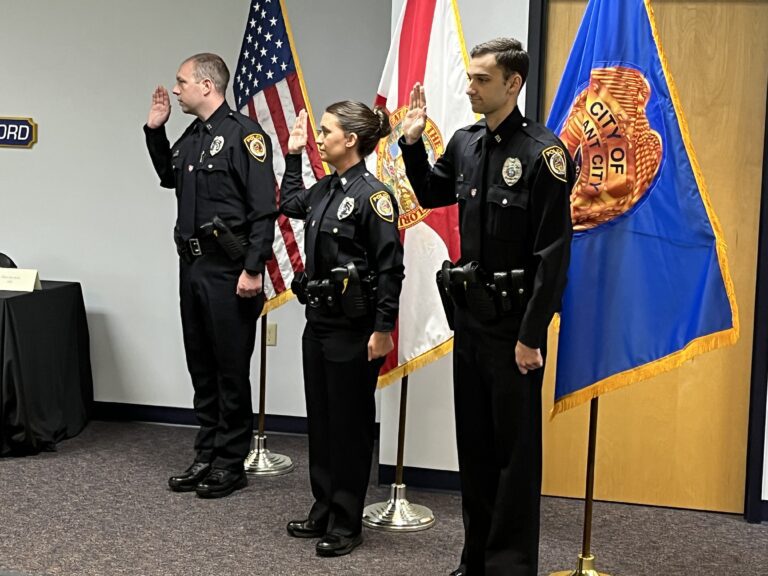 A swear-in ceremony recognizes an addition to police force.
Pride, allegiance, and public service were key takeaways as the Plant City Police Department officially welcomed aboard three new officers on Friday.
Officers Samuel Shireling, Rebecca Monroe, and John Amole were all sworn in at the Michael S. Sparkman Police Center.
After the presentation of colors, Captain Alfred Van Duyne gave opening remarks and noted that their schooling was not over but taking a next level.
"After today's swearing in, they will continue onto a field training program which will consist of approximately 16 weeks of on-the-job training with senior officers before being released on their own. This meticulous training program results in the finest officers for the citizens of Plant City," said Van Duyne.
This course consists of four phases:
1. The trainer takes the helm as the trainee observes.
2. Then the trainer does a few less duties while the trainee takes on a minimal amount.
3. The trainer is doing much less work and the trainee is doing the majority.
4. The trainer is now an observer and the trainee is taking on full duties.
Before beginning this step, the new recruits completed two-week training relating to firearms, pursuit driving, use of force and defensive tactics, active shooter training, crash investigation, and departmental policy review.
At the ceremony, Shireling, 22, said he was finally fulfilling his life-long dream.
"My whole life I thought it was cool watching T.V. and seeing police shows," explained the Plant City native, "but I wasn't sure if that was something I could ever do."
However, it was joining the Police Explorers Program at 14, said Shireling, that inspired him to pursue that career path.
For Amole, it was his time in the military that drew him toward law enforcement. In fact, he had worked at several police departments in Ohio before settling in Plant City.
At 32, Amole said that he's looking forward to achieving new ranks and working with a K-9 unit.
And Monroe's extensive education and training propelled her to join the police force.
The 28-year-old first became a dispatcher right after high school. She then received her bachelor's degree in criminology and served in the U.S. Marine Corps.
Plant City Police Chief James Bradford presented his three new officers with their first badges.
It was his third swearing-in ceremony since taking command, and it conjured up memories of when he was initiated 32 years ago.
"Since the day I was first sworn in, put on the badge and took the oath to serve," recalled Bradford, "I remember the awesome responsibility that comes with it. I look at being a police officer more as a calling than a job."
He encouraged the new recruits to still enjoy the perks that come along with being a civilian when necessary.
Bradford also noted that making arrests is only one aspect of the job, while creating trust within the community is just as important.
"What I want to instill in the officers is getting to know people, so people know them," he said. "If they need us or we need them, there's already that relationship."
Before raising their right hands to take that same oath, each officer had a family member pin their new badges onto their uniforms.
Shireling's mother, Jeanie Lynn, was present with his father William. She joined her son center stage as she made the badge a new part of his uniform.
Monroe's mother, Diane, stood alongside her at the front and said that her daughter had always debated whether to become a nurse or police officer.
And Amole's wife, Kelsey, came in support, decorating his uniform with a new badge.
"I'm really proud and really glad that he got on with a department that is very secure and family-oriented," she said. "I definitely try to be the mental health person behind him, to make sure that I keep him grounded."
"I love the sense of community that Plant City has," said Monroe. "The department- they really are a family here."
It was a shared sentiment among the three as to why they chose to serve in Plant City .