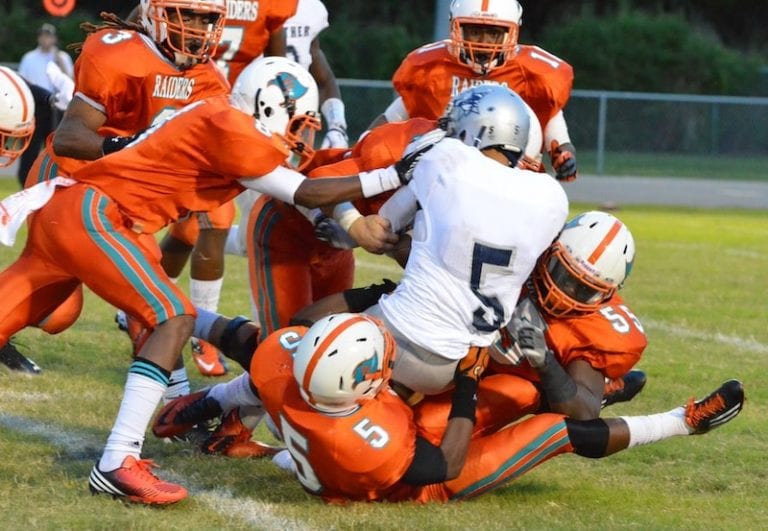 By Matt Mauney | Sports Editor
PLANT CITY — Dontavious Johnson had 116 receiving yards and a touchdown and freshman Tavares Chase scored the game winner as Plant City stunned Gaither 23-21 Friday at Raider Stadium.
Down 21-17, the Plant City defense put together a stop to give the offense one last chance with 4:23 to play in the game. Quarterback Nick Rodriguez hit Johnson on a 27-yard pass and catch down to the Gaither 1-yard-line. After three plays and a false start penalty, Plant City (2-1) took the lead on a 6-yard run by Chase on a end-around misdirection.
Gaither (2-1) mounted a drive for the winning field goal, but the Raider defense held the Cowboys on fourth down from the Plant City 45 to seal the game.
Johnson reeled in a big catch in the first half, when he beat his defender for a 79-yard touchdown with 56 seconds to play in the second quarter. The Raiders entered the half down 14-10. Gaither would go up 21-10 in the third after a 29-yard touchdown pass, but Rodriguez would mount a drive in the fourth that was capped off by a 1-yard QB sneak.
Rodriguez was just 4-of-10 passing in the first half, but had 114 yards thanks to the big play from Johnson. The senior quarterback was much more efficient in the second half, spreading the ball around to multiple receivers. Rodriguez would finish 12-for-23 for 217 yards and a score.
Freshman running back Ervin Micheal had another solid game with 102 total yards. Receiver Landon Galloway also had a nice night with six catches for 57 yards including some key grabs down the stretch.
After game quotes
Head coach Wayne Ward – "The word of the week was believe. The kids came out and played hard. Gaither is a great ball club. I'm grateful that our kids came out and kept their composure throughout the entire game."
Quarterback Nick Rodriguez – "The last drive when we got into the red zone, I had faith in my linemen, in my receivers, my running back and everyone here. We had faith in each other. I could look in the eyes of all 10 of them and knew that we were going to get that touchdown. Even after that penalty, no one had a doubt in their mind."
Receiver Dontavious Johnson – "Everybody was doubting us. A lot of people were saying that we were going to get blown out and have a running clock in the second half, but we believe in ourselves and each other. That's what we've been preaching."
Scoring
1st
GHS – Alex McGough 65-yard pass to  Shug Oyegunle (Kick GOOD); Gaither 7, Plant City 0
PCHS – Jorge Navarrette 27-yard field goal; Gaither 7, Plant City 3
2nd
GHS – Alex McGough 1-yard run (Kick GOOD); Gaither 14, Plant City 3
PCHS – Nick Rodriguez 79-yard pass to Dontavious Johnson (Kick GOOD); Gaither 14, Plant City 10
3rd
GHS – Alex McGough 28-yard pass to Shug Oyegunle (Kick GOOD); Gaither 21, Plant City 10
4th
PCHS – Nick Rodriguez 1-yard run (Kick GOOD): Gaither 21, Plant City 17
PCHS – Tavares Chase 6-yard run (Kick NO GOOD); Plant City 23, Gaither 21