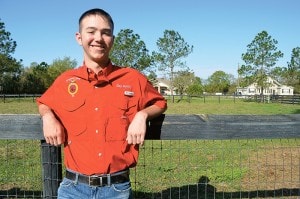 Although the rides, food and entertainment may grab the most attention at the Florida Strawberry Festival, the annual event also includes some serious business for Plant City-area ag competitors. This week, we meet some of the champions of the 2014 Florida Strawberry Festival.
Grand Champion Steer: Clay Joyner
Reserve Grand Champion: Shannon Gill
For Strawberry Crest sophomore Clay Joyner, showing livestock is a family affair. His father, Wesley, had a Grand Champion swine. His sister, Aly, was called up for Grand Champion steer last year. This year, it was Joyner's turn in the spotlight.
He won Grand Champion steer at this year's Florida Strawberry Festival.
"Whenever he (the judge) sticks his hand out to you, the year flashes before you," Joyner said. "All that hard work."
Although Joyner knew his steer, Henry, looked good this year, he was still nervous when walking into the arena. But after he won his class, he eased up.
"The next time I went in, I was more excited and living in the moment," Joyner said.
Joyner has been in FFA since attending Tomlin Middle School. His family has lived on its Cork property — complete with a barn and some fields — for five generations. So, Joyner was able to get coaching at school and at home.
"Showing and agriculture are big in Plant City," Joyner said. "I didn't have a choice. My dad got me a hog, and I just got attached to it."
Going from a 300-pound pig to a 1,200-pound steer was quite a challenge. But Joyner said Henry was a pretty gentle animal. He got Henry right before the festival last year. As a baby, Henry started out at 300 pounds.
The previous year, he showed a steer named Sirloin, who was much more aggressive than Henry.
But Joyner already is looking ahead to next year. He purchased his next steer, Domino, named for the white-and-black speckling on his face.
"It's a once-in-a-lifetime opportunity to win," Joyner said. "People go all four years without placing first. Now that I kind of have an idea after two years of raising, I'm excited."
Grand Champion Swine: Cole Hanson
Reserve Grand Champion: Zach Bozeman
Cole Hanson races back and forth between the ruby red rows of strawberries at Turkey Creek Middle School, plucking the fruit for his ag class. Just days ago, those same hands were handling a swine in the competitive arena of the Florida Strawberry Festival.
It had taken Hanson five years for his name to be drawn to enter the competition. And for his first year, he found himself in pretty good standing. He had made it all the way to the judging of the grand champion.
And he won.
"I thought he (the judge) wasn't coming up to me," Hanson said. "He walked around another pig. Then, he came out behind the pigs and pointed. I was like, 'Oh my gosh.'"
The very next thing he heard was his mom, Julie Hasting, screaming in the stands.
"She should've been a breeder; she was so beautiful," Hasting said.
The pretty pig was named Mercedes. Hanson's back up pig was named Benz. But Benz wasn't needed in the spotlight that day. Mercedes soaked it all up, selling for $13.50 per pound. She weighed 276 pounds.
Hanson's FFA adviser, Allison Sparkman, was proud of her student's success. She put his picture up on the school's internal TV channel that scrolled through all day.
"Seeing that picture with Cole and his prize opened up the eyes of the other students," Sparkman said. "He's the most well-rounded kid and does a lot with FFA."
Twelve other students from Turkey Creek also were drawn to compete in the swine competition, including Zach Bozeman, who won Reserve Grand Champion Swine.
"All our projects did really well at the festival this year," Sparkman said. "The sixth-graders have been so impressed. Now, they want to help and compete and to reinvest by putting their winnings back into the program."
"That's probably one of the biggest things to learn," Hasting said. "You have to borrow all the money for the pig and the feed, but when they sell it, they get to see how much they make off of it."
Hanson was given the option of buying a four-wheeler with some of prize money. But, he already has his eyes on his next swine.
GOOD DEED REWARDED AT SWINE SHOW
There were many other stories of triumphs throughout the shows at the 2014 Strawberry Festival. One involves a student from Simmons Career Center, Anthony Nadal.
The FFA president placed third in his class while showing his pig, Bailey, raised on the grounds of the school under the guidance of ag teacher Melissa Sampson. Bailey sold for $7.50 per pound to Westcoast Enterprises, whose owners also own Southside.
During the show, a disabled competitor was having difficulty walking in the sand to and from his pig pen. The committee members asked Nadal to switch, because his pen was closest to the arena.
"Anthony did so without hesitation and was very humbled when people thanked him," Sampson said.
Nadal also showed Claire, a big sheep that was raised on Simmons' campus, as well.
OTHER WINNERS
SHEEP CHAMPIONS
Overall Grand Champion: Aubrey Davis (white face ram)
Black Face Ewe
Grand Champion: Morgan Sistrunk
Reserve Grand Champion: Christian Pelfrey
Black Face Ram
Grand Champion: Samuel Sands
Reserve Grand Champion: Christian Pelfrey
White Face Ewe
Grand Champion: Abby Davis
Reserve Grand Champion: Aubrey Davis
White Face Ram
Grand Champion: Aubrey Davis
Reserve Grand Champion: Darby Hasting
Speckled Face Ewe
Grand Champion: David Squituri
Reserve Grand Champion: Sarahann Sweeney
Speckled Face Ram
Grand Champion: Charlie Davis
Rare Breed Ewe
Grand Champion: Brenna Sturgis
Reserve Grand Champion: Kelly Cribb
Rare Breed Ram
Grand Champion: Avery Surrency
Reserve Grand Champion: Emily Linton
JUNIOR SHOWMANSHIP
First: Ava Hasting
Second: Emily Linton
Third: Isabelle Murphy
INTERMEDIATE DIVISION
First: Abby Davis
Second: Cole Hanson
Third: Sarahann Sweeney
SENIOR DIVISION
First: Cassidy Hasting
Second: Samuel Sands
Third: Darby Hasting
JUMPING 
SHORT-LEGGED DIVISION
First: Jennifer Wayman and Kelly Cribb (tie)
Third: Tyson Matthews, Kristen Felberg and Lindsay Short (tie)
LONG-LEGGED DIVISION
First: Samuel Sands
Second: MaCayla Phillips and Cheyenne Sommer (tie)
YOUTH POULTRY
Grand Champion: Hannah Spivey
Reserve Grand Champion: Thomas Stephenson
Opposite Sex Exhibition: Tyler Jurgens
Opposite Sex Production: Ashlyn Ledbetter
YOUTH RABBIT
Grand Champion: Triston Wager
Reserve Grand Champion: Parker Webster
Opposite Sex Exhibition: Benjamin Harris
Opposite Sex Production: Triston Wager