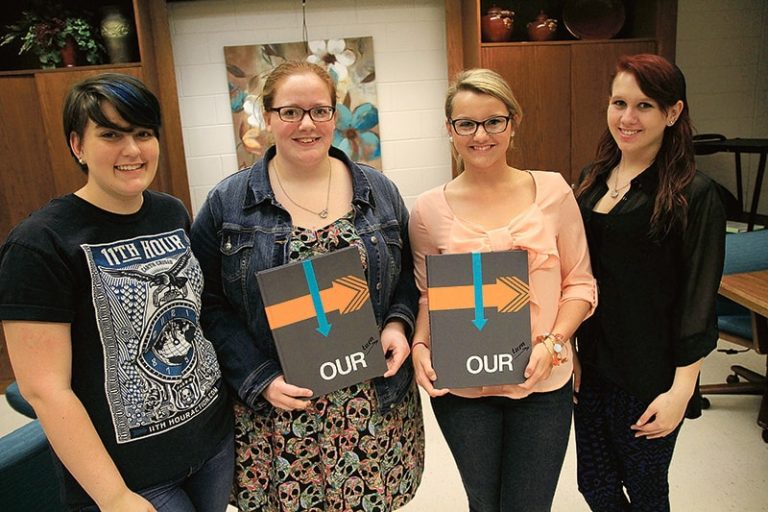 Plant City High School senior Beth Pengler focuses her mobile phone's camera at an image featuring the 2013 Homecoming Court in the school's 2013-14 yearbook. In less than a second, the phone reacts, bringing the image to life with a video clip of the court's crowning.
Pengler, yearbook editor-in-chief, smiles as the video plays. As students file into the room to grab their copies of the yearbook, released last week, she knows they are taking with them something special.
And something no other high-schoolers in the area will enjoy.
Plant City is the first high school in Hillsborough County to supplement its print yearbook with digital content through an video app called Aurasma. Much like QR codes, the app recognizes specific images throughout the book and will respond with additional video clips. Currently, the book has about 10 photos that will trigger Aurasma video clips, but Pengler and her yearbook staff plan to add more soon.
"We saw it (the app) at some trainings at (yearbook) camp, and we thought it would be really cool," she says. "So far, we've been getting really great feedback (about the yearbook); it's been received really well."
Last week's yearbook release was the culmination of more than a year of work for Pengler, her fellow editors and staff, and yearbook adviser Jennifer Hamilton. Planning actually begins at the end of the previous school year, and by August, staffers already are snapping photos and gathering content for the annual publication. This year's theme, "Our Turn," places the spotlight on this year's students while paying homage to Plant City graduates of the past century. To commemorate the 100th anniversary of the construction of the 1914 Plant City High School Community Building, the staff worked with the Plant City Photo Archives and History Center to include more than 100 historical photos within the book.
"Ultimately, our goal is for the students to be happy," Hamilton said. "It's a student-run program that's intended to please students. Fortunately, the administration has been so generous and let us be as creative as we want."
Pengler signed up for yearbook her freshman year — out of necessity.
"I wanted to do orchestra, but it wouldn't fit in my schedule," she said.
But, the experience proved to be a perfect fit. Pengler remained on yearbook staff all four years of her high school career and said she will draw from the skills she learned as she begins studying for a nursing degree at Hillsborough Community College.
"I've learned so much about time management," she said. "And also about how to work with different personalities."
Moreover, Pengler said she is particularly proud that she helped create books that will sit on classmates' bookshelves for decades to come.
"It's crazy to think about that," she said. "It's an odd comparison, but it's like having a kid. There's so much dedication and work put in, and when it's all done, it really memorializes everybody who worked on it, too."
Now that the 2013-14 book is complete, Pengler and her fellow yearbook seniors will use the rest of the school year to train their replacements. The staff also will begin planning next year's annual.
Contact Michael Eng at meng@plantcityobserver.com.