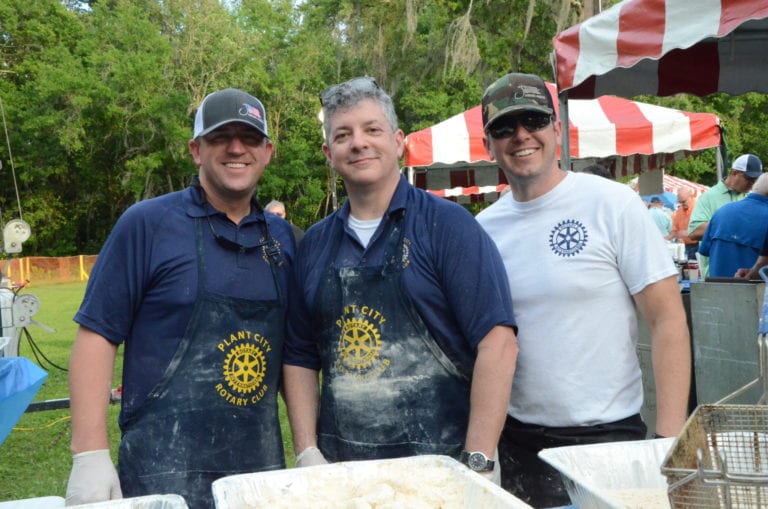 The Plant City Rotary Club is celebrating a milestone next week. In honor of the club's 65th birthday we take a look back at how it has evolved over the years and discuss everything it's doing for the community during this unprecedented crisis with President Doug Watson.
For more than six decades, an ever-growing group of local community leaders has gathered together under one title: Plant City Rotarians.
Like so many of the clubs that began in the 1950s, the Plant City Rotary Club acted much like a "good ol' boys club." A handful of men got together and decided to bring a chapter of the international organization to town in hopes of further networking and community engagement. The club, however, quickly evolved into one of the most civic and service-minded groups in town and now is home to more than 85 members.
Men and women ranging from their 20s to their 80s meet once a week for a club lunch and brainstorm ways to give back to the many other organizations and causes they hold dear. They provide nearly silent backup — unless you're really looking, you may not even notice they're there. But they humbly make waves everywhere they go.
"For me, Rotary is a service club, it's as simple as that," Rotary President Doug Watson said. "There's a lot of networking clubs around and they're great and do great things, but that's one thing we aren't. Rotary International may have been founded with that as a part of its roots, but it's evolved to a service club. It's service above self and that's really our big slogan. It's all about taking care of others. We are a service club that gets together — we're a fun group, a smart group — and we find ways to generate funds to help other charities and give locally and internationally."
Watson said the local chapter's focus is predominantly in Plant City, though they still have several international projects they support. They pour much of their collective brainstorming into two large fundraisers every year — Rotary Wild Game Cook Out and Dancing with the Locals — and then spend the rest of the year giving back with the money those two events raised.
You'll often find Rotarians with a spatula and barbecue tongs in hand. It has become their trademark around town and their energetic and friendly volunteers will often be found at many community events. Whether they're grilling hotdogs and passing out drinks and chips for all of the participants of the Plant City Christmas Parade thanks to a partnership with Lee Williams from Felton's, cooking up meals for attendees of Plant City Little League's Opening Day or even supplying the American cookout staple for local schools to raise money for their corresponding PTAs, the group never fails to make an appearance.
Each year during the Dancing with the Locals event, they have a massive check presentation for the United Food Bank of Plant City and they also support a local dentist's annual service trip to the Philippines. One of their trademark programs entails them giving thousands in scholarships to local students.
Needless to say, COVID-19's sudden and raging emergence threw quite a wrench into the group's plans. The annual cookout was postponed. The community suddenly faced more needs than ever before. So, once again, Rotary adapted.
Part of the club's strength lies in its ability to adapt thanks to the diversity of its members. Watson called it the perfect blend of the old and new. They have the wisdom, the heritage and history of some of its long-time members as will as the innovative spirit of its younger teammates. Together they are able to push the envelope and move the club forward.
The members now meet for a virtual video conference once a week. When UFB of Plant City voiced its need for donations and volunteers, Rotary stepped up. They donated $5,000 and several members have been volunteering to help wherever there is a need.
The Class of 2020 was faced with an unpredictable future, so Rotary upped its game and expanded its scholarship program. Watson said they're giving students $38,000 in scholarship money this year. What's unique about the group's program is it isn't just for high school seniors. Yes, the majority of the funds go toward Plant City High School and Simmons Career Center for students who want to attend college or go to a technical school. However, the club has expanded to continue helping recipients as they wade through their education.
"All in all, we're giving away $38,000 in scholarships and what we started doing recently to add to the program is to continue helping students that are going into their second year," Watson said. "So if they get one of our scholarships in high school and then keep their grades up their first year, they can reapply. So we've got 10 scholarships set aside for the second year and five for the third year. We love helping our seniors, but then we starting thinking instead of just giving these kids money to get them started we should continue with it to help keep them in school and help them after their first year when their money starts to run out."
Rotary will continue to give back regardless of what hurdles COVID-19 causes, Watson said. Thanks to the careful planning of the club's board of directors over the years there is a healthy reserve available to tap into during this trying time. 
The club is celebrating 65 years in the community on May 12 and it's clear their impact is far from slowing down.
Anyone interested in getting involved with Rotary is welcome to email Watson at fire2305@msn.com. They can also follow the club's Facebook @PlantCityRotary or visit plantcityrotary.org.