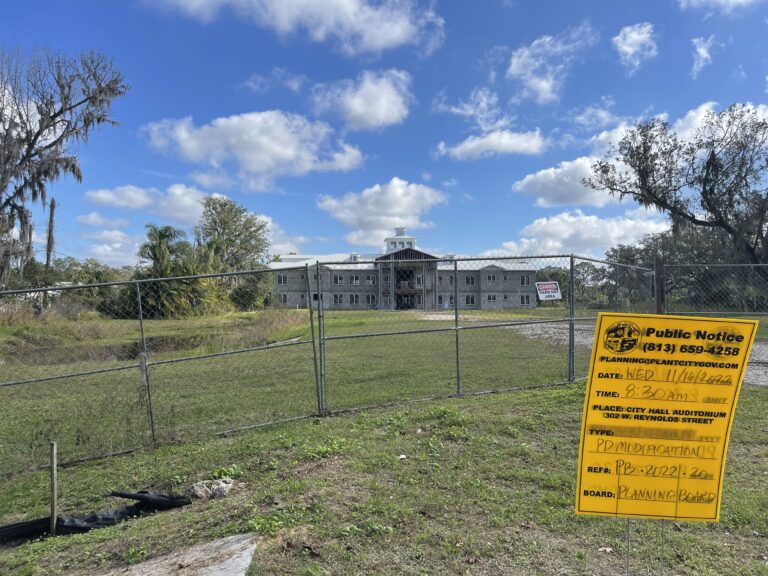 Residents were pleasantly surprised to have almost all their questions and concerns addressed at this week's city commission meeting.
A few residents attended the city commission meeting with several questions and concerns on their minds relating to the proposed redevelopment of 26.32 acres of property east of North Shannon Avenue and south of South Frontage Road.
Among then was Plant City resident Carol Tickle, whose home abuts the land. Tickle's former neighbor was Mark Jordan, who owned the property, the site of a palm tree nursery, who shared his vision of one day opening an assisted living facility on the land that could serve the needs of Plant City's aging population. Jordan passed away several years ago before he could see the project to fruition. A semi-completed building sits vacant on the land.
The current property owners are hoping to build a 315-unit multi-family apartment complex and went before the commission in hopes of adopting a map amendment to the comprehensive plan to modify the Palm Cove Planned Development District from a future land use designation of Residential-6 to Residential-12, paving the way for the multifamily project.
Tickle's list of concerns included: the potential consturction traffic at the entrance on Vining Street, the future of the many oak trees located on the south side of the property, whether the development would negatively affect their septic tanks and if stormwater runoff would drain into their yards. She was worried not just for herself but about children who would one day live in the development and have to walk to the local school on Shannon Avenue, a two-lane road with no sidewalks.
Planning Commission employees Mark Hudson and Robyn Baker gave presentations to commission members about the project. "Access to the property from Vining Street will be for emergencies only and the applicant is proposing a buffer consisting of a six-foot tall wooden fence and ground shrubs," said Baker.
Jim Shimberg of Strategic Property Partners represented the applicant and spoke about their plans. "We try to be considerate to adjacent property owners," he said.
Jon Cleary with KETTLER, the property developer, said it leans on its 45 years of experience in multifamily development, investment and property management to create unique, sustainable communities. Cleary also addressed Tickle's concerns. "How we situate buildings on the site is important and we're very excited about this site because it was a working tree farm,' he said. "We plan to take full advantage of that for landscape buffering."
When discussing the project he referred listeners to the Town Trelago apartment community in Maitland, a 350-unit lakefront garden apartment community featuring three-story buildings with community amenities such as a clubhouse, pool, playground and court games. "This is very similar to the plan we'll be proposing," he said.
Mayor Nate Kilton also spoke up about a possible solution to Tickle's worries about children walking to school. "Maybe as we move forward in our infrastructure improvements we have a great opportunity to consider extending the sidewalk further south on Shannon Avenue as well as lighting improvements," he said.
At the end of the meeting, Tickle was satisfied with the answers she received, both at the meeting and in the months leading up to it. "Representatives of the developer spoke to us after the meeting and gave us their business cards," she said. "City officials did a very good job listening to us and addressing our concerns."