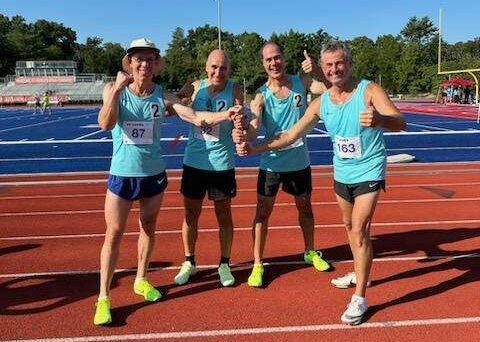 Roger Chapman and his three teammates set the American 4x800 meter record for the 60 to 64 year old age group, coming just short of the world record.
Plant City's Roger Chapman, along with three teammates from across the country, set the American 4×800 meter record in the 4×800 meter race for the 60 to 64 year old age group this past week.
Originally from England, Chapman came to America on a track scholarship to Eastern Kentucky University in 1983 where he primarily competed in the 800 meter and on the 4×400 meter, 4×800 meter and sprint medley relay teams. With a bachelor's degree in computer science from Eastern Kentucky in 1986, a masters in computer systems engineering at Edinburgh University, Scotland in 1987 and a PhD in Cognitive Systems Engineering from Ohio State University in 2002, Chapman worked professionally as a consultant on Human Computer Interfaces, but his running continued.
In 2022, Chapman competed in his first USA Track & Field Masters Outdoor Championships in Lexington, Ky. where he took home gold in the 800 meters for the 60 to 64 year old age group. And this past July, he competed in the same event in Greensboro, N.C. where he was contacted by another 800 meter Masters competitor from New Jersey, Peter Kushilines. After seeing Chapman's result at the 2022 Masters Outdoor Championships, Kushilines inquired about his interest in joining a 4×800 team for the North Carolina meet that was attempting to break the standing world record of 9:29.53 set by an Australian team this past March.
With a time of 9:31.06 at the meet, Chapman's team fell just 1.53 seconds short of a world record and a razor thin 0.15 seconds short of the American record. Frustrated by the narrow miss, Chapman immediately began searching for another event in which the team could make another attempt at the record – ultimately finding the Potomac Valley Games in Alexandria, Va. as they agreed to add a 4x800m event on Sept. 3.
"He recruited me basically," Chapman said. "He saw my results from the previous year and had found a couple of guys but needed a fourth. We had never met but he saw that result, asked if I was interested and I said that I was going to the meet anyway so absolutely. It was quite a compliment to be recruited for that and then when we just missed out, I think I was more upset or disappointed than anybody so I kind of took the lead and said we've got to find another meet, we came so close. I really felt like we should have broken the world record and just really wanted to find another opportunity."
To make matters more complicated, only Chapman and Kushilines were able to attend the event, so the duo was forced to recruit two other runners in Vadim Scherbinin from Seattle and David Pinkham from Maryland.
In preparing for the event, the team was shocked to find that the world record they were chasing was subsequently obliterated by a Canadian team that completed the event in 9:16.90, nearly 13 seconds faster than the previously-held world record. Far from defeated, the team continued to train and met in Virginia last weekend where they posted a time of 9:17.94, setting a new American record by 12.98 seconds.
"It was great, yet when we realized how close we got to the world record, it was mixed feelings," Chapman said. "It was a relief to break any record because it had taken so much work to organize the opportunity to go for the record, so I was very happy that we were coming away with something. Everybody had sacrificed their time, they'd trained hard, everybody had some kind of nagging little injury so quite frankly it felt amazing to break the American record and it was a bit disappointing to miss the world record by a second but it was great."
Despite once again falling just short of a world record, Chapman knew that he couldn't jump right back into finding the next possible attempt to break it and accepted that he'll likely have to wait until 2024 for another opportunity.
Looking ahead, Chapman plans to attend his first Indoor USATF Championships in Chicago next March, running in an indoor competition for the first time since 1986, with hopes of also competing in the Outdoor US Championships in California and the World Masters Championships in Sweden. Between now and March, he will run the 400m at the Tampa Bay Active Life Games on Oct. 8 and look to defend his 800m state title at the Florida Senior Games State Championships on Dec. 10.
"They're not necessarily as big as the national events or going for a record, but for me at least, I have to have something to train for," Chapman said. "The nearest big track meet will be the indoors in March, I've never run in that so it'll be exciting. I haven't run an indoor track meet since 1986 so there's always a bit of a thrill going back and doing something like that but that's in March so I can't just not run between now and then. These other meets will give me something to train for."
Still competing at a high level at 61, Chapman emphasized the opportunities available to senior runners and urged all runners of any age to browse Facebook for running clubs that exist in the Plant City, Brandon and Lakeland area. And if you still have the itch to compete, runners age 35 or older can find competitions through the USATF Masters program at www.usatf.org/programs/masters.