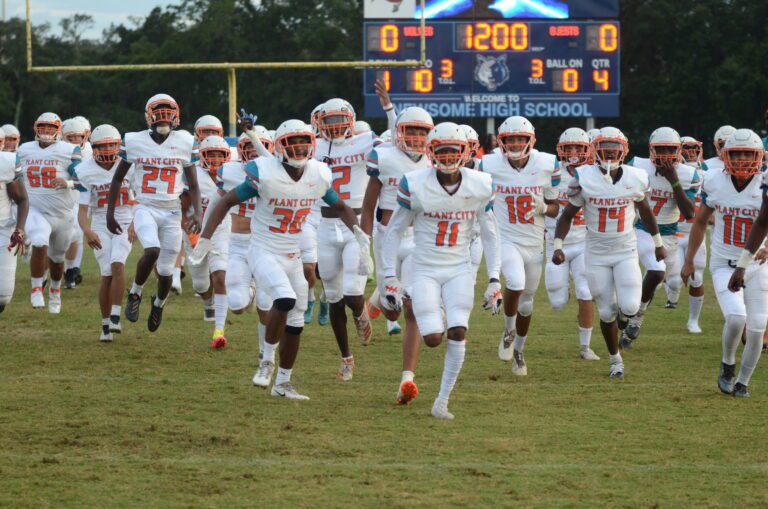 2023 Football Preview: Plant City
Following a 6-5 record in 2021, James Booth stepped away from the Raiders' football program after serving five years as head coach. The following spring, Plant City announced the hiring of former NFL first round pick Michael Clayton. But despite the highly-anticipated arrival, Clayton's tenure with Plant City lasted just a year as the two sides mutually separated after the conclusion of a 3-7 season in 2022.
At the end of a second coaching search in two years, defensive coordinator Terrence Hicks – who joined the Raiders' program as defensive coordinator under Clayton in 2022 – was promoted to head coach.
"We knew when Coach Clayton left that we would have big shoes to fill, but Terrence had been his right hand man," former Plant City principal Susan Sullivan said following the announcement of Hicks as head coach. "He's been the one on campus all season, working with our boys and making sure that they're doing what they need to do at school academically, that they're in class, they're on time, they're working hard, he's been the one that's handled a lot of the communication. He's just done a really good job and the kids really respect him so we felt like it was a natural next step to move ahead with him at the head coach position."
Hicks played his prep football at Wharton High School before making his way to Santa Rosa Junior College in California. Hicks then spent five years away from football before earning a scholarship to Southeastern University in Lakeland where he played his final two years of college football as a defensive back with the Fire. Upon finishing his time at Southeastern, Hicks knew that he wanted to begin coaching where he subsequently spent one year at King before serving two years on staff at Alonso High School and one year with his alma mater at Wharton before coming aboard at Plant City. And after just one year with the Raiders, Hicks ultimately found himself with his first head coaching opportunity.
"It was just a thing where you have to be prepared," Hicks said. "If the opportunity presents itself, be ready for it. Being a head coach is something that I always aspired to do so once I saw the opportunity I said I'll apply, let me put my best foot forward and now we're here… The staff is smaller, much smaller, so I'll say that we're working harder because we don't have as many but it's one of those addition by subtraction things," Hicks said. "I don't like dead weight so if you're here, you've got to pull your own weight and all of the coaches have bought into what we're doing and my biggest thing was putting men around these kids. You have to know football but at the same time, I can't be everywhere at all times so if a kid is talking to you I want to make sure that he's talking to a man and not another kid, putting good men around these kids. That's was one of my biggest things with bringing Khalif Ponder over from Hillsborough, I returned Bo Dasher — Mr. Plant City as I call him — I brought back Will Blankenbaker, I can't get it done without Blankenbaker. He's the other half of running this team. I do this, he does that, I can't say enough about him, he's a workaholic just like me. I've got my defensive line coach David Green, I've been with him since I entered the coaching industry. I played college ball with him and like I say, he's probably the best D-Line coach in the county. Jerry Yoder, he's the JV head coach and receivers coach. Then Isaac Ricks, our new offensive line coach that just got done playing with the University of Florida."
On the football side, Plant City's staff knew that the 2022 season would be an uphill climb after the Raiders saw a significant number of players depart from the program at the conclusion of the 2021 season, including several that went on to play at the college level. Heading into 2022, Plant City would enter the season with just a handful of seniors after losing their leading passer, their two leading rushers, their four leading receivers, their interception leader, two of their top three tacklers and two of their top three sack leaders from the year before. There were growing pains as Plant City battled their way to a 3-7 record, but all of that inexperience from last year has resulted in a situation where the Raiders are returning nearly all of their starters – along with a few outside additions – to their 2023 squad.
At quarterback, Plant City added transfer Chris Denson to take over under center. As a sophomore at Mulberry High School in 2022, Denson played in three games where he completed 24 of his 47 attempts for 332 yards and one touchdown, now looking to lead the Raiders as a junior in 2023.
"It's going amazing, he's the best," Hicks said. "I wouldn't want any other guy in our uniform. He's a team leader. First one in, last one to leave, he holds everybody accountable and holds himself accountable. He's the first one to finish in conditioning, full-speed every rep, leading by example. He's just a guy that you want in your program."
At running back, the Raiders were led by a junior duo of Dominic Jones and Jaden McCants in 2022, with McCants totaling 483 yards and four rushing touchdowns on the ground while Jones finished the year with 333 rushing yards and two rushing touchdowns – combining for 816 of the team's 851 total rushing yards and six of their nine rushing touchdowns. As Jones transferred to Durant ahead of his senior year, the Raiders' backfield will likely be led by a new addition, junior Tony Marshall, in tandem with McCants and sophomore Maurian Hugee, according to Hicks.
Out wide the receivers unit will once again be familiar, also bolstered by some new additions.
"Right now we've got Zykee Joyce, that's our leader, he's coming off an ACL injury. He's fearless and I can't say enough about him," Hicks said. "We have Joshua Gueh, another receiver we have in. T.J. Knighten, he's a returner and going to be a junior this year. Haven Pierce, he was our JV quarterback last year and transferred to receiver, he's the fastest receiver we have on the team so that was a big addition, and C.J. McLain, another one of our senior leaders. We have a pretty good group."
Up front on the offensive line the unit will now be anchored by upperclass leaders in junior Nathan Zipperer and senior Will Belen.
"Right now what helps them is the style of offense that we're running," Hicks said. "It fits those guys and they're comfortable in what they're doing so they can play fast, they can play free and we brought in an offensive line coach Isaac Ricks, a former Florida Gators running back, so he comes with a ton of knowledge as well. We added a few pieces up front and the leaders are leading. They believe in each other now, they're becoming one again. It's cohesiveness, everyone's gelling, everybody's doing what they need to do."
Defensively, the crown jewel of Plant City's team last year was their brutal defensive line — highlighted by 13 sacks and 16 tackles for loss from from Donte Jenkins, 18 tackles for loss from Davin Stone-Grant who also totaled 8.5 sacks on the year and Temarce Miller who racked up 12 tackles for loss and six sacks as a freshman in 2022, all of which are back for 2023.
"That's the anchor of our team right there, we move with them," Hicks said. "Our defensive line, we've got one of the best coaches and every one of our defensive linemen returned this year so we're going to have two years with the same system, the same coach, everyone's comfortable and it's at the point now where they move on autopilot because they knew exactly what to do. Those guys are amazing, our defensive line is hands down the best group on this team… Donta Jenkins, he was the only sophomore in the state to make the All-State team. Davin Stone may have been overlooked because it was his first year doing it but if you go look, 18 tackles for loss. Temarce Miller, he's going to be a sophomore this year and got two Division I offers as a freshman. Pablo Matias, a big guy, you can't move him, he's the strongest guy in the weight room. That group is nasty. We have another senior in Dacoby McDonald and then our secret weapon Nijah Drawdy, he's a big wrestler, so they're loaded down there."
Looking back into the Raiders' secondary, Plant City lost just one of their true impact defensive backs from 2022 in safety Tehauji Miller while adding senior cornerback Khai Ponder from Hillsborough High School to the unit. While inexperienced like much of the varsity roster was last year, Plant City's defensive backfield exemplifies yet another situation where the Raiders are seeing nearly the entire group return with senior leaders in Chase Dexter and Trae'veon Smith.
"I didn't feel the best about the secondary group last year but that's another situation where all of those guys are returning so now we're teaching the same thing for two years in a row," Hicks said. "They get it more, it's not day one teaching them how to walk stuff anymore. Chase Dexter is my little genius, that's what I call him. He nearly made a perfect score on the SAT and that's something that you just can't teach. Chase is very intelligent, he knows how to get us lined up, he's like a coach on the field. We've got Trae'veon Smith – fastest kid in the county, he ran a 10.5 [100-meter dash] so you've got a 6-foot-1 cornerback running like that. Last year was his first year playing high school ball and he's confident so that's going to raise him up. Khai Ponder came over and he's another senior corner and Ta'zayvion Miller, Tehauji's little brother, he's replacing him at weak safety right now so we're all hitting the ground running. Those boys are bought in and Trae'veon Smith, being the leader he is and holding himself to a high standard, he isn't scared to call you out if you're not living up to what we want this year so having guys over there that are leading… that's danger."
As the group gains experience with more and more reps on the field and time in the Raiders' system, arguably the biggest benefit that the secondary will have is that dominant front seven.
"I tell them all the time, they're going to look so good because anyone can get a pick when the ball's just getting thrown up in the air but it was hard last year just teaching them everything," Hicks said. "Football is so intricate and so deep. You have to teach them how to play, you have to teach them what to do, you have to teach them why they're doing it. There's so much that goes into football but now, since they've been in the system for two years, we can teach them how we want them to do it and get more into that side of it. That's why it hurt us last year being so young, but we're reaping the benefits of it this year knowing that we're getting a lot of our returners back. I expect them to have the biggest jump of any group on the team."
At linebacker you'll find what was quite possibly the biggest loss on either side of the ball as senior middle linebacker Cole Highsmith graduated last spring. But in the void Highsmith leaves in the heart of Plant City's defense, senior Mike Bell will now have his opportunity to step in as a crucial anchor for the Raiders.
"Cole Highsmith is irreplaceable, let's just start there. He's irreplaceable," Hicks said. "He's a kid where you probably get one of them your whole coaching career but Mike Bell being back, I'd say that we might have a Cole Highsmith reincarnated. Another four-point-something GPA guy so the brains are there, he's got a natural linebacker's body, he grew a whole lot this year and still moves the same way, it's almost like he's not even human. He's not scared to stick his head in there and hit anybody and he has the biggest ego when it comes to losing, he hates losing. So that side of him right there will put him above a lot of players in the county, just his will to not get beat. Having Mike Bell is major."
So as the Raiders' season creeps nearer, 2023 will be another fresh start under a new head coach as Hicks leads a team that has grown tremendously since last fall while adding a few new additions at key positions. "It's honestly amazing," Hicks said. "I'm around them all day and it's a family thing. That's the best thing about Plant City and why I didn't want to leave here because everything in Plant City revolves around the family vibes. From the principal to the admissions to the counselors, there's such a cohesiveness. Everybody works together."
SCHEDULE
Note: All games are scheduled to start at 7:30 p.m. Games are broadcast live online at NFHSNetwork.com.
8/25: Newsome
9/1: @ Wharton
9/8: @ Steinbrenner
9/14: @ Durant
9/22: Hillsborough
9/29: @ Alonso
10/13: Plant
10/20: Armwood
10/27: Strawberry Crest
11/3: @ Jefferson
ROSTER
1 Chris Denson QB Jr.
2 Trae'veon Smith CB Sr.
3 Jaden McCants SS/RB Sr.
4 Tony Marshall RB Jr.
5 Chase Dexter FS/CB Sr.
6 T.J. Knighten WR Jr.
7 Zykee Joyce WR Sr.
8 Josh Gueh WR Jr.
9 Donta Jenkins DE Jr.
10 Michael Bell OLB Sr.
11 Davin Stone-Grant DE/MLB/OLB Sr.
13 Seth Hogan OLB Jr.
14 Khai Ponder CB Sr.
15 C.J. McClain WR Sr.
16 Haven Pierce WR So.
17 Juda Bendorf WR Sr.
18 Oscar Lazoya WR Sr.
19 Travont Panier SS/OLB So.
20 Ta'zayvion Miller FS/CB Jr.
21 Jason Davis CB/KR Sr.
22 Dillan Sumner OLB Sr.
24 Maurian Hugee CB/RB So.
30 Jordan Futch CB Sr.
38 Bach Tran K Sr.
40 Cristobal De La Cruz ILB Jr.
44 Nijah Drawdy DE Sr.
50 Stephen Eatman G/C Jr.
52 Simeon Hogan DE So.
53 Jeremiah Futch T Jr.
55 Maliki Bynoe C/DT Jr.
57 Julian Martinez T Jr.
63 Eli Strawn G Sr.
64 Briley Wyatt G So.
65 Isiah Latham C Jr.
66 Naseem Broom C Jr.
68 William Belen G Sr.
69 Pablo Matias DT Jr.
73 Julien Fontilme DT So.
75 Giomar Toro DE Sr.
76 Dustin Eldridge G/T Sr.
77 Nathan Zipperer G/T Jr.
83 Brock Snyder WR So.
90 Temarce Miller DT/DE So.
99 Dacoby McDonald DT Sr.
N/A Lomont Owens So.