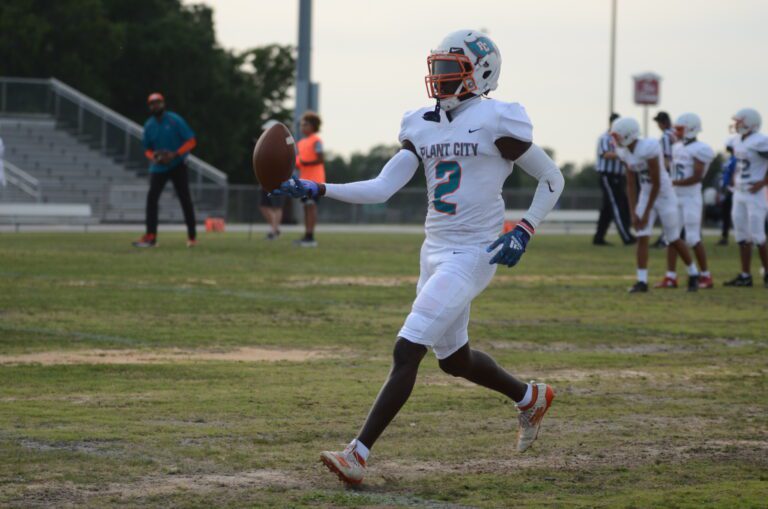 2022 Football Preview
To say that there is a whirlwind of change swirling around the Plant City Raiders' football program in 2022, that would be an understatement. On the field itself, Plant City was part of the first wave of schools in Hillsborough County to have an all-new field turf playing surface installed within their football stadium — joining Bloomingdale, Chamberlain, Freedom, Gaither, Middleton and Plant in a project that will eventually provide turf to all 28 public high schools in the county over the next few years — to go along with their new video scoreboard that all high schools in the county received.
But the most notable change to Plant City's program will certainly come in the form of their new coaching staff, led by head coach Michael Clayton, offensive coordinator Kenny Kelly and defensive coordinator Terrance Hicks. With a wealth of experience in their back pocket, this season is sure to kick off an exciting new era for the Raiders. After a national championship at LSU — setting a school record at the time with 21 career receiving touchdowns and still sitting second all-time in career receptions — Clayton was selected 15th overall by the Tampa Bay Buccaneers in the 2004 NFL Draft, spending a total of eight seasons in the league and winning a Super Bowl with the New York Giants in 2012.
Kelly is a familiar name to many long-time Plant City natives, born in Plant City as his father Floyd Kelly served as the Raiders' head football coach from 1986 to 1993. Going on to leave his own legacy on Hillsborough County, Kenny Kelly was one of the most prolific high school athletes in the nation. A four-sport athlete at Tampa Catholic, he would go on to win state championships in basketball, baseball and track while setting state records on the football field for passing yards and passing touchdowns. At the University of Miami, he would throw for 20 touchdowns and over 2,300 yards before an 11-year professional baseball career with Tampa Bay, Seattle, Cincinnati, Washington and the New York Mets. On the football field, Kelly most recently served as an offensive quality control analyst for Florida International University.
Hicks has recently served as the defensive coordinator for both Alonso High School and Wharton High School.
Leading the junior varsity team is another Plant City native in John Broome, a graduate of Plant City High School and long-time staple at the youth football level with the Plant City Dolphins.
In the final year under former head coach James Booth, the Raiders finished with a 6-5 record and saw a number of impact players on both sides of the ball depart, either through graduation or transfer in the case of starting quarterback Clint Danzey — playing his senior season at Stranahan High School in Ft. Lauderdale. Among those departures, several continuing on to play at the college level, the Raiders' lost their leading passer, their two leading rushers, their four leading receivers, their interception leader, two of their top three tacklers and two of their top three sack leaders. But youth isn't something that Clayton fears, it's something that he embraces. He takes pride in the leaders that are still with the program and takes pride in his first freshman class.
"We've got a lot of freshman who are going to play, we've got a lot of guys that are going to start as freshman," Clayton said. "That was one of my things going into LSU and starting, that was one of my things going into high school, I was a starter in eighth grade and started as a freshman so that really set the tone for my high school career to dominate. I look for guys who can play. They may not be all the way ready for varsity but they can play and they can help us. We're going to develop those guys and get them as many reps as possible to plant the seed for the future. Those guys are going to be the future of Plant City. We want everybody to know that if you're young and you're talented, you're going to play here at Plant City and those guys have done a tremendous job of taking on the task and filling the requirements of what's needed."
On the veteran end, Plant City will be led by key contributors like Cole Highsmith, a defensive anchor at the linebacker/safety position that finished the 2021 season with 92 total tackles and seven sacks — both good for the second-best marks on the team. Javan Futch, a wrecking ball in the trenches that will play on both sides of the ball. Chase Dexter is a name that Clayton pointed to as one of the smartest players on the defensive side, teaming up with with Eden Williams as experienced defensive backs that will be tasked with filling some big shoes that graduated from the unit last year and leading the defensive backfield.
At quarterback, Plant City added a huge name in Dereon Coleman over the summer. A Plant City native, Coleman was named an Under Armour Next All-American in 2021, also on the roster for Under Armour Next's 8th Grade Game. Each year for the 8th Grade Game, 75 of the best eighth grade football players from across the nation converge in Orlando to train and compete during All-America Game Week, with Coleman featured among that selective group. As an eighth-grade student, Coleman was the starting quarterback for Fort Meade High School's varsity football team last fall, leading the Miners to a 5-5 record while completing 59.5 percent of his passes for 1,180 yards and 12 touchdowns.
"I mean we're being led by a freshman quarterback that started in the eighth grade last year so there are some things where we need to grow, like any kid in the ninth grade, you've got to mature in certain spots," Clayton said. "Not every ninth grader is built to have the team on their shoulders but Dereon Coleman has proven himself to be worthy of that task. We believe in him, we know that he can do the job, we know that he can play football and leading this team you have to have some kind of experience to lead it in the right way. So yeah, there will be some growing pains with him but it's our job to mature him and grow him up in ways where he may not be there yet. But he's done a great job moving forward, he's done everything that we've asked of him and then some and we just continue to work with him every day because we know that he's the future of Plant City and he'll have a great opportunity to play at the next level."
And while talented, it can't be overstated that Coleman is still just a freshman. With that, Plant City will look for their offense to flow through the run game, led by Futch and center Naseem Broom on the offensive line, spearheaded by a running back duo of Jaden McCants and Dominic Jones to keep the offense on schedule, set up short distances on late downs and open up the pass game.
"Jaden McCants and Dominic Jones, two running backs and it'll all flow through them," Clayton said. "We've got two physical running backs with speed that can catch the ball out of the backfield as well. If we can run the football with our big offensive linemen pushing the line of scrimmage, we're going to be able to open up the pass game and do what we need to do. We've got some receivers out there who can be electric at times. Jaylen Smith, he hasn't been touched in any of our scrimmages. We scrimmaged against Lakeland, we did a 7-on-7 at USF and he's just a dominant player. I look forward to see what he can do when we get the pass game going."
And while the team as a whole is young, Clayton noted that there was a tremendous turnout as the team worked all summer to make up for lost time in the spring and emphasized that he has the expectation of winning, and winning now. His goal is a district championship, in the hopes of eventually building Plant City into a championship program and a program that sets the standard for the area.
"It's with great pride that we carry the city on our chest, we carry the colors on our back," Clayton said. "By saying that, there are a lot of great schools in the area and a lot of schools that represent well and have represented well in the past, but we here at Plant City with this coaching staff that I've been fortunate enough to bring in, we want to be the powerhouse. We want to let everyone know that Plant City is the place to be, the place to play, and we want to give them the environment on Friday night like no other. With a new football field, a new scoreboard, the great fans and the historic fans that come out, when the city shows up on Friday nights, we're going to be able to put some great and memorable plays out there where our fans will experience some great moments
SCHEDULE
Note: All games are scheduled to start at 7:30 p.m. Games are broadcast live online at NFHSNetwork.com.
8/26: @ Newsome
9/2: Wharton
9/9: Steinbrenner
9/16: Durant*
9/23: @ Hillsborough
9/30: Alonso
10/14: @ Plant
10/21: @ Armwood
10/28: @ Strawberry Crest
11/4: Jefferson
* Denotes a rivalry game
THE DETAILS
Location: 1 Raider Place, Plant City
Established: 1914
Head Coach: Michael Clayton (first season)
2021 Record: 6-5 (2-2 district)2020 Record: 5-5 (1-0 district)
ROSTER

0 Malachi Morris DB Jr.
1 Dereon Coleman QB Fr.
3 Jaden McCants RB Jr.
5 Chase Dexter DB Jr.
6 Tahauji Miller LB Sr.
7 Zykee Joyce WR Jr.
8 Michael Bell LB Jr.
9 Donta Jenkins DL So.
10 Esteban Navarrete K Sr.
10 Haven Pierce QB Fr.
13 Seth Hogan LB Jr.
14 Damien Jones DB Sr.
15 CJ McClain WR Jr.
16 Onyx Lattimore WR Fr.
17 Judah Bendorf WR Jr.
18 Oscar Lazoya WR Jr.
19 Devonte (DJ) Howard WR/QB Fr.
20 Tra'vont Panier WR Fr.
21 Dominic Jones RB Jr.
22 Lucas Bowlin LB Jr
24 Leroy Lucas DB Jr.
28 Cole Highsmith LB Sr.
29 Roderick Jackson DB So.
30 Josh Huff RB Jr.
33 Jackson Davis Jr.
36 Jordan Futch DB Jr.
38 Cristobal De La Cruz TE So.
42 Ronald Holliston RB Jr.
45 Jeremiah Futch OL Jr.
50 Stephan Eatman OL So.
52 Dylan Dupont DL Sr.
53 Matthew Bollinger LB Jr.
54 Dorien Lisbon DL Sr.
66 Naseem Broom OL So.
68 William Belen OL Jr.
69 Pablo Matias DL Fr.
76 Dustin Eldridge OL Jr.
78 Javan Futch OL Sr.
80 Keyshaun Brinson WR Sr.
83 TJ Knighten WR So.
90 Temarace Miller DL Fr.
99 Dacoby McDonald DL Jr.