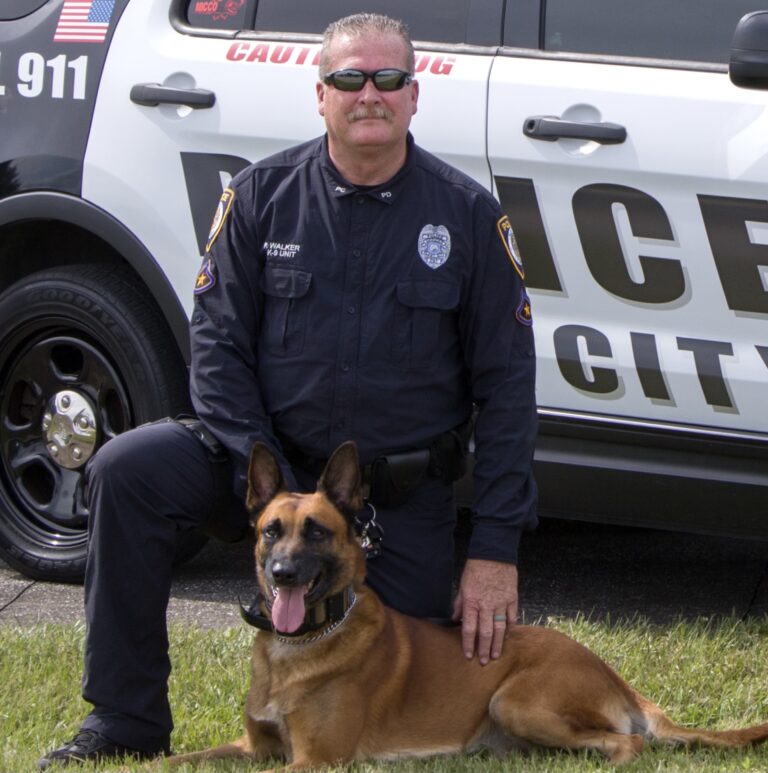 The officers will enjoy a retirement filled with long walks, naps in the sun and belly rubs.
Plant City Police Department is retiring two of its officers who have diligently served the citizens of Plant City for seven years.
How can they retire after such a short career, you ask? The officers in question are four-legged canines and while their nine years of life many not seem like many to humans, they have indeed reached retirement age.
Leto, whose handler is Officer Michael Zacarro, is being medically retired because he was diagnosed with heartworms, a disease that causes lasting damage to the heart, lungs and arteries. Jax, whose handler is Officer Patrick Walker, is being retired because Walker was promoted to the rank of corporal, making him ineligible to be a handler.
While still considered property of Plant City, Leto and Jax will spend the rest of their lives with their individual handlers as lovable family pets.
Well, maybe not Jax, a Belgian Malinois, joked Walker. While his first police dog, a German Shepherd, lived in his house, Jax has an outdoor kennel on his property. "He's psychotic and lives for police work," he said. "People tell me the only person he loves is me and they can see heart emojis rolling off his head when he looks at me."
Walker has already worked a couple shifts without Jax. When he walks out his front door Jax is eagerly waiting at the kennel gate for Walker to let him out so he can hop into the police car. "When I got in the car without him he started jumping up and down and barking like crazy," he said. His wife called him later that day to tell him it took half an hour for him to calm down.
For Jax, retirement will definitely require an adjustment period but Walker isn't sure it will be any easier for him. "I'm lonely because he was my best friend and now he's not there anymore," he said. "I'd sing and talk to him and on slow nights I'd throw a ball with him."
While the care of the animals will be the officers' responsibility, earlier this year Governor DeSantis signed Senate Bill 226, establishing the Care for Retired Police Dogs program which helps K-9 caregivers with reimbursement of up to $1,500 of the annual veterinary costs associated with caring for their dog. "These dogs are sure to have physical ailments after a long career of jumping in and out of police vehicles and the money helps them get the well-deserved care they need," said canine unit supervising lieutenant Matt Lawson.
PCPD has four canine units in its department, but with the retirement of the two dogs it will be cut in half. However, this week the City Commission approved the purchase of two new police canines and equipment at a total cost of $25,000: $10,000 each for the dogs and $5,000 for equipment. The Department is working with Southern Coast Canine in New Smyrna Beach to purchase the police pooches, which are typically either German Shepherds or Belgian Malinois breeds. After delivery the dogs and their new handlers will go through an extensive 480-hour training program through Florida Department of Law Enforcement where they will learn the skills of not only obedience but bomb and narcotics detection, fugitive apprehension and tracking of missing persons. Once the training is complete, they become certified law enforcement canines.
The dogs aren't the only ones that have to pass muster. Tryouts are held for new handlers, that include a one-mile run in full duty gear, a 200-yard 60-pound weighted carry, a written test on canine policy and an oral review board.
The Department is working with local elementary schools so students can help in the naming of the new police dogs. Handlers will select a name for their dog from the student-submitted suggestions. Hopefully they'll get a few fearsome options such as Enforcer or Bomber along with less intimidating names like Bacon or Bookem.