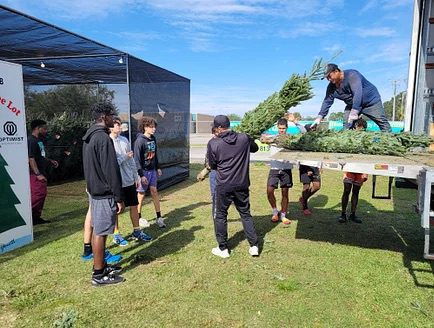 Support the Plant City Optimist Club's fundraising efforts by purchasing a live Frasier fir from its Christmas tree lot.
Looking for the perfect live Christmas tree to decorate this holiday season?
Monday, Nov. 20 marks the return of the Plant City Optimist Club Christmas tree lot, located at the corner of Maki Road and W. Alexander Street (in front of Plant City High School).
The club expects to sell more than 900 premium Frasier fir trees sourced from North Carolina. The club will receive an initial shipment of 400 trees on Saturday and will receive additional shipments as needed.
The lot will be open weekdays from 10 a.m. to 9 p.m. and weekends (Friday, Saturday, Sunday) 9 a.m. to 9 p.m. It will be closed on Thanksgiving Day. The lot will finish selling trees Friday, December 8 or when they sell out. Trees range in size from small tabletop trees to 11 feet tall, with prices ranging from $39 to $299. Tree stands, which fit trees from four feet to 11 feet tall, will be sold for $15.
Customers will receive a $5 discount on a tree when they bring at least three non-perishable cans or boxes of food that will benefit the United Food Bank of Plant City.
For Mayor Nate Kilton, picking out a tree at the lot is an annual tradition. "I always had a real Christmas tree while growing up in rural Vermont," he said. "You ca'n't replace the smell and the look of a real tree."
The club has sold Christmas trees in front of Plant City High School for decades, raising money to benefit local programs that help youth develop character and citizenship.
"This is our biggest fundraising event that goes toward our work in the Plant City community for our local youth," said club president Robert Olszewski. One hundred percent of what is raised here stays here to assist youth in making their dreams and goals come true."
So if your dream or goal is to decorate a live Christmas tree, visit the Plant City Optimist Club Christmas tree lot to make it happen.