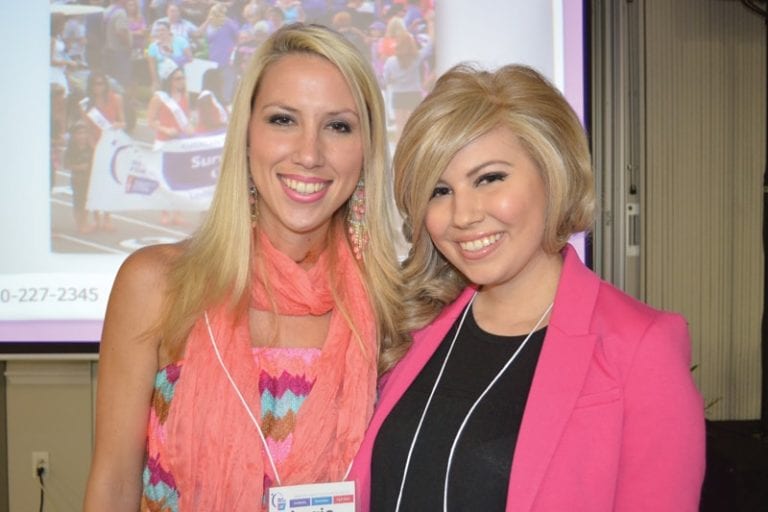 By Amber Jurgensen | Associate Editor
Sisters Angie Parrish Rollyson and Autumn Parrish found out they both had cancer just months apart.
On April 24, Parrish awoke to several swollen lumps on her neck. Those lumps changed her life forever. She was diagnosed days later with lymphoma, a cancer of lymphocytes, a type of cell in the immune system. Her treatment included heavy doses of chemotherapy.
"It was devastating to me when she was diagnosed," older sister Rollyson says. "I was so heartbroken for her, because she was so young at 21."
"It just showed me that at 21 years of age, cancer doesn't discriminate," Parrish says. "It doesn't care if you're old, or if you're young, or if you're healthy."
The day after Parrish woke with swollen lymph nodes her grandmother, Martha Hodge, was hospitalized with ovarian cancer. Then, in August, Rollyson discovered she had thyroid cancer.
"The concern I've had for my grandma and sister outweigh any concern I have for myself," Parrish says.
"She was so strong and so strong for everyone else," Rollyson says. "And so encouraging."
During Rollyson's first surgery, a tumor and the right side of her thyroid was removed. On Sept. 24, the left side of her thyroid was removed. In addition to the two surgeries, she also received one radiation treatment.
"Seeing Autumn go through her treatment helped me be so grateful that this is all I had to go through," Rollyson says. "It was great having Autumn to go through (treatment) with."
Parrish and Rollyson have been selected as the honorary survivors for this year's Plant City Relay for Life.
The goal this year is to raise $274,000. That total was the goal last year, but inclement weather caused the relay to stop around midnight, about halfway through the event. Still, Plant City residents managed to raise $263,000 for cancer research, the third largest amount in Florida for last year.
"Plant City is amazing," chairwoman Linda Herman says. "I guess so many people have been touched by cancer here. They are very motivated."
Herman has been involved with Plant City Relay for Life for its entire 15-year history and has been chairwoman for two years. She first got involved as a teacher, but in 2000, her mother was diagnosed with lung cancer. After the death of her mother in 2001, Relay for Life got personal for Herman.
And just like Herman, Rollyson feels a personal connection to this year's Relay for Life.
"This is the first time this really hits home with me and my family," Rollyson says. "It takes on a whole new meaning."
On Oct. 1, the sisters spoke at a Relay for Life kickoff party, one of many appearances they will be making as honorary survivors.
"I thought it was so sweet they asked us," Rollyson says. "I'm thankful they are honoring Autumn. She is a great testimony."
Relay for Life is an organized, overnight community fundraising walk organized by the American Cancer Society. Each participating team must have one person walking on the track at all times.
During the walk, participants can enjoy games, food and entertainment. In the time leading up to the event, schools and businesses are encouraged to raise money. So far, 53 teams have signed up. The goal is to have at least 90 teams. Last year, there were 86 teams.
Contact Amber Jurgensen at ajurgensen@plantcityobserver.com.
INFORMATION
Plant City Relay for Life
WHEN: 6 p.m. April 19, 2013
WHERE: Plant City High School, 1 Raider Place
THEME: Curing Cancer is Sweet
CONTACT: Joanie, (813) 713-8876
PARTICIPATION: To start a team, visit relayforlife.org/plantcityfl">http://ivedasolution.com/zaym-deneg-cherez-internet.php