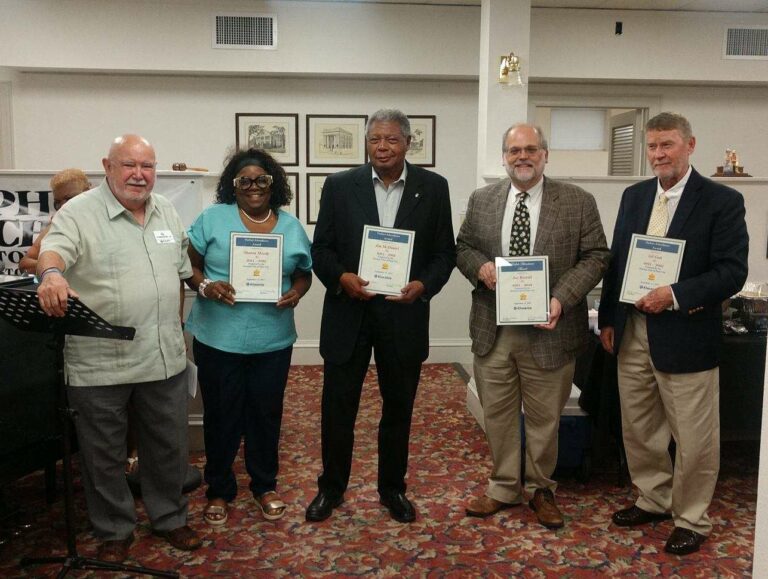 The Kiwanis Club held their annual Installation Dinner at the Plant City Photo Archives & History Center last week.
The Kiwanis Club of Plant City held their annual Installation Dinner at the Plant City Photo Archives & History Center last week, presenting awards to several club members while also installing all new club officers for the upcoming year.
Sharon Moody was named Kiwanian of the Year and also received a Perfect Attendance award along with James McDaniel, Joe Borrell and Gil Gott.
Following member Marilyn Williams' term as club president, Borrell will serve the position for the 2022-2023 term.
"I hope you will join me as we swim upstream, build a club in our leadership and our membership and do so because in the end, the thing that matters is our slogan, 'Kids Need Kiwanis,'" Borrell said. "That's what makes this work so important. Thank you for this honor."
In his address to the club, Borrell thanked his fellow members and many of the members that came before him and named a few key platforms that he wants to focus on in his year as president. These focuses include re-building connections with local schools, noting how hard COVID was on the community, schools and subsequently the club's Student Leadership Programs, reconnecting with club members and a renewed call to service.
Moody was installed as president-elect and will serve as president for the 2023-2024 year, then marking her second stint as president after previously serving in 2010-2011. Latesa Faison will retain her role as treasurer and the team of Keri Kozicki and Gil Gott will serve as co-secretaries following Townsend. In addition to being installed as president-elect at the club level in Plant City, Moody will additionally serve as governor for the Kiwanis Club's Florida District — a district that includes 270 clubs with nearly 6,500 members.
"Kiwanis is a service organization that serves children and we have all different types of programs," Moody said. "The Key Club at the high school level, we have the Builders Club at the middle school level, we have Terrific Kids which is a character-building and skill development program for kids."
Plant City Kiwanis Club currently has a Key Club at Plant City High School and Strawberry Crest High School, Builders Club at Marshall Middle School, Terrific Kid programs at Burney Elementary School, Wilson Elementary School, Jackson Elementary School, Dover Elementary School and Faith Christian Academy.
At the state level, Moody has already started a youth literacy program right here in Plant City that she plans to build upon throughout the state of Florida through local Kiwanis Clubs.
"My project for the whole state is called Cops N' Kids Reading Together and I opened that here in Plant City," Moody said. "That's one of my projects, a literacy program where we entrust in local law enforcement to allow them and the kids to connect."