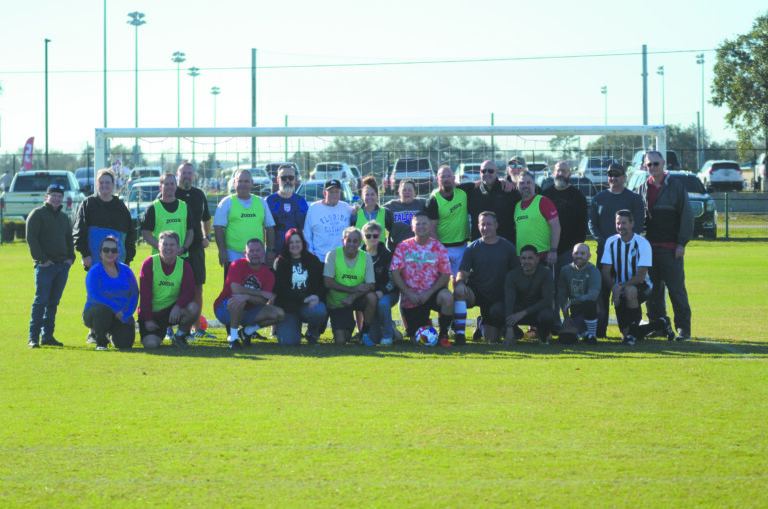 Nearly 30 former Plant City area youth soccer players returned to Otis M. Andrews Sports Complex to take part in the reunion.
The Otis M. Andrews Sports Complex in Plant City played host to a Plant City area soccer reunion this past weekend, where nearly 30 former soccer players from the Plant City Parks & Rec league, Plant City Lancers club team and Plant City High School took the field for an opportunity to come together and all get out on the field together again. In addition to the players themselves, some knowing each other for over 30 years as they return home for the event, many brought out their significant others and children to cheer from the sidelines and take part in the sunny Saturday of fun.
Laid out on display across a table beside the field were old letterman jackets and jerseys from both Plant City High School and the Lancers, along with yearbooks and scrapbooks that gave a glimpse into the history of soccer in the Plant City area.
The event first took place in late 2017 after Jason Blanton, Jason Venning and long-time city employee Jack Holland came together to discuss getting former players together for a reunion of sorts. The event was held again the following year but was subsequently interrupted by COVID-19, returning this year for the first time since 2018.
"I was fortunate enough to play college soccer and being in college you not only get teammates from across the country but from across the world," Jason said. "So a couple of my teammates live in England and suggested that we get some people from Webber together and we did it, probably 15 people showed up, and that was my lightbulb moment. I said that we could do the thing because so many of us live within an hour of each other, so I reached out to Jack, I reached out to Jason and they were all on board and it went from there. It was another one of those situations where we said, there's no reason why we can't get together."
The game was "officiated" by Sam Singletary, a long-time staple in Plant City youth sports as he first became involved with the Plant City Parks and Recreation Department in 1977 alongside Holland as they both attended HCC and played soccer together as members of the Plant City Rogues — a local organization within the Florida Suncoast Soccer League Division II. Since then, Singletary served as a youth soccer referee in Plant City for over 40 years where he officiated several — if not all — of Saturday's returning players at one point or another throughout their childhood.
"I was tired of just coming home for funerals so we got together and said let's get everyone together," Jason Venning said. "Anyone who played rec soccer, played at the high school, played for the Lancers club team, anyone from the generation from before us or the generation after us, let's just get out there and kick it around. Some of us live here and see each other but some of us don't, I live in Orlando and I just talked to a woman this morning that lives in Brooksville, but we all grew up here. We tried to get together two times per year and we did that once but that turned out to be a lot to put together, so we did it for two years and then COVID hit us for the last couple of years so I think everyone was itching to come back out again. Some people play, some people don't, but it's a great time. Some people bring their kids out and they play and that's just that next generation coming up and that's just all we wanted to do, to get together and see each other and have some fun."