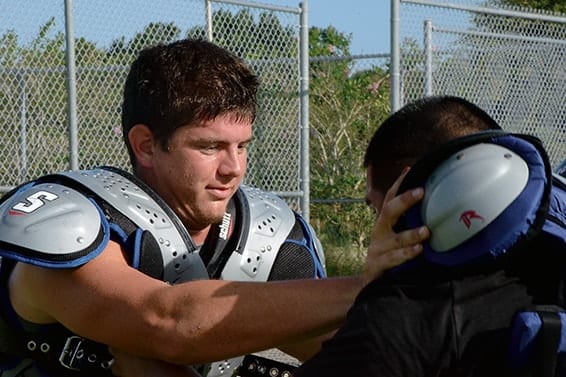 The takeaway from Plant City High's season-opening win against Steinbrenner is no surprise to head coach Wayne Ward: He has playmakers on both sides of the ball.
Despite some miscues and penalties, the Raiders had a solid showing with its new up-tempo offense, racking up more than 350 yards.
Although there were lulls at times, with quarterback Landon Galloway checking to the sideline for play calls, the offense was more productive than last year. The Raiders were around plus-15 in the amount of plays compared to the 2012 season opener, according to Ward.
"That's tremendous compared to where we were last year," Ward said. "I give all the credit to the coaches in getting these kids prepared to run this offense."
Even more impressive was the display of defense. The Raiders held Steinbrenner in the teens in total net yards.
Plant City will open its 2013 home schedule Friday against Wharton, a team coming off a blowout win over Spoto.
LIMITING MISTAKES
Although there were plenty of bright spots for the offense, there were areas where Ward will like to see improvement, especially in turnovers, an area Ward stressed before the season. The Raiders turned the ball over three times against Steinbrenner.
"Regardless of what offense you're in, if you're tuning the ball over, it's not going to be very successful," Ward said.
In his first regular season start as a quarterback, Galloway completed 15-of-29 passes for 187 yards and a touchdown, while running for 82 yards and two scores. Galloway, a senior, played receiver last year and is committed to the University of Central Florida as a tight end/receiver.
"It's different," Galloway said about playing quarterback. "Getting the ball every play is nice, but it's more pressure. It's not that hard to adjust to, and I'm just kind of taking it as I go."
Galloway was responsible for all three turnovers (two fumbles and an interception), but Ward believes he will continue to get a better feel for the new offense as the season progresses.
"Landon is a very cerebral guy," he said. "We're slowly releasing and delegating more responsibility to him each week."
In addition to the three turnovers, Plant City helped Steinbrenner out with 15 penalties for 135 yards.
"That's something that, regardless of what team you play, if you have a 135 yards of penalties, it's going to be very detrimental," Ward said.
Ward also addressed special teams, which had some early-season mishaps. The Raiders missed a PAT, after Antwan Thompson caught a 33-yard pass from Landon Galloway in the first quarter. PCHS tried for two-point conversions on its next two scores, failing to covert on either attempt. Other than a 34-yard field goal set up by a PCHS turnover, Steinbrenner's only other score of the game came on a 83-yard punt return from Kezio Snelling in the second quarter.
"We've made some changes on special teams, and I think those changes will help us moving forward," Ward said.
FIGHTING FATIGUE
With penalties and turnovers killing drives, the Plant City defense earned its stripes in the season opener, making stop after stop, and then turning right around and doing it again before they had a chance to catch their breath.
"It's reassuring to have a defense like that," Ward said. "These kids put in so much work out there on the field. We put them in situations like that on the field in practice, so it's not like it's foreign to them."
Plant City did pull out a couple of tricks to get some more snaps offensively and, in turn, help give the defense a breather, including an onside kick after a score in the second half.
Steinbrenner was playing through injuries, including missing its starting quarterback and running back.
"They were going in a few men down," Ward said of Steinbrenner. "That was a young kid in there at quarterback, so you don't want to put too much on him."
LESSON LEARNED
Plant City took a valuable lesson from its game with Jefferson in the preseason classic.
Senior quarterback Dieondre Porter accounted for five of the Dragons' touchdowns in the 48-26 win.
Although Wharton quarterback Chase Litton won't put up the rushing stats of Porter, he has the ability to get big plays through the air. Litton threw three first-half touchdowns in Wharton's 38-0 blowout of Spoto last week. The senior finished 13-of-21 for 111 yards, before being rested with the game well in hand.
"He's well-seasoned," Ward said of Litton. "For us and our defense, I think that it's a challenge for them to play up to the caliber of quarterback like him. We just have to make plays. Dieondre Porter did some things against us, and I think that we learned a lot from playing Jefferson. I think that will better prepare us for playing Wharton."
The Wharton defense never let Spoto past the Wharton 47, while recovering a fumble and picking off three passes, including a 26-yard interception return for a touchdown by Jeremy Jefferson.
Wharton runs a 3-4 okie front and an odd-man front, while mixing in a 4-3 at times.
"What we have to do is take what they give us and build from there," offensive coordinator Charles Lindsey said.
PLAYER TO WATCH
No. 28 Sterling Day
Soph., RB 
Day battled injuries as a freshman with the Raiders but made his presence known in his sophomore season opener against Steinbrenner, rushing for 76 yards and a score on 22 carries.
Day split carries in the backfield with Hassan Bailey, a senior who made the switch from defense in the offseason. Bailey had a strong showing at running back in this year's spring game.
With Wharton possessing a 3-4 okie front, Plant City could have a chance to showcase its backfield.
OTHER AREA ACTION
Spoto at Strawberry Crest
Last Week: Strawberry Crest fell to Bloomingdale 23-12, while Spoto was shut out 38-0 by Wharton.
Notes: A seesaw battle with four lead changes turned into an exchange of punts in the second half, during which Bloomingdale scored the only points in a season-opening win against Strawberry Crest last week.
Nine of the game's 12 punts came during the second half. That's also when the Bulls rallied from a 12-10 deficit on Isaiah McIntyre's 29-yard sideline pass to Doug Sandberg and 16-yard run up the middle in the waning minutes.
Strawberry Crest QB Tristan Hyde finished 15-of-36 for 219 yards and two touchdowns, including one to his brother, Josh, and a 21-yard strike to Farron Rainford.
The Chargers welcome in a Spoto team that couldn't get anything going against Wharton last week in a lopsided loss.
Durant at Sickles
Last Week: Durant fell to Armwood 48-6, while Sickles defeated Robinson 35-14 on the road.
Notes: The Cougars gave up 255 yards on the ground to Armwood in the season opener. Fullback Craig Carrington finished with 93 yards on 14 carries, while Greg Newton had 70 yards on nine carries.
Even backup tailback Alfonso Thorton had a 59-yard touchdown run.
The Hawks also scored two defensive touchdowns off Durant — a 25-yard Kyle Gibson interception return and 10-yard Jordan Griffin fumble return — in a 53-second span in the third quarter to take a 34-0 lead.
John Hendricks, a transfer from Newsome, gave Durant its only score of the game on a 20-yard run with nine minutes to play and the game well out of reach.
The Cougars now hit the road to take on a Sickles team that also had an impressive running game last week, racking up 347 yards in a win at Robinson.
QB Issac Holder rushed for 113 yards and three scores and threw for a touchdown in the win. Ray Ray McCloud III led Sickles with 201 rushing yards on 32 carries and a touchdown.