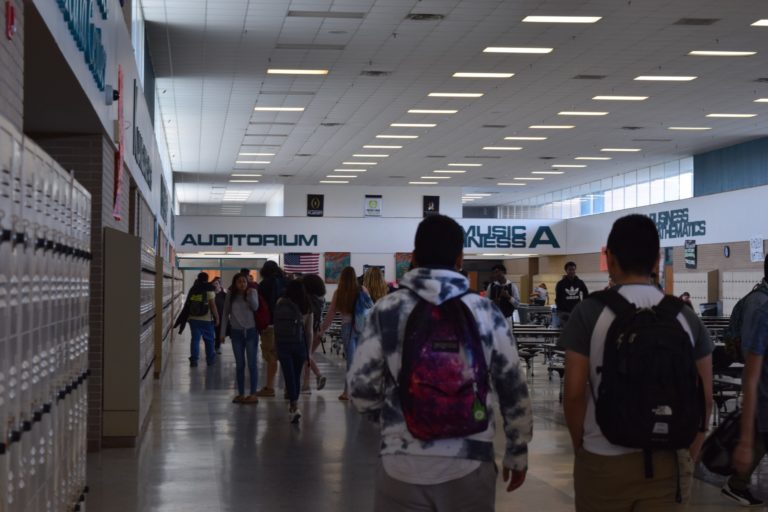 Authorities are investigating following the discovery of a spray-painted message threatening violence at the school.
First, they said the rumors weren't true. The writing, however, was literally on the wall.
"Bloody." "Devil is coming." "PCHS is dead." "Ima (sic) kill yall."
All and more written in black spray paint on the wall and floor near a gate by Plant City High School's east parking lot.
A PCHS secretary Friday said rumors relating to the writing weren't true. By the late morning, though the words had been scrubbed away, photos and video of the writing had already circulated online and a message had gone out to parents.
"This morning when we arrived at school, we found someone had painted graffiti on the several outside walls by the student parking lot and the bus ramp. There was no graffiti found on any interior walls at that time or since then," Principal Susan Sullivan said in the message. "The Hillsborough County Sheriff's Office, Plant City Police and school security are all investigating. They do not believe there are any credible threats against our school. Our students and staff are all safe."
The message did not say what was written or that a threat was made, but some parents entered panic mode as rumors of a gun found on campus, major police presence and lockdowns and evacuations sped through social media.
According to Hillsborough County Public Schools, the threats written were empty with no cause for alarm and the day continued as normal. The Hillsborough County Sheriff's Office is investigating the matter.
"We take these kinds of things very seriously. It doesn't matter if you're joking. We're gonna use the full extent of the law to prosecute someone who makes those gestures," HCSO spokesperson Danny Alvarez said. "We're acting like everything is real. It is our top, top, top priority."
A lockdown drill was held at Plant City High School Friday, but that was unrelated to the graffiti, Tanya Arja, a school spokesperson, said. All Hillsborough County public schools were directed to complete drills by the week's end per a mandate from Superintendent Jeff Eakins.
The threat of violence comes just over a week after a gunman opened fire at Marjory Stoneman Douglas High School in Parkland. The shooting also prompted the lockdown drills.
Alvarez said its not unusual for copycats to pop up after tragic incidents, most just fear mongering with no intent to carry anything out. HCSO, however, takes every threat seriously, he said, expending every resource available to track down and arrest whoever might be responsible.
In January, another message threatening violence at PCHS was written on a bathroom wall. The student was located shortly after and arrested by HCSO deputies. That incident came just after a school shooting in western Kentucky that left two dead and 18 injured.
PCHS wasn't the first Plant City area school to be threatened this week. Tomlin Middle School was on alert Monday after someone threatened to shoot the school and a student was arrested at Turkey Creek Middle School Wednesday after saying he was "going to do Florida round two tomorrow." Last week, a threatening message found on a bathroom wall was investigated at Marshall Middle School. So far, none of the threats have been deemed credible, Arja said.
"I don't feel any fear about my children going to their local schools, however I also realize that neither did the parents of students at Marjory Stoneman Douglas High School," Michael Pippin, a PCHS parent said. "Something has got to be done to protect our students and with the same fervor that we protect our airports. We love our Plant City school administrators and want to see the government and school board release resources to ensure our students' safety, be it from actual violence or from the threat of violence."