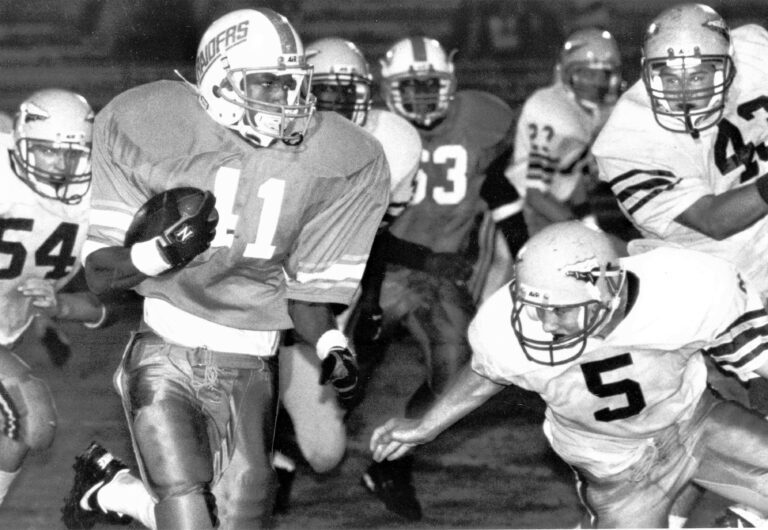 On Sept. 16, PCHS will host a celebration marking 50 years at their new campus while dedicating their new turf field prior to the Raiders' Redman Cup matchup with Durant.
Plant City High School first opened its doors in 1914, but in 1972 the school entered a whole new era as they shifted to a new campus and saw the Plant City Planters merge with what was formerly the Marshall Dragons, the Pinecrest Pilots and the Turkey Creek Gobblers to form one comprehensive high school within the community. Along with that, the Plant City Raiders were born.
For many years to follow, PCHS was the only high school to serve the Plant City area and in 2022 the school will celebrate 50 years at their current campus. And with PCHS being such a long-standing pillar within Plant City, it has played a major role in unifying generations of residents that have grown within this small town community.
"That would be me," Plant City principal Susan Sullivan said. "My grandparents went to Plant City High School, my mom and dad did, I went here, my husband went here, our children went here, so there is a lot of community in that. Plant City has always been a place where people want to live and raise their family. They may go off to college but many of them return because it is that small community and their family is here, they're attracted by the fact that they have that support when they come back. I know that was true for me."
The celebration will take place on Sept. 16 at Plant City High School, beginning at 5:30 where alumni and community members are invited to come back and enjoy refreshments while walking the halls prior to the Raiders' annual Redman Cup matchup against Durant.
"This is just an opportunity for our former graduates and former alumni to come back on campus and see the school, because a lot of people probably haven't been here since they graduated," Sullivan said. "I've seen quite a bit of excitement. We have a committee together that's been planning it and have people representing the 70's, 80's, 90's and 2000's on the committee and we're hearing some really positive feedback."
Following the celebration, guests will move out to the Raiders' athletic complex where PCHS will hold a field dedication ceremony at their newly renovated football field featuring former principals, former football coaches and players, former cheerleaders and band members and any community members that want to take part in the celebration. Adding to the fun, Plant City will have an alumni band performing at the event.
This summer, Plant City was a part of the first wave of schools in Hillsborough County to have an all-new field turf playing surface installed within their football stadium – joining Bloomingdale, Chamberlain, Freedom, Gaither, Middleton and Plant in a project that will eventually provide turf to all 28 public high schools in the county over the next few years – and are currently the only high school in the eastern side of the county to be included in the renovations.
And holding the celebration on the night of the Raiders' matchup with Durant is no coincidence, capitalizing on the opportunity to include even more Plant City alumni as many Durant High School parents attended Plant City High School themselves.
Despite hearing several suggestions regarding a new name to go along with Plant City's field dedication ceremony, Sullivan ultimately landed on the name "Raider Field."
"We're going to call it Raider Field," Sullivan said. "And there were people that suggested some names but in 30 years not everyone is going to know some of the people whose names were suggested, but we can all identify as Raiders. So I felt strongly about it being a sense of unity and a name that people can relate to 45 years down the road."
The celebration will begin at Plant City High School, 1 Raider Place, Plant City FL, at 5:30 p.m., with the field dedication taking place at 6:45 and the football game starting at 7:30. There is no registration necessary to attend the open house and all who wish to attend are invited. Tickets to the football game can only be purchased online at https://www.hillsboroughschools.org/athletics.