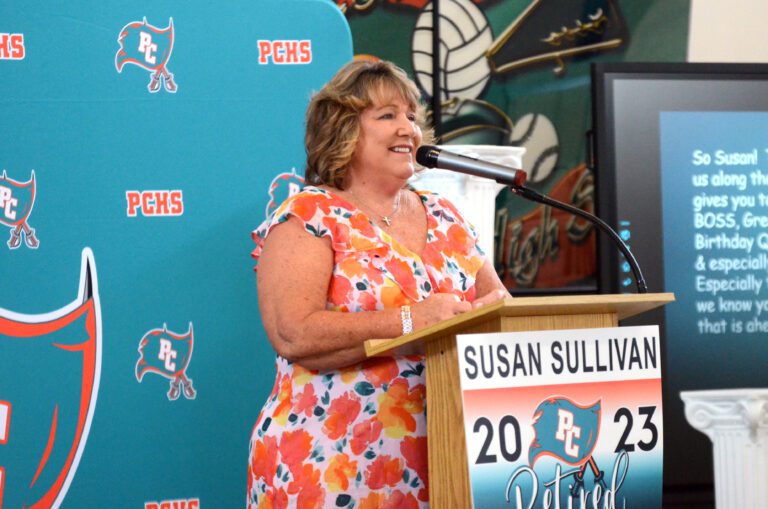 After 41 years in education and eight years as principal at PCHS, Sullivan was honored for the impact she's left on so many within the Plant City community.
Plant City High School held a retirement party for Susan Sullivan on Monday, filling the PCHS mall with hundreds of family members, friends, county employees, fellow faculty members and various members of the Plant City community.
The event was catered by the culinary program at Simmons Career Center and guests were treated to a phenomenal spread before assistant principal for administration Randy Humphrey stepped up to the mic and began welcoming a number of speakers to the podium — starting with former PCHS instructor, Strawberry Crest assistant principal and current Regional Superintendent for Hillsborough County Public Schools, Gary Brady, and followed by a number of friends, family, current and former students and fellow faculty members. Speakers told stories and gave thanks, sharing memories and painting a picture of the impact that Sullivan has had on themselves and others throughout her life and her career. Plant City Mayor Nate Kilton offered an official proclamation on behalf of himself and the city of Plant City, honoring Sullivan's 41-year career across Plant City High School and Tomlin Middle School, and PCHS faculty members gifted Sullivan a Carnival Cruise for her and her husband.
At the conclusion of the event, Sullivan took the podium.
"It's interesting that I'm standing in front of this backdrop because this is what we use at all of our athletic signings. We've had a lot this year, we've had a lot the past few years and that blesses my heart but the kids always start by thanking God and I'm going to copy their statement because I serve a great God. He had a plan for me and I'm so thankful that plan included Plant City High School," Sullivan said. "It's been a great eight years here this time around, three years the time before, one the first time that I was here, I'm very grateful… None of the things that I've been able to do would have happened without the support of my family. My husband David has been my number one supporter, he goes to everything with me, I had him parking cars with me at Tomlin and he's done all sorts of crazy things here. I'm very grateful for my sons and their wives and our grandchildren, they always call to check in and see how our teams did and ask how is this, how is that? I had the opportunity to work with some really great people. Some of the folks challenged me, some of them helped me grow and others just jumped on board with whatever it was I wanted to do, no matter how crazy they were, and I thank you — all my staff, from Tomlin and Plant City, thank you for supporting me and always looking for ways to do what's best for the kids. I'm grateful that I've worked in such a great community, I wouldn't have wanted to work for anywhere else. We say this all the time, Plant City is a great place to live, to work, to play, to raise your family. I truly do believe that and I'm thankful that I had the opportunity to do that."