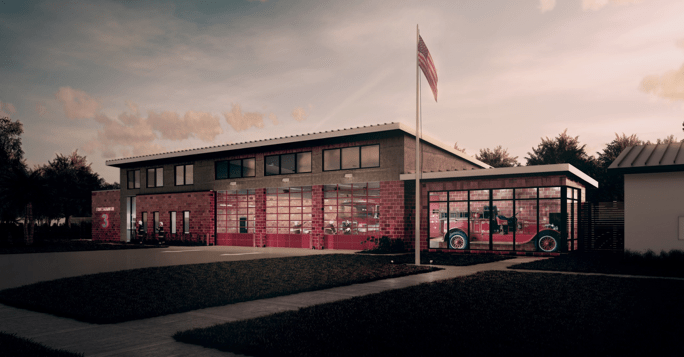 Design work is complete and construction set to begin on the City's third fire station.
Plant City's newest fire station is fully designed, under budget and prepped for continued energy efficiency.
The new fire station, the city's third, will be built along Park Road near the old Tourist Information Center building at 1702 N. Park Road. The station was originally estimated to cost around $319 per square foot, but was reduced to about $267 square foot at the 30% design phase. The price has dropped even more with design completion, coming in at around $262 per square foot for building construction, giving the total project a price tag of just over $3 million.
"Not only are we getting a fire station that meets our needs, but we're building this on a very prominent location in one of the gateway streets of our city and that will be quite a statement for the traffic passing by," City Manager Bill McDaniel said. "I think that, for the fire department, it's a very fitting addition that we have a nice display area for the antique fire engine. This design incorporates many of the modern features and needs of our fire department."
Jeff McDowell of Wannemacher Jensen Architects, the project designer, said the new building was designed to meet Leadership in Energy and Environmental Design (LEED) and Green Building Initiative Green Globe standards, which measure a building's energy efficiency and climate impact. It will not, however, receive certification from the organizations because of the costly process, he said.
McDowell said he was able to come in under budget, but include all the requested design elements like a display bay out front for the city's 1927 American LaFrance fire engine.
"The people of Plant City are really proud of their heritage," McDowell said. "We were able to preserve and display it with that bay out front."
While Plant City's past was able to be preserved, McDowell said the station still looks to the future, incorporating modern design elements for ease of maintenance and movement.
"The plan is designed to get firemen from their dorms to the truck as quickly as possible and with no obstacles in the way so they don't run into anything in the dark," he said.
The three-bay station is set to be equipped with seven private dorms with individual bathrooms for privacy, making it easier to accommodate mixed-gender crews. The building will also feature exposed brick that works structurally as well as aesthetically. The building will also feature polished concrete floors, solid-surface countertops, limited paint and conduits on the roof to add solar panels, which will increase the building's efficiency.
"Virtually every problem we've had has been addressed," Fire Chief Daniel R. Azzariti said. "The firefighters are very excited about it. They are thrilled to death to have it move forward."
Currently, the city is divided into two zones with fire stations at 604 E. Alexander St. and 809 N. Alexander St. The new station will divide the city into three zones, with the third serving the city's northeast quadrant, where the highest volume of growth is expected to occur.
Construction on the new 8,400-square-foot fire station is expected to be completed by February of 2019.