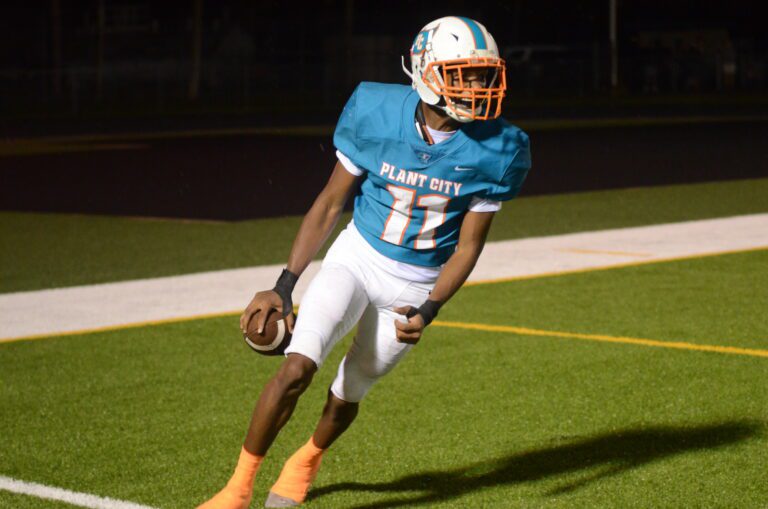 Following an 0-4 stretch to start the season, the Raiders have rattled off two consecutive wins.
After starting the season 0-4, the Plant City Raiders have seemingly found new life after rattling off two consecutive wins over the past two weeks.
Their first win of the season came in a 19-7 victory over a Hillsborough High School team that entered the contest with a 2-1 record, marking their first win under first-year head coach Michael Clayton. On Monday they hosted 5-0 Alonso, handing the Ravens their first loss of the season in definitive fashion as they notched their second straight win in a 37-12 blowout victory.
"The difference is night and day," Clayton said. "I think that the kids have really bought into the process. We have a motto where we say, 'we will not deviate,' and they've heard me say it enough times that they put it on a t-shirt. That's a motto that they live by now where whether we win or lose, we're not going to deviate from the process of getting better. I've told these guys after watching tape — regardless of how bad we may get beat or the mistakes that we may make — that we have a good football team. The truth of the matter is that we have a really, really young football team, so the mistakes that we're making from a football knowledge standpoint, those things are expected with young players but it's just motivating those players to continue on the path. Every single day these guys have been dedicated to working hard… They've bought in, they haven't slacked, they haven't thought any less of themselves because they've lost football games. They've only kept their confidence and it's finally started to show as we've put the pieces together."
After a tough opening stretch that saw the Raiders face Newsome, Wharton and Steinbrenner over their first three contests, Plant City was outscored 120-33 en route to an 0-3 start. Their best performance throughout the first month came in a one-score game against one-loss Durant in their annual Redman Cup rivalry matchup, a game in which Plant City held a 7-6 halftime lead and deployed a new starting quarterback in freshman D.J. Howard after early-season starter Dereon Coleman left the program. Two weeks ago Howard split time under center along with senior quarterback Antwann "Champ" Mitchell, and Howard took the reigns on Monday as Mitchell missed the game due to injury.
Against Hillsborough, Howard completed five of his seven attempts for 62 yards while Mitchell completed six of his 10 attempts for 91 yards and a touchdown, also adding 18 rushing yards on three carries. In the Raiders' big win over Alonso, Howard completed five of his nine attempts for 56 yards and a touchdown. But a factor that's arguably proved even more important to Plant City's offensive surge than the quarterback position, has been the emergence of their run game, a facet that Clayton believed would lead the team's offense heading into the season, anchored by strong offensive line play and spearheaded by the junior running back duo of Jaden Mccants and Dominic Jones. After averaging just over 35 rushing yards per game over their first four contests, the Raiders have rushed for 127 yards and 258 yards as a team over their past two. Against Hillsborough, Mccants totaled a team-high 88 rushing yards and a touchdown on 23 carries, followed by 18 yards on eight carries from Jones. And both running backs eclipsed the 100-yard mark against Alonso as Jones rushed for 129 yards and a touchdown on 15 carries while Mccants followed with 127 yards and two touchdowns on nine carries.
"It's really been a mindset from the offensive line, led by Javan Futch, our big tackle," Clayton said. "He really gets the tone started on our offensive line. If you watch the tape, he's pancaking people left and right, he's one of the guys that turned it up in the Steinbrenner game and our offensive line rallied behind him and his mindset to just get bodies on the ground and block guys. Then we've got guys who can run the football. I've said before, our strength lies in how well we can run the football and we implemented a few things, a few blocking schemes to get those guys some lanes. Jaden and Dom have really run the ball hard all year but the offensive line has finally started to give them some holes to run through and as you can see from last week, when they have open holes they can really make a defense pay. We're going to continue to lean on our run game and do a lot of different creative things and then when we have to throw it we will, but we're a run-first football team, we want to rely on that and those guys have done a tremendous job the past couple of weeks in really putting a stamp on it and pounding the rock."
In addition to an already young roster and some early offensive struggles, the core of Plant City's defense was also short-handed to start the year as their veteran starting linebacker duo of Cole Highsmith and Mike Bell both dealt with injuries. Both have since returned with Bell back in the lineup for the Raiders' past three games while Highsmith has been active for the past two.
"We had some injuries to start the season, Cole Highsmith wasn't playing, Michael Bell wasn't playing, our two starting linebackers," Clayton said. "We were playing with some guys that weren't developed yet and had never played the position at a high level so we were kind of making do with what we had. We kind of got beat up, we had a tough schedule at the beginning of the season and had to put some bandaids on some things but once we got our starters back and healthy — those guys did a tremendous job of getting mental reps while they were injured — they were able to step back in and make an impact immediately. That changes the face of the defense when those two guys are in there. Then, Coach (Terrence) Hicks is a bright mind, he's been well-prepared every week and he's able to move guys around to give offenses different looks so that they're not going to be prepared for anything that we put on display week in and week out. So it's a combination of getting some guys healthy on defense and our coaches learning our players a little more, that's helped us and benefitted us tremendously these past two weeks."
Plant City will head to Plant on Friday as they look for their third straight win against a strong 4-2 Panthers team that's coming fresh off of a 17-0 win over Strawberry Crest. And while it certainly seems as though the Raiders have started to turn a corner as of late, Clayton doesn't believe that this team is anywhere near as good as they can be yet.
"We probably shouldn't have given up a touchdown against Alonso and due to penalties we left 21 on the board," Clayton said. "Saying that, without an experienced quarterback at the position, to put up that kind of points, that's saying a lot for this football team. We haven't even scratched the surface of maxing out our full potential yet and we're playing at a high level. We'll continue to grow and play mistake-free football, we definitely had too many penalties in the Alonso game, so if we clean up a few things we're going to be a nightmare. Not only a nightmare this year but a nightmare for years to come because we've got all freshmen and sophomores out there that are dominating their opponents right now and they're playing some good football. We've got a lot to grow in and we look forward to doing so, but we like what we're doing at Plant City and we'll continue to develop our players."