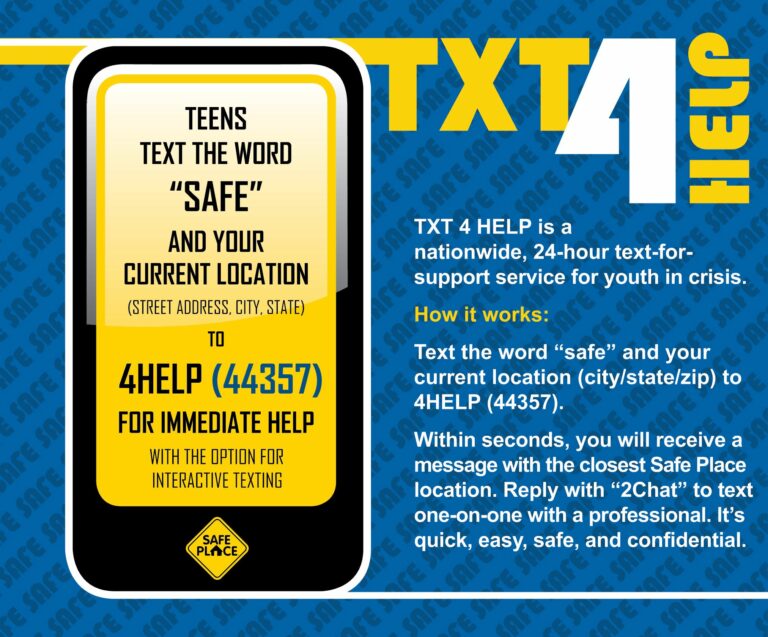 Kids and teens in crisis can receive immediate help with a single text message.
During National Safe Place Week, March 20 – 26, Hillsborough County Children's Services wants to remind kids and teens that they can receive immediate help in a crisis.
Safe Place is a national outreach that provides access to help and supportive resources for youth in need. Whether they've had a fight with their parents or are fleeing domestic abuse at home, youth under the age of 18 can get assistance at any of the dozens of Safe Place locations in Hillsborough County, most of which are open 24/7, including six locations in Plant City.
Safe Place Locations Include:
* YMCA Plant City, 1507 YMCA Place, 813-757-6677
* Plant City Fire Rescue #1, 604 East Alexander Street, 813-757-9131
* Plant City Fire Rescue #2, 809 North Alexander Street, 813-757-9131
* Boys & Girls Club Plant City, 901 South Waller Street, 813-707-8490
* County Fire Rescue #26, 5302 Thonotosassa Road, 813-757-3915
* County Fire Rescue #30, 2526 Charlie Taylor Road, 813-757-3897
At these sites, which display the yellow and black "Safe Place" sign, staff are trained to help.
Kids and teens in crisis can also text SAFE with their current location to 4HELP (44357) and, within seconds, receive a message with the closest Safe Place site and phone number to Children's Services. The employee at the Safe Place location will call Hillsborough County Children's Services and within 30 to 60 minutes, a qualified Safe Place volunteer or staff member will arrive to talk to the youth and, if necessary, provide transportation to the Children's Services campus in Tampa. Once at the campus, counselors meet with the youth and their family to make sure they receive the help and professional services they need.
Doris Gillette, Senior Program Coordinator for Hillsborough County Children's Services, said providing a safe place for youth in crisis shows them that there are people who care and who'll make sure they get the help they're searching for.
The organization is always looking for agencies to sign up to be Safe Places because it takes a village to raise a child. "When our agencies sign up to be the designated location for runaway and homeless youth or youth experiencing issues at home, they place that sign in their windows and truly become a part of that village," she said. "We're so grateful to the staff at all the Safe Place locations who take part in training in order to assist the youth around Hillsborough County."
For more information about Safe Place, including how your organization can become a Safe Place location, visit HCFLGov.net/Children.