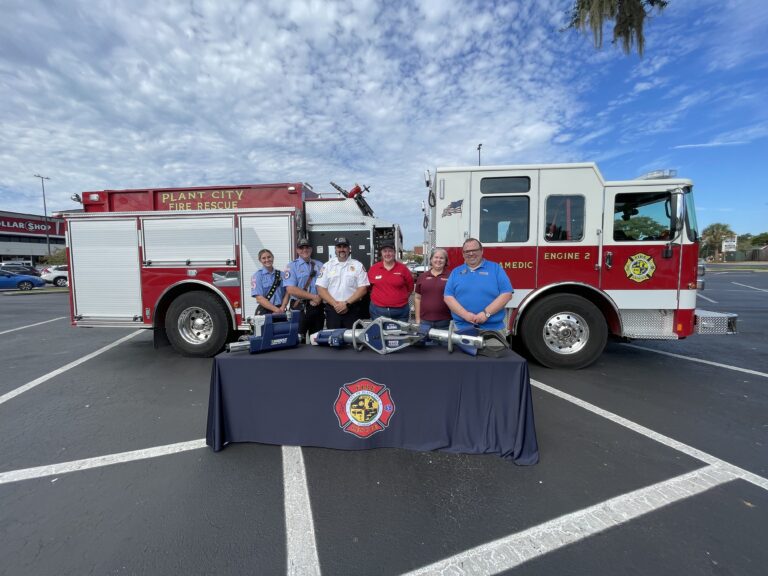 The $45,000 windfall was used to purchase state-of-the-art equipment for one of the department's firetrucks.
Plant City Fire Rescue has new state-of-the-art extrication equipment that will better allow it to "strive to provide an exceptional level of service to the citizens they serve", thanks to grant money from the Firehouse Subs Public Safety Foundation, founded in 2005 in the aftermath of Hurricane Katrina whose mission is to provide lifesaving equipment and prevention education tools to first responders and public safety organization.
The $45,000 Firehouse Subs' Public Safety Foundation grant was used to purchase a new set of Hurst Jaws of Life extrication tools, including a spreader, cutter and ram, replacing clunky and outdated gas-powered equipment that was slowing them down and creating unnecessary risk.
"These battery-powered tools cut stronger, thicker and faster and can also be submerged in water and continue to operate up to 11 feet deep," said Plant City Fire Rescue Deputy Chief James Maxwell. "These tools will help us for the now and helps us pave the way for what we're going to be able to do in the future."
One firefighter, Captain William Wimberly, said the tools will assist the department by dramatically reducing the time it takes to use the equipment and make it easier to do their job. "The new batter-powered tools have better maneuverability, we can just get off the truck and go to work," he said. "With the old hydraulic equipment we'd have to take it off, start a motor and set up a line and in the amount of time it took to do that, with the new tools we can be done with the job."
Plant City Firehouse Subs franchise owners John and Bonnie York said its customers can be credited with helping the department secure the grant, which is made possible from purchases made at U.S. Firehouse Subs restaurants. Its Round Up Program allows guests to "round up" their bill to the nearest dollar. "At this location, we ask customers if they want to round up their purchase and I'm glad to say our restaurant average is one percent in donations, for every $100 we take in one dollar goes toward the foundation," he said. "Our community supports the grants and that helps firefighters."
Maxwell said he can't thank the Yorks enough for their support because the grant process is very competitive. "This was our second grant opportunity with the foundation and they've supported us each and every time and our gratitude to them is undeniable," he said.